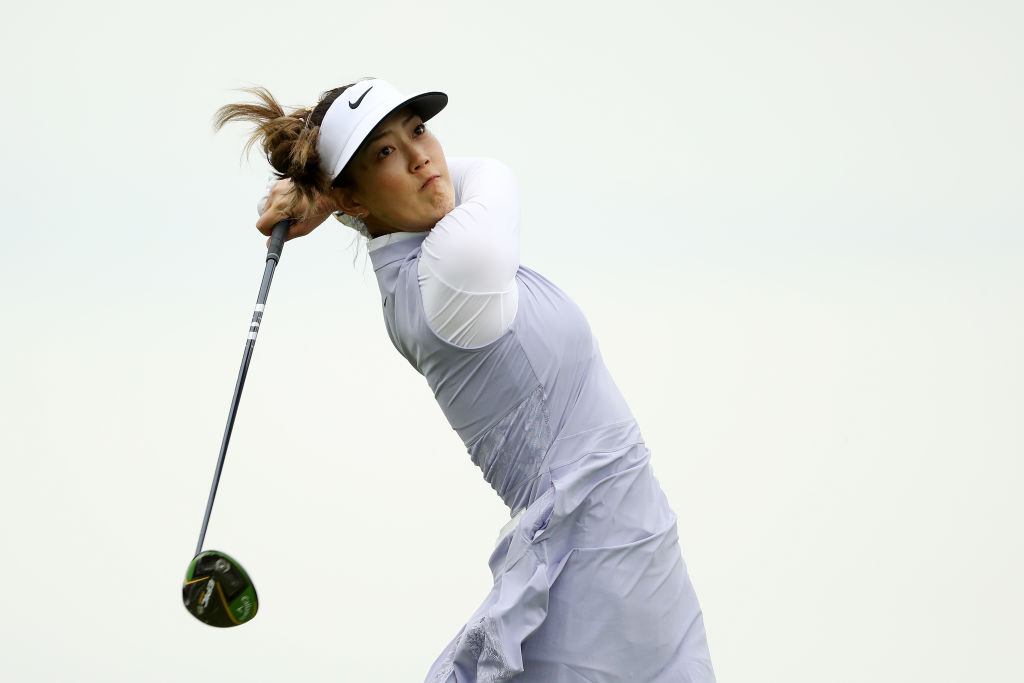 What Is Michelle Wie's Net Worth?
Michelle Wie had a stellar career as an amateur. As a pro, she won the 2014 U.S. Open. What is Michelle Wie's net worth?
Michelle Wie was the definition of child prodigy. At 10 years old, she became the youngest golfer to qualify for the USGA amateur championship. She was the youngest to qualify for an LPGA Tour event. In 2014, she won the U.S. Women's Open. In all of her golfing accomplishments, she's amassed a large amount of money. What is Michelle Wie's net worth?
Michelle Wie destined for success at young age
Michelle Wie found success at a very early age. At 12 years old, she won the Hawaii State Open Women's Division by thirteen shots. In 2003, at 13, she became the youngest player to make an LPGA cut at the Kraft Nabisco Championship, where she carded a 66 during the third round.
That same year, Wie became the youngest person ever, male or female, to win a USGA adult event, when she captured the Women's Amateur Public Links tournament. She also made the cut at the U.S. Women's Open at age 13, the youngest player ever to do so. Through sponsors exemptions, Wie played a limited number of LPGA Tour events because she was under the age of 18.
In October 2005, Wie turned professional at 16. From 2005-2019, Wie won five LPGA Tour events including the 2014 U.S. Women's Open, her only major championship. That was also Wie's best year on the Tour winning twice and securing 13 top-10 finishes. She won $1.92 million in prize money that season. 
Michelle Wie's controversies
Throughout her career, Michelle Wie has always been a lightning rod for controversy. One of the earliest happened following the 2006 British Open when she finished 26th and then had her agent fire her caddie over the phone. It became a common theme for Wie to dispose of caddies following poor performances.
Wie also came under fire in 2007 for a wrist injury that required her to step away from the Tour for several weeks. Those weeks, however, turned into months, and the Wie camp remained quiet. The one exception was Wie's agent, who said it wasn't broken. As a result, some players began to question the severity of her injury and if it might have been an excuse intended to give Wie a break from golf.  
In April 2008, Wie announced she had three broken bones in her wrist. It was later documented in 2009 that the reason for Wie's initial lack of communication about the injury was because Wie and no one in her family understood the true severity of the injury. In order to deal with the pain, she reportedly took four or five painkillers a day. 
What is Michelle Wie's net worth?
RELATED: The Golden State Warriors Keep Putting Themselves in Position to Pounce on Stars
Since Wie turned pro in 2006, she has brought home more than $6.8 million in prize money. Interestingly, those numbers pale in comparison to her sponsorship deals. She signed sponsorship deals with Nike and Sony when she turned pro, and those contracts were reportedly worth more than $10 million per year. Wie has a reported net worth of $12 million.
In 2020, Wie was planning to transition over to broadcasting on a more regular basis, where she was going to contribute golf coverage for the multimedia platforms of CBS Sports, including the Masters. The COVID-19 pandemic, however, prevented it from happening. 
In August 2019, Wie married Jonnie West, Director of Basketball Operations for the Golden State Warriors and the son of NBA legend Jerry West. The couple had their first child, a daughter, Makenna Kamalei Yoona West on June 19, 2020.