What Is NFL Hall of Famer Randy Moss' Net Worth?
For a stretch in the early 2000s, if Michael Vick was the talk of the NFL, Randy Moss was a close second. The retired Minnesota Vikings superstar became the talk of the NFL town thanks to his outrageous speed and public persona. However, given what Moss' place in the NFL lexicon is to this day, his net worth in 2020 might come as a shock to some.
Randy Moss takes the field
Moss wasted no time showing the league how great he was. In 1998, he was still a rookie, but that didn't stop him from having an All-Pro year. The Minnesota Vikings' 21st pick in the Draft out of Marshall, Moss came with a lot of hype. At 6'4″ tall and 210 pounds, Moss not only had the speed to be effective but the size. 
With a young Daunte Culpepper throwing to him, Moss immediately became one of the best receivers in the NFL. He captured 1,313 yards during his Rookie of the year season to go along with 17 touchdowns. With running back speed and the build of an NBA guard, Moss would be a problem for several years to come.
Due to some off the field incidents, Moss was beginning to sour in Minnesota. With rumblings that he would soon be out the door, the Vikings moved him to Oakland, where he spent a pair of disappointing seasons. 
Second wind in the NFL
While many thought Moss was done, an offseason trade to the New England Patriots revitalized his career. Moss had nearly 1,500 receiving yards and 23 touchdowns that year. To top it off, the Patriots weren't just great in 2007, they were almost unstoppable.
With Moss's skills and Tom Brady's arm, the team went 18-0, leading into the Super Bowl before a disastrous collapse against the New York Giants. 
Moss was never the same after that season. His numbers went down over the next two years, and in 2010, Moss was let go in the middle of the season. After a brief return to Minnesota and an eight-game stint with the Tennessee Titans, Moss retired after the 2010 season. He returned for a single year with the San Francisco 49ers in 2012 before calling it quits for good after the season. 
Despite a less-than-stellar latter half of his career, Moss was one of the best wide receivers in NFL history at his peak. His off-the-field brand also made him a celebrity. 
Randy Moss as a brand
Moss had a strange persona when he entered the NFL. He was known for being quiet with the media, although he was also prone to deliver some memorable quotes. His response to a reporter who asked about checks, "Straight cash, homey," became an unofficial slogan for his career (per the Star Tribune). With that kind of confidence, you know Moss spent his money. 
From Rhode Island mansions to his investment opportunities, Moss made no qualms about living large in the NFL. However, what might surprise people is how little he made when compared to other superstars of the sport.
Moss's salary only eclipsed $10 million twice, according to SpotRac. His $14 million season in 2008 was his highest-paid. Some of this has to do with the market at the time, but others have to do with his perception around the league. 
As beloved as he was by fans, Moss's antics, such as his simulated mooning of fans, made him some enemies around the league's front offices. Despite this, he made a cool $82 million during his NFL career. 
What is Randy Moss worth these days?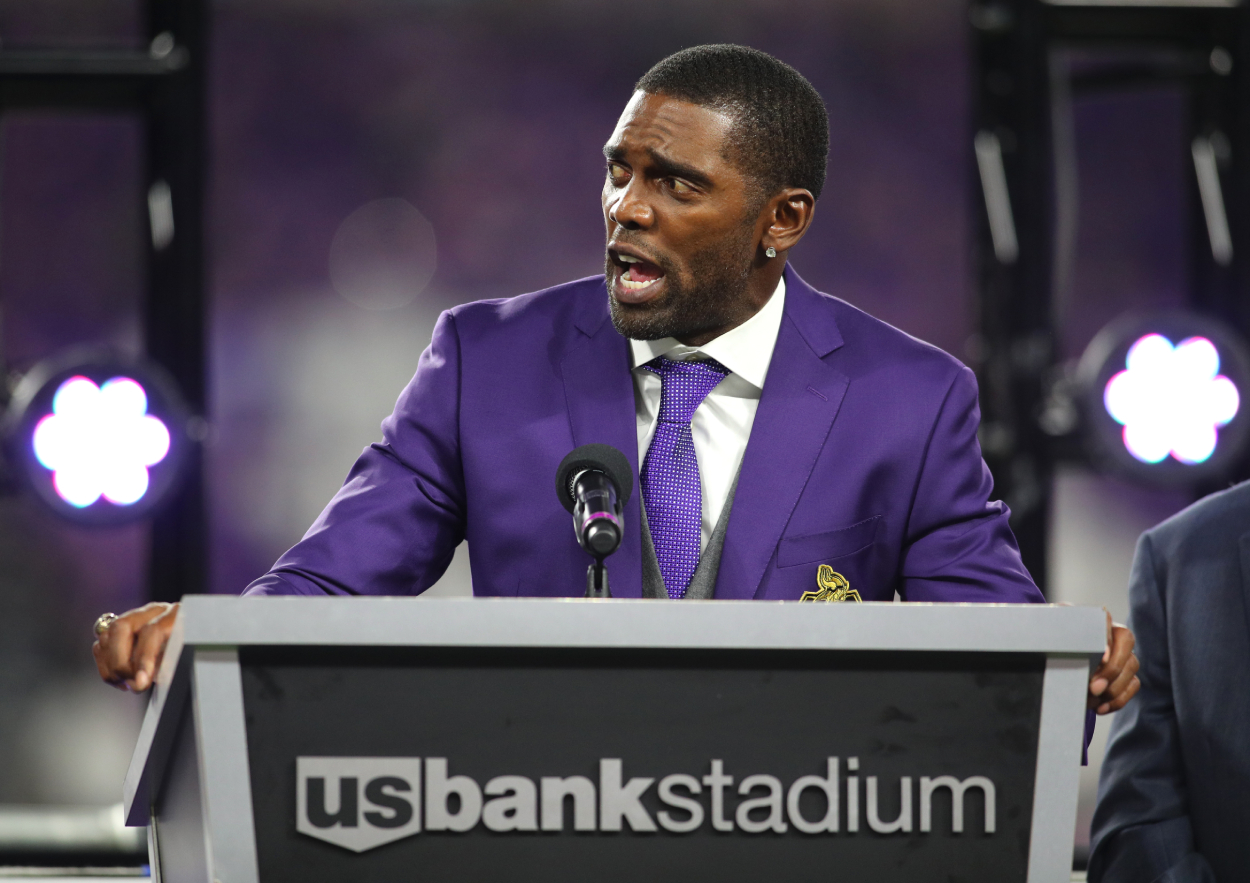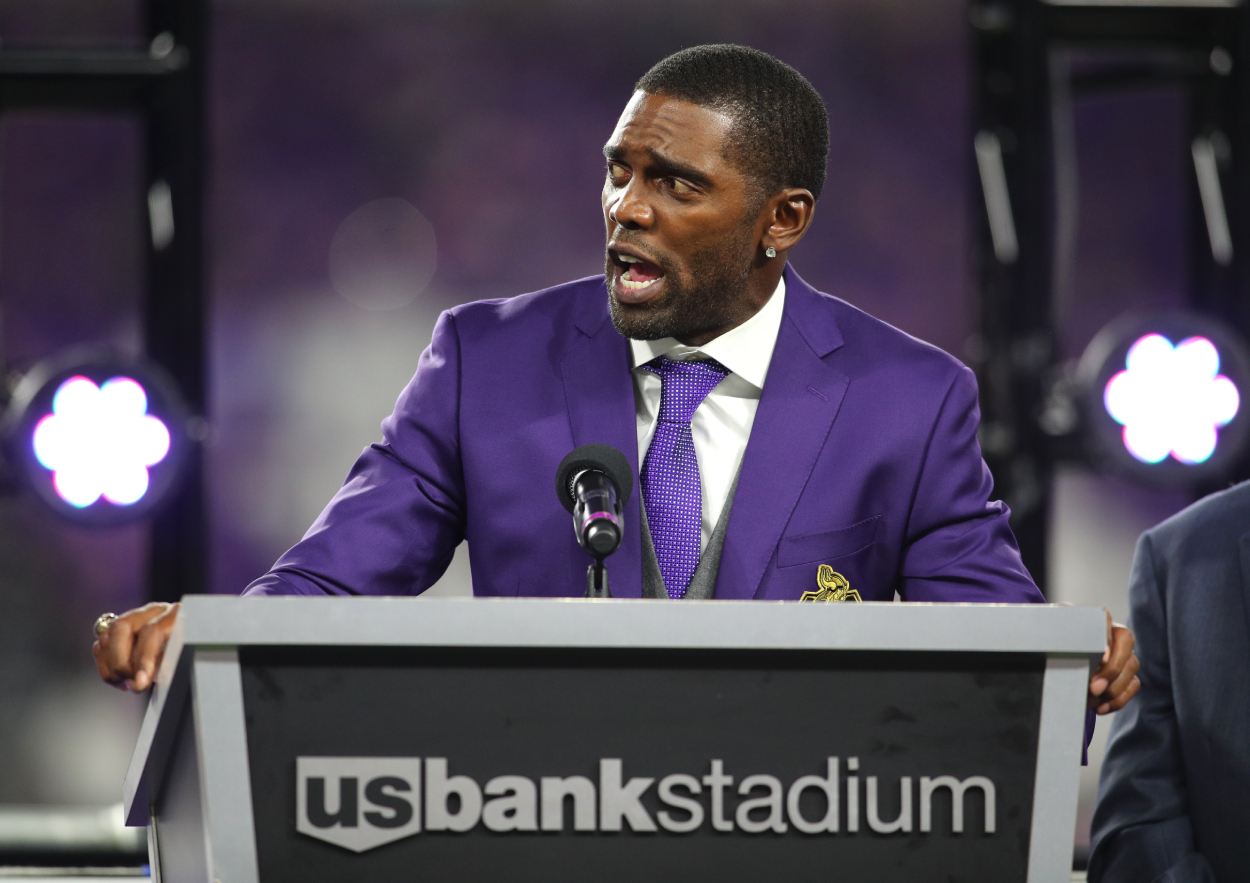 Moss isn't hurting eight years removed from his career. Despite the purchases and the lack of NFL money for many years, he is still worth $25 million, according to Celebrity Net Worth.
Although he had a Nike sponsorship and several others, he's not raking it in his post-playing career like Michael Jordan. Moss has found a second wind on television, and when he's not analyzing the game, he remains quite charitable through the Randy Moss Foundation for children. 
Moss might have been a complicated figure in the NFL, but he remains one of the best to do it. His antics are as part of his legacy as his game. Regardless, he remains a big-name figure late into retirement, and his impact on the league as a whole cannot be ignored. 
All stats courtesy of Pro Football Reference