What Is Peyton Manning Doing Now?
Athletes often struggle with existential crises when the time finally comes to retire from the game. That goes double for players who rose to the top level of their sport. From Allen Iverson, to Mike Tyson, to Lenny Dykstra, countless one-time greats went through very public struggles following retirement. Others, meanwhile, lead successful, productive lives after sports.
One athlete whose post-career has been closely watched in recent years is former NFL superstar Peyton Manning. Manning, who retired in 2016, easily ranks as one of the greatest football quarterbacks of all time. Since then, he's done a good job staying active and keeping his name in the public sphere. Here we briefly recap Manning's on-court accomplishments, as well as what he's been doing since retirement.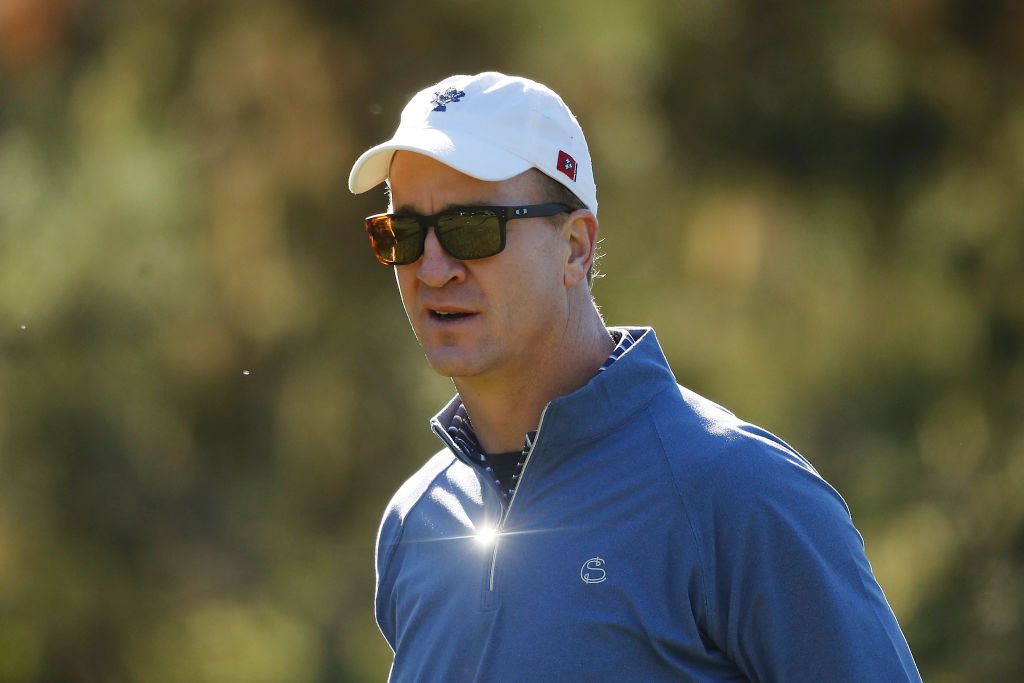 Peyton Manning's impressive NFL resume
A player as famous and distinguished as Manning doesn't need much of an introduction. Yet to help put his impact in perspective, it's a good idea to cover a few of the most impressive achievements of his 18 season NFL career.
To begin with, Manning twice led his teams to Super Bowl victories — first in 2006 with the Indianapolis Colts, and then in 2015 with the Denver Broncos. Manning also holds a staggering array of individual awards.
He won five NFL MVP awards, was chosen for 14 Pro Bowls, and received seven First-team All-Pro selections. Manning led the league in passing years in three seasons and led the league in passing touchdowns in four seasons. He also holds the record for the most career passing touchdowns, with 539.
Manning's career achievements place him in the highest echelon of NFL excellence. Sports website Bleacher Report recently listed him as the number four quarterback of all time, behind only Johnny Unitas, Joe Montana, and Tom Brady. Regardless, many analysts consider Manning to be the highest IQ quarterback to ever hit the field.
Peyton Manning's post-NFL career
Unlike many former superstars, Manning has stayed busy in the nearly four years since retiring. To begin with, Manning has clearly been taking the opportunity to enjoy himself. In 2018, he made an appearance at a Kenny Chesney concert in Denver. 2018 also saw Manning go on a high-profile golf date with superstar Tiger Woods.
Manning has also kept busy with various business and sponsorship deals. He allegedly even considered joining a group of investors who hoped to purchase the Carolina Panthers. As he has throughout his career, Manning has also continued to appear in numerous commercials, including with his brother Eli in one recent Madden commercial.
Peyton's Places
Manning has also been a prime target for sports networks hoping to sign him as an on-air broadcast personality. Both ESPN and Fox have courted Manning. So far, however, Manning has chosen not to go down that route, turning down all of the offers that have come his way.
When asked about his reluctance to take a broadcasting job, Manning said simply that he "liked listening" to offers, but wasn't sure when — if ever — he would be ready to come back to the world of football. Yet Manning did recently choose to collaborate with ESPN+ on a special project known as Peyton's Places.­
This 30-episode documentary series covers 100 years of football history and was produced in honor of the NFL's 100th season. Manning serves both as the series' host, as well as one of its executive producers.
Many of the episodes involve Manning interacting with legendary figures like Joe Namath, Joe Montana, and Ray Lewis, breaking down key moments in the development of the sport.
As of January 2020, the series has now been released in its entirety. The critical and popular success of the series has led football fans across the country to hope that Manning will choose to undertake another such project in the near future.