What Is Rafael Nadal's Net Worth?
Rafael Nadal is one of the best players of his ongoing era in tennis. Novak Djokovic and Roger Federer — you can't mention these luminaries without also acknowledging Nadal. As the No. 2 men's tennis player on earth, it's impossible to question his value. And yeah, for the curious, that means he makes an absurd amount of money.
Tennis' global popularity keeps prize pools stocked. The endorsement deals, about as lucrative as it gets. Let's break down the career that led up to Nadal becoming one of the richest athletes around, and then piece together what he does with all that money.
The biggest moments of Rafael Nadal's career
Nadal won the U.S. Open in 2019. The COVID-19 pandemic put the brakes on that ascent for the time being, but clearly his crawl back up the rankings means big things are in store. Yet, if his career ended today, it would already put him forth as one of the best tennis players in history. His latest Open win happens to be his fourth.
He also won the French Open a record 12 times across 20 years. He had a 10 victory streak at international majors between 2005 and 2014, another all-time record. Only an injury that shut him down from 2014 through 2015 could slow him.
Most significant to tennis history is his unbelievable talent on clay. He is the best player on that particular surface of all time, with a 436-39 record, according to FiveThirtyEight. He was unbeaten every single time he stepped on a clay court from 2005 to 2007, another record.
The endorsements that bolster Rafael Nadal's net worth
These all-time, record setting feats earned Nadal $109 million in straight-up tournament winnings alone. But he's worth a bit more than that. Celebrity Net Worth pins his net worth at $180 million. That extra stack of cash comes from his many lucrative endorsement deals.
The clay court master works with Emporio Armani, who comp his always impeccable off-the-court looks. It's one of the ironies of being rich and visible. You no longer have to spend your own money on certain luxuries, and even get paid for it if you play your cards right. It's a win-win for the tennis star, who has become closely associated with men's fashion.
Since 2004, Nadal has served as Kia Motors' top brand ambassador. They sponsor events on his behalf, and have a long-running series of TV ads together. He's regularly seen taking a new Kia for a spin — although, the cars he buys himself are on another level. Kia, for their part, seem to be happy such a big spender is also happily showing off their cars thanks to their partnership.
How Nadal spends his money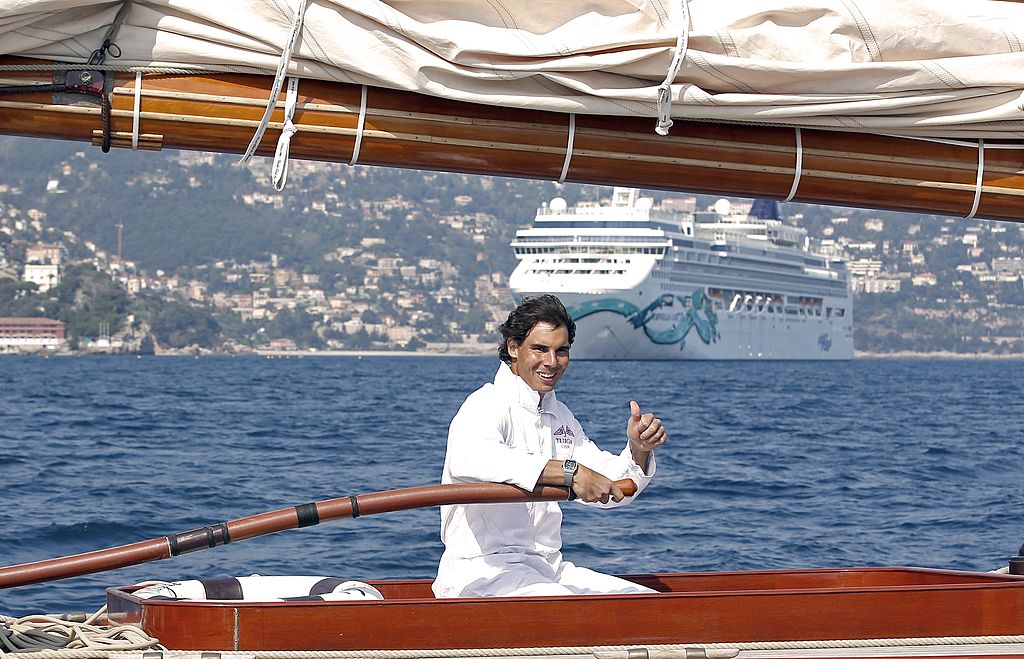 Nadal opened a tennis academy in 2016, according to Forbes. Alongside NBA player Pau Gasol, he put up $10 million and counting to raise money for Spain in the midst of the COVID-19 pandemic. That is in addition to his ongoing charitable efforts on behalf of children with intellectual disabilities.
As one of the top earners in sports in general, he has quite a bit of cash set aside for charitable endeavors. That isn't to say he doesn't have a reputation for living it up as a multi-millionaire. As one with his level of wealth tends to, he invested in a yacht: The 77 foot Beethoven.
His expensive taste in cars leads him to Aston Martin and Ferrari. He's picky enough that he openly groused over a Mercedes he won in a tournament. Nadal has a lot of cash to spend, and he doesn't shy away from the opportunity.