What Is Retired NFL Player Tony Gonzalez's Net Worth?
When Tony Gonzalez retired in 2013, he did so as one of the most consistent and durable tight ends to play the game. In 17 years, Gonzalez was a fan favorite of both the Kansas City Chiefs and the Atlanta Falcons thanks to his toughness and his awe-inspiring play on the field. Because of his football prowess, Gonzalez became a very wealthy man throughout his career.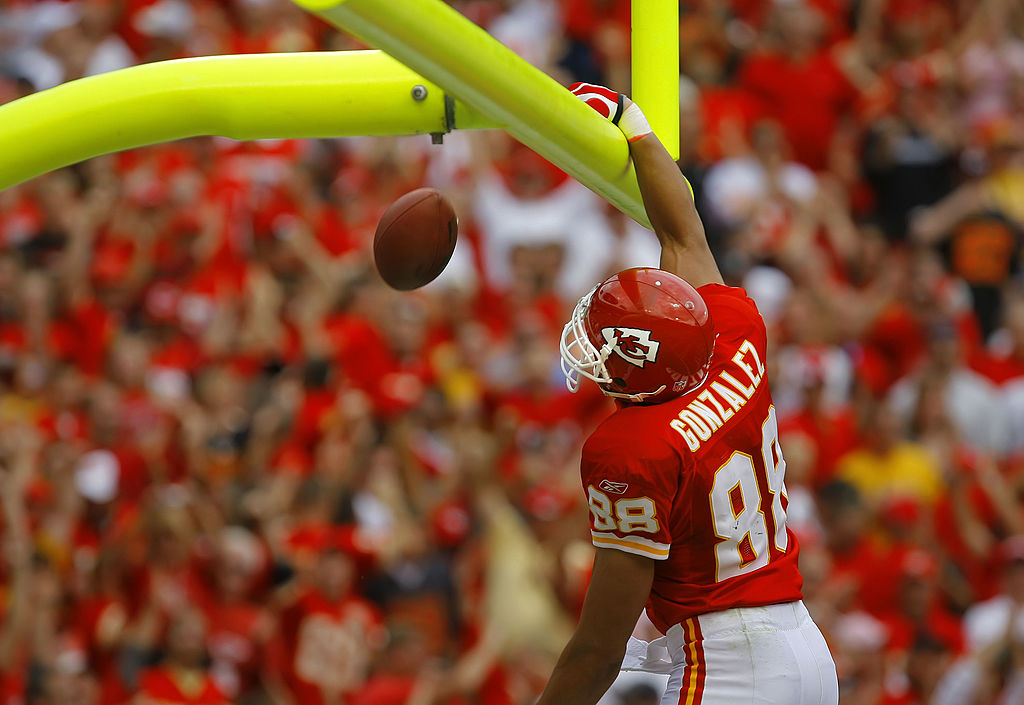 Tony Gonzalez's rise
Gonzalez was a two-sport athlete at UC Berkeley. While he spent most of his freshman season on the bench for the football team, by the end of his second season he was one of the team's go-to options at the tight end position. Gonzalez got 541 receiving yards and two touchdowns in 11 games during his sophomore season.
As a senior, Gonzalez took his game to the next level. Not only did he get 699 receiving yards for an average of nearly 16 yards per play, but he accumulated five touchdowns in the process. This put him on the NFL's radar, with him being projected to go in the first round of the draft, but football wasn't the only sport on Gonzalez's radar.
Gonzalez wasn't a star in basketball like he was in football, but that doesn't mean that he lacked skill. The act of getting into a school like Cal for basketball shows Gonzalez's athletic ability. As a forward, Gonzalez averaged a respectable six points and four rebounds as a role player on the team. He might not have had the NBA talent that he wished, but he didn't suffer because of this. 
NFL life
Tony Gonzalez was drafted 13th overall in the 1997 NFL draft by the Kansas City Chiefs, and he would call Kansas City home for the next 12 years of his life.
He began the season as a bench player, playing all 16 games for the Chiefs although he didn't start, and despite a smaller role, he was able to accumulate 368 yards and two touchdowns off the bench as a rookie. This would be his last time as a bench player. 
For the remainder of Gonzalez's 17-year NFL career, he would start every single game he played and only missed two games due to injury. By year three, he was not only a consistent Pro Bowler, but an All-League talent, making it to the NFL's First-Team All-Pro six different times between 1999 and 2012.
While many players age out of the NFL, Gonzalez was nearly as good at 37 as he was at 22, and his longevity spoke volumes about how hard he worked to get where he was. 
When he finally called it quits, Gonzalez had accumulated 15,127 receiving yards, 111 touchdowns, 866 first downs, 1,325 receptions, and he averaged 11.4 yards per reception.
The question was never if he was a Hall of Famer, but when he would make it, and he got that answer after being inducted in 2019. 
What's he doing now?
Tony Gonzalez told Forbes how hard it was to retire, and he immediately had questions about what he could do outside the NFL. He started with broadcasting work at CBS but found that he didn't quite feel at home there.
Gonzalez was away from his family and found himself getting homesick on the road. He took a job with Fox Sports that allowed him to stay in broadcasting while staying closer to his family in the process. Now, he hosts a podcast and continues analysis for Fox. 
How much is Tony Gonzalez worth?
As both an NFL player and an analyst, Tony Gonzalez has secured a healthy living for both he and his family. According to CelebrityNetWorth.com, he has a net worth of $20M and a peak salary of $4.5M. All his hard work in college and the pros paid off, and it would appear as though Gonzalez has a long career ahead of him as an analyst.