What Is Tito Ortiz's Net Worth?
Tito Ortiz is one of MMA's most popular figures as he enjoys getting into public feuds with people like UFC President Dana White. Other than getting into feuds, he's also one of the most legendary UFC fighters ever, as he was a former champ. Here's a look at the career and net worth of Tito Ortiz.
Tito Ortiz's MMA career
Unlike many legendary UFC fighters, Ortiz's first professional fight happened in the UFC when the company was still young. He debuted in the UFC in 1997. After one fight in another promotion, he fought exclusively in the UFC for the next 13 years. He became famous after dominating many of his opponents and some of the UFC's most legendary stars.
In 2000, he beat UFC legend Wanderlei Silva for the light heavyweight title. He defended his belt five times before he lost it to another UFC legend, Randy Couture. After this stint with the belt, he fought against UFC legends like Chuck Liddell, Lyoto Machida, and Rashad Evans. While these were big fights that sold really well, Ortiz's time at the top was ending since he lost 7 of his last 9 fights in the UFC. 
Then, in 2012, he retired from the UFC. But, two years later, he came back to fight in Bellator. He won three fights and took one loss in Bellator, and then, he decided to fight in some smaller MMA organizations. He beat his old rival, Liddell in 2018, and then, in 2019, he beat Albert El Patron, a former WWE wrestler. At the age of 45, Ortiz technically isn't retired yet, but, due to the COVID-19 pandemic, he hasn't fought again after that fight.
Tito Ortiz's other business ventures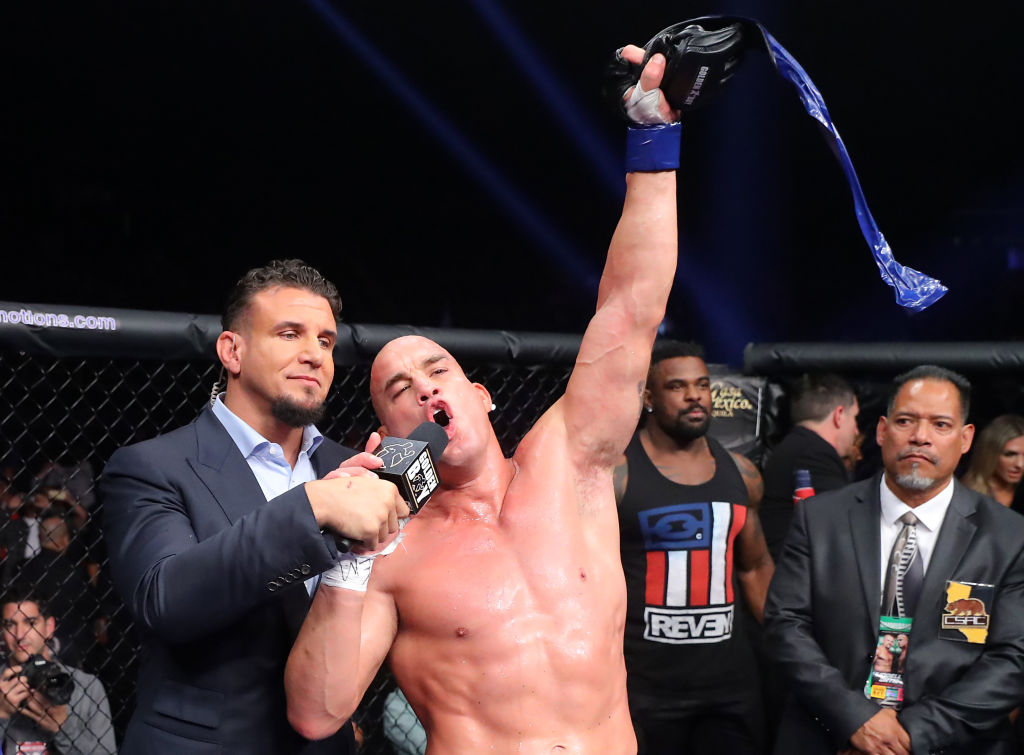 Like many athletes, other than fighting, Ortiz has also pursued other business ventures in order to earn some extra cash. For example, he has had a small acting career, making brief appearances in TV shows and movies.
He's also been a manager for other MMA fighters, too. For instance, he used to manage Cris Cyborg, according to Bleacher Report. This was back before she joined the UFC. But still, she had a successful career outside the UFC beforehand, and Ortiz likely played a role in this.
Other than managing, he's also the boss of two MMA-related companies, according to Celebrity Net Worth. The former UFC champion is the CEO of Punishment Athletics, which makes MMA clothes and equipment. He's also the owner of an MMA gym, Punishment Training Center. This gym is located in his hometown of Huntington Beach, California. 
Tito Ortiz's net worth
While he was undoubtedly a UFC legend, UFC fighters are notorious for not being paid a lot. Despite his long, successful MMA career, Ortiz's net worth is about $20 million, reports Celebrity Net Worth. That said, this might change soon.
Despite retiring from boxing in 2005, Mike Tyson may be looking at a comeback. The former boxing champion is now in his 50s, and he's in no position to fight against real boxers. That's why, for this potential comeback bout, non-boxers, like Ortiz, are being considered for the job.
Tyson has been reportedly offered $20 million to make this comeback fight happen. Whoever ends up fighting him will likely get a similar paycheck. That said, these are all hypotheticals, and right now, neither men have signed any contracts yet. But, if it happens, then it might give Ortiz a second act in his career.