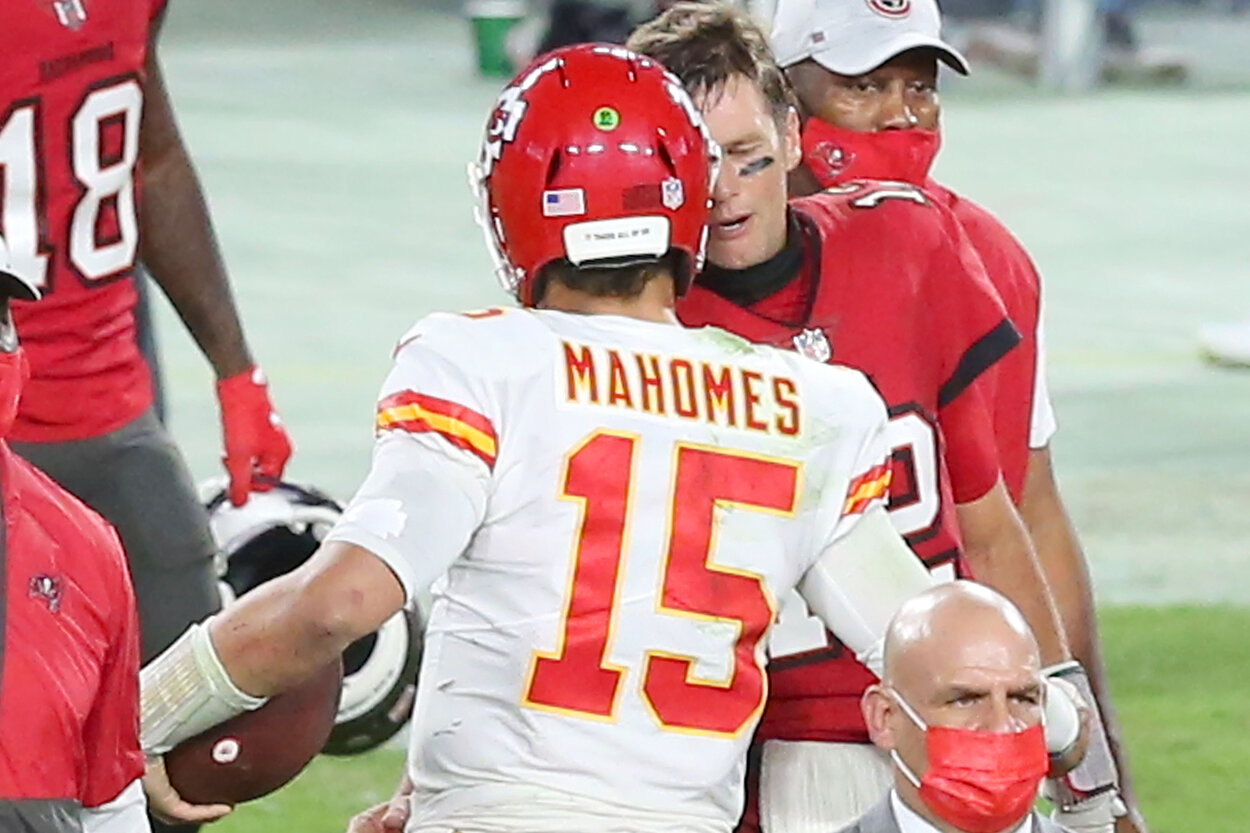 What Is Tom Brady's Record Against Patrick Mahomes Entering Super Bowl 55?
Star quarterbacks Patrick Mahomes and Tom Brady are set to square off in Super Bowl 55. How have the two fared against one another as starting quarterbacks?
Those who predicted that Tom Brady and Patrick Mahomes would face off in Super Bowl 55 should be feeling proud of themselves.
The highly-anticipated matchup between the two quarterbacks on Sunday, February 7, marks a de facto "passing of the torch" between Tampa Bay's Brady, 43, and Kansas City's Mahomes, 25.
Super Bowl 55 won't be the first time that Brady and Mahomes play against one another. Entering the Big Game, how many times have the two battled on the gridiron?
Tom Brady and Patrick Mahomes are squaring off in Super Bowl 55
It's not often where the predicted preseason championship matchup, whether it is the World Series or the NBA Finals, actually comes to fruition.
Super Bowl 55 has a message for the norm. A showdown between Tom Brady, in his first year on the Tampa Bay Buccaneers, and Patrick Mahomes — the reigning Super Bowl MVP — was a trendy pick in the offseason.
That is indeed the game that fans will get on February 7. Barring any last-minute health problems, Brady will lead his Buccaneers out onto the field against Mahomes and the Chiefs.
As of Jan. 30, 2021, Kansas City sat at -3 favorites over the Buccaneers.
Super Bowl 55 is the first time that a team — in this case, the Buccaneers — will play in the Super Bowl at their home stadium. Raymond James Stadium in Tampa, Fla., is hosting this year's game.
The two quarterbacks matched up on November 29
A matchup between Tom Brady and Patrick Mahomes at Raymond James Stadium already happened fairly recently.
On November 29, Brady and the Buccaneers welcomed Mahomes and the Chiefs to Tampa Bay. Mahomes shredded the Buccaneers' defense for 462 yards and three touchdowns in a 27-24 victory.
Chiefs star receiver Tyreek Hill totaled 13 receptions, 269 yards, and all three of Mahomes' touchdowns.
Brady completed 27 of his 41 passes for 345 yards, three touchdowns, and two interceptions. Mike Evans caught two of Brady's touchdowns, while running back Ronald Jones had a 37-yard catch-and-run for the Buccaneers.
Bashaud Breeland and Tyrann Mathieu each intercepted Brady.
What is Tom Brady's record against Patrick Mahomes?
Super Bowl 55 will be the fifth — and final — time that Patrick Mahomes plays Tom Brady.
The two split their first four games against one another. Let's quickly recap each of the four previous matchups between Brady and Mahomes, starting from the beginning.
Scoreboard operators found themselves very busy on Oct. 14, 2018. Although Tom Brady only threw one touchdown against the four that Mahomes recorded on Sunday Night Football, the Patriots escaped with a 43-40 victory. Patrick Mahomes threw for 352 yards and hooked up with Tyreek Hill on three of the touchdowns. 
Mahomes and Brady faced off three months later in the AFC championship game on Jan. 20, 2019. Kansas City took the Patriots to overtime, but Rex Burkhead sent New England to the Super Bowl with a 2-yard rushing touchdown in the extra period. New England won that night, 37-31, before defeating Jared Goff and the Rams in Super Bowl 53. 
Mahomes finally defeated Brady on Dec. 8, 2019, in New England. Both quarterbacks were limited to one passing touchdown each in the Chiefs' 23-16 victory. 
As mentioned above, Mahomes threw three touchdowns in a 27-24 victory over the Buccaneers on Nov. 29, 2020. That marked the first time that Brady faced Kansas City after he joined the Tampa Bay Buccaneers.
The Buccaneers and Chiefs are not scheduled to play another in the regular season until 2024. For these two to play one another in 2021, both teams would need to reach the Super Bowl again.
Betting odds courtesy of CBS Sports as of Jan. 30, 2021. How to get help: In the U.S., contact the Substance Abuse and Mental Health Services Administration helpline at 1-800-662-4357.