What Is Trae Young's Salary and Net Worth?
In a league where Mavericks small forward Luka Doncic is getting all of the highlights, Atlanta Hawks point guard Trae Young is quietly having a superstar season. The Hawks are struggling to get wins after a series of injuries.
But Young is showing at an early age that he's on the path to being a star. Because of this, he is getting attention from sponsors in only his second season, and he could find himself very rich soon. 
Trae Young's breakout season
Young made waves at Oklahoma, and NBA teams took notice. In the 2018 NBA Draft, the Dallas Mavericks selected him as the fifth overall pick and then quickly traded him to the Atlanta Hawks. Who did Dallas get in return? The forementioned Doncic, ensuring the two will always be compared.
It turned out to be a fitting trade, as the two have, thus far, been the two best players out of the 2018 draft class. Had Doncic not existed, however, Young may be getting more attention.
As a rookie, Young benefited greatly from playing alongside NBA iron man and veteran leader Vince Carter, who was in his 21st NBA season. The Hawks were not a playoff contender, but they boasted a promising young core with Young and John Collins.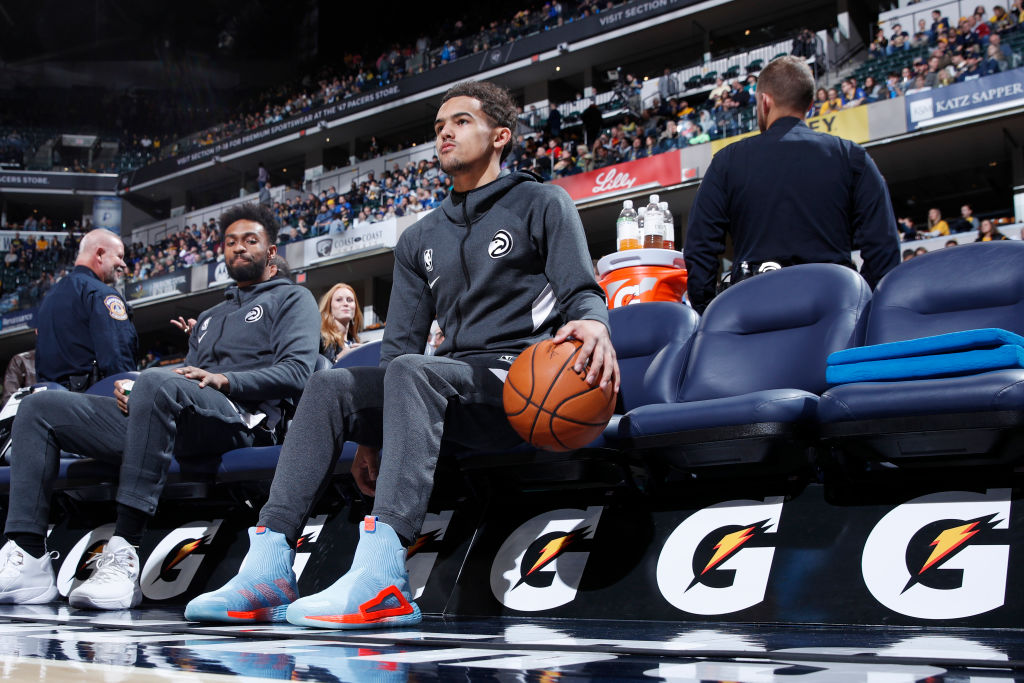 Young took some time to find his groove, but he eventually found it. The 21-year-old averaged 19 points, eight assists, and almost four rebounds. While his shooting was an issue, his skill made up for it. This made "Rookie of the Year" voting more interesting, although Doncic still won the award. 
Entering this season, Young had more expectations. With young teammates like Cam Reddish, Young and the Hawks showed even more potential on paper. Unfortunately, Collins was suspended for a quarter of the season after testing positive for a banned substance, and Reddish has not shown he is ready.
Young, however, is having a strong season, averaging 28 points per game, almost nine assists, and four rebounds. With improved shooting across the board, he is keeping the Hawks afloat even as they struggle.
On a rookie deal, Young is not yet worth millions like LeBron James or Giannis Antetokounmpo, but this will likely change.
How much does Young make?
As a low lottery pick, Young earns some good money. According to Spotrac, he made over $5 million dollars as a rookie and will make over $6 million this year and next. His overall contract is worth over $25 million.
Plus, Young will likely sign an extension next season that could end up in the nine-figure range. At just 21 years old, he is putting up numbers most can't. If he can get some wins on top of this, things will only get better for his bank account.
On top of his, Young is making Adidas money worth millions of dollars a year, although the specifics are under wraps. As the point guard's stardom grows, his endorsements could go far beyond basketball and footwear.
What is Trae Young's net worth?
According to Gossip Gist, Young has a net worth of about $2 million as he starts his second season. It may seem low, but as he spends his initial riches and grows his brand, this net worth will increase exponentially, barring a catastrophe.
Young is one of the brightest young players in the NBA, and with a diverse skill set and growing star, he could be one of the biggest names in the NBA by the time he reaches his prime.