What Is UFC Fighter Holly Holm's Net Worth?
There's something about watching hard work pay off that makes people go crazy. That is Holly Holm's career in a nutshell. It's the story of a gifted, multi-sport athlete who's gone on to become one of the most widely-respected female UFC fighters in history. Let's look at how Holm got there the net worth she's amassed.
Holly Holmes' UFC success
After working her way up through MMA and Bellator MMA, Holm burst onto the UFC scene in 2014 with a split-decision win against Raquel Pennington, and a unanimous decision the next year against Marion Reneau. It was her 2015 fight with bantamweight champion Ronda Rousey that made Holm a household name. At the time, Rousey was the most famous female athlete in combat sports, bar none.
Going into UFC 193, Rousey was expected to retain her title against the newer Holm, but Holm had other plans. Holm was a quick and more powerful striker than Rousey. She was only the second fighter to ever take the former champion into a second round, where Holm delivered a high kick that knocked out Rousey, sending her to the hospital.  
Up until then, Rousey had seemed invincible, defending her title for more than three years. Holm's upset shouldn't have come as a surprise, however. While Holm seemed like an up-and-comer to the UFC fandom, she was already a highly-trained and lethal fighter. 
A fighter in the making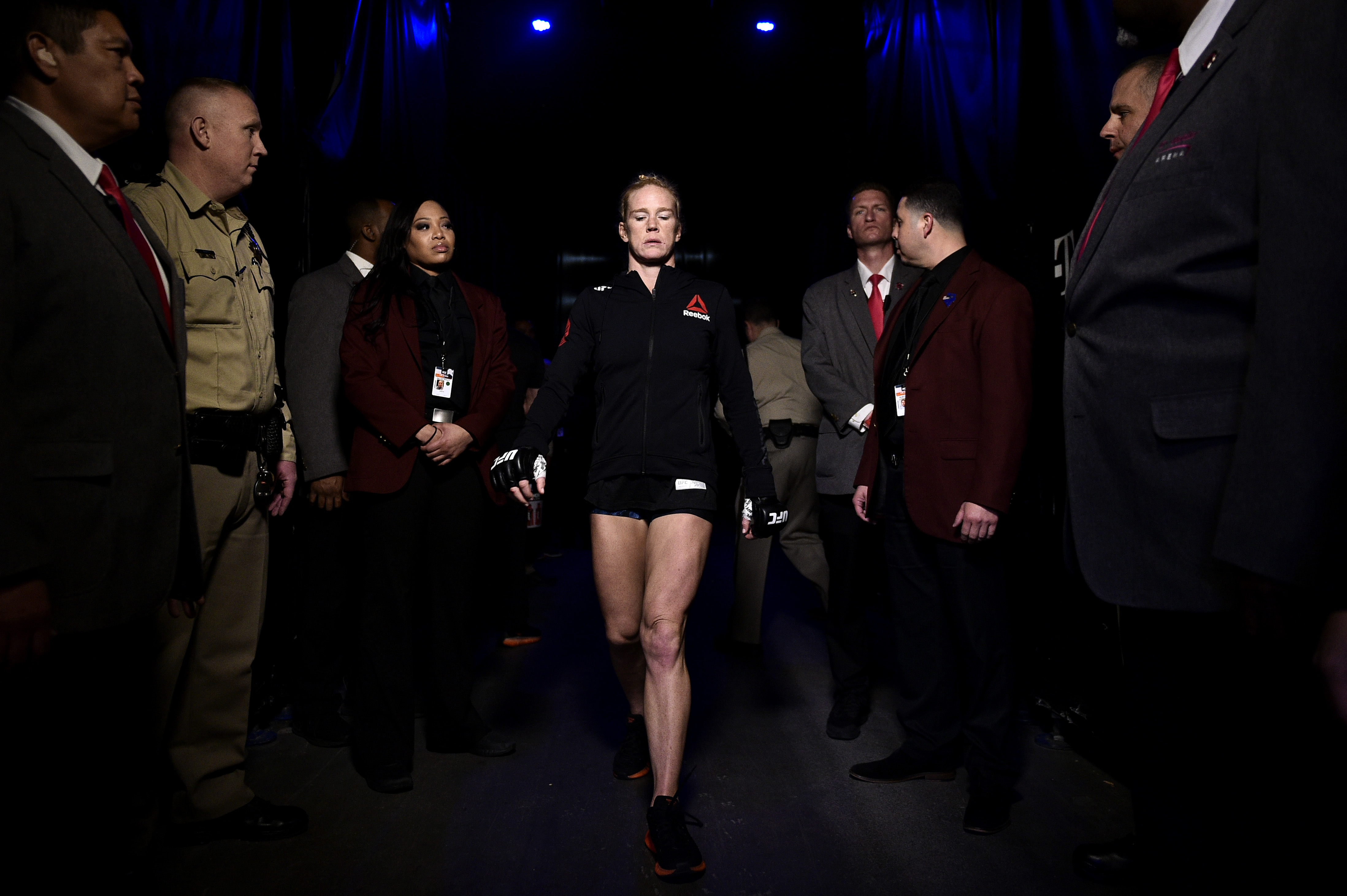 Soccer was her main sport growing up. That's where she first developed her amazing leg strength. She was also an avid swimmer, which might explain her grace and fluidity in the ring. But beyond her natural athleticism, reports the Albuquerque Journal, she also had an incredible support system in her corner.
Her father, Roger Holm, was her primary parent growing up. Somewhat of a gentle giant, her father, a pastor by trade, taught her that kindness and competitive nature were not mutually exclusive concepts, molding her into the solid athlete and human that she is today. 
Her fighting career began when she took an aerobics class at age 16. There she met trainer Mike Winkeljohn, who began to train her in kickboxing. Just out of high school, Holm participated in the International Kickboxing Federation tournament as an amateur where she won six bouts with losing a single match.  
After her brief stint in kickboxing, Holm found her way to regular boxing where her competitive nature and natural skill made her an instant contender. By 2005 she had won multiple women's welterweight titles and is considered by many, including Ring Magazine, to be the greatest female welterweight in history. The thrill of challenge and progress ultimately led her to the UFC after retiring from boxing in 2012. 
Holm's net worth
So between boxing greatness and UFC success, what is Holm worth exactly? According to sources like Celebrity Net Worth, Holm is worth approximately four million dollars.
This number may seem lower than other major fighters because Holm found herself in a minor scandal after she endorsed a supplement banned by the UFC. But that didn't stop her. As of 2020, she's still going strong, although she's not the champion anymore. With an upcoming fight scheduled for August, she shows no signs of retiring just yet.