What is Urban Meyer's Salary for Coaching Football at Ohio State?
Ohio State head coach Urban Meyer is one of the highest-paid coaches in college football but he will forgo a few weeks of pay since he won't be on the sidelines for his team's first three games of the season. Here's more on that and just how much Meyer makes coaching the Buckeyes.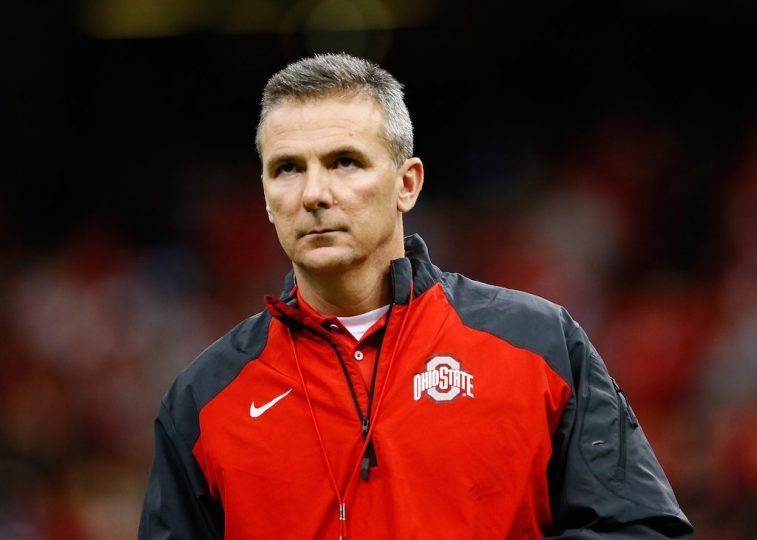 On Aug. 22, university president Michael Drake announced that Meyer was suspended for the first three games of the 2018 season following allegations that he mishandled domestic assault accusations made against his former assistant coach Zach Smith. In addition to Meyer, athletic director Gene Smith was also suspended without pay from Aug. 31 until Sept. 16.
"Although neither Urban Meyer nor Gene Smith condoned or covered up the alleged domestic abuse by Zach Smith, they failed to take sufficient management action relating to Zach Smith's misconduct and retained an Assistant Coach who was not performing as an appropriate role model for OSU student-athletes," Drake said in a statement.
Zach Smith was arrested for a domestic assault incident in 2009. At the time he was working as a graduate assistant on Meyer's staff at the University of Florida. This past July, Smith's ex-wife, Courtney, alleged that Meyer and other Ohio State Buckeyes staffers knew her husband was abusing her but failed to stop him. Smith was terminated on July 23.
While serving his suspension Meyer will miss OSU's first two home games against Oregon State and Rutgers on Sept. 1 and Sept. 8 as well as a game against TCU in Arlington on Sept. 15. He will return for the fourth game of the season to take on Tulane.
Last April, the university extended Meyer's deal and gave him a pay raise. Bumping his salary from the nearly $6 million he earned in 2017 up to $7.6 million in 2018. He is under contract with the school through 2022. Meyer's pay for the five seasons is set to total more than $42 million.
Coaching has made Meyer a rich man as he has an estimated net worth of $20 million. He got his first job as a head coach in 2001 at Bowling Green State University and is credited with turning that football program around. He then coached at the Univesity of Utah for two years before being offered the University of Florida gig in 2005.
In 2009, he signed a $24 million contract with the Gators for $4 million per year which made him the highest-paid coach in the SEC. However, he resigned from the job at the end of 2010 and left more than $20 million on the table. It was initially thought that Meyer was resigning to spend more time with his family but less than a year later, he accepted the Ohio State job.
Meyer is originally from Ohio. He and his wife Shelly own a sprawling property outside of Columbus. Their mansion is nearly 12,000 square feet and sits on two acres. It was built in 1985 and was once listed for $2.8 million. The Meyers ended up purchasing it for $1.45 million. The home has seven bedrooms, eight bathrooms, and a large pool.
Follow The Cheat Sheet on Facebook!