What Kevin Durant's Injury Means for the 2015 NBA MVP Race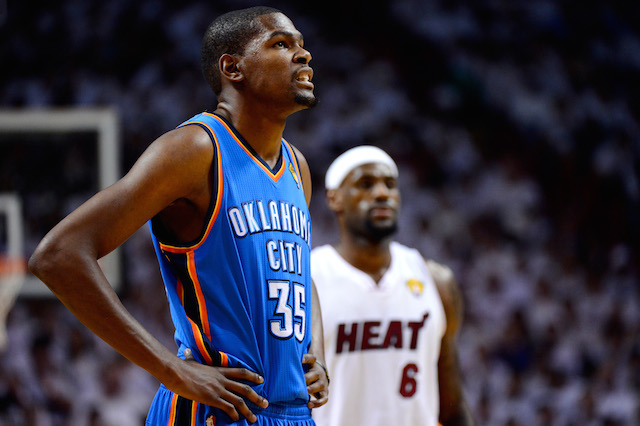 The recent news that reigning National Basketball Association MVP Kevin Durant will miss the first portion of the upcoming season with a foot fracture has ramifications for both the playoff race and individual awards as well. While we've already looked at what Durant's absence means for Oklahoma City's chances of winning the 2015 title, we now turn our attention to the sure-to-be hotly contested MVP race. Is Durant still a candidate? Can anyone take down LeBron James? Will a young, up-and-coming superstar snag the trophy instead?
Here are the six favorites to win the NBA's 2015 MVP award, according to Bovada's latest updated odds.
6. Chris Paul (16-1)
Clippers point guard Chris Paul is among the favorites to be named MVP this season, but keep in mind that he doesn't even have the best odds on his own team. Paul has averaged 18.6 points and 9.9 assists over nine seasons in the NBA and topped both those averages in the 2013-2014 season. He will be a key cog in the team's hope of breaking through to the NBA Finals, but is it possible that Paul can take a big enough step forward to be seen as the league's best player?
5. Derrick Rose (15-1), tie
This doesn't seem like the world's safest bet, with Derrick Rose trying to rebound after two significant knee injuries that have kept him out of action seemingly for years. Rose has an MVP award to his credit already — 2011, when he averaged a career-best 25 points per game — but he needs to prove once again that he can hold up under the wear and tear of an 82-game grind. Even if Rose is 100%, will coach Tom Thibodeau let him play enough minutes to be a significant MVP threat? Safe to say, there's a different trophy the Bulls organization is a bit more worried about.
5. Russell Westbrook (15-1), tie
Although "Kevin Durant's sidekick" doesn't usually get the credit he deserves, young Thunder star Russell Westbrook has averaged over 21 points per game in each of the last four seasons. With Durant out for the foreseeable future, Westbrook could put up big numbers and jump out to an early lead in the MVP race. But again, durability is an issue. He only played 46 games a year ago due to knee surgery, his third in eight months.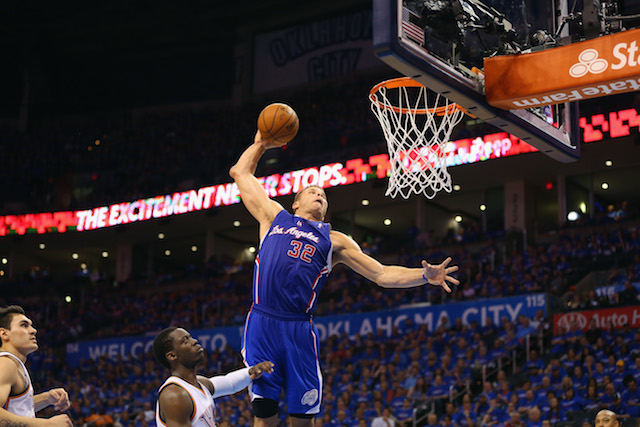 3. Blake Griffin (12-1)
High-flying Clippers forward Blake Griffin has become known for more than just vicious dunks: his scoring average jumped from 18 points a game in 2012-2013 to 24 last season. If his stats continue to skyrocket, Griffin could be a legitimate MVP candidate this year, but we can't help but wonder if he and Paul might take votes away from each other, assuming L.A. lives up to expectations as a championship-caliber team.
2. Kevin Durant (4-1)
We admit to being a little surprised that Durant's most valuable player odds are still so good even after the foot fracture. Yes, the 2014 MVP led the league with 32 points per game last year, but missing a month or more of the 2014-2015 season means Durant has an uphill climb in front of him. Even once Durant is cleared and declared fit for game action, will it take some time to shake off the rust and become his usual MVP-caliber self?
1. LeBron James (5-6)
The overwhelming favorite to win this year's MVP award is none other than Cavs superstar LeBron James. Long considered the best player on the planet, LeBron owns four of the last six MVP trophies and could very well put another in his collection next spring. James has averaged better than 27 points a night over his 11 years in the league, and the only way he probably doesn't win MVP this season is if he makes Kyrie Irving and Kevin Love look so good that James no longer has the best stats on his own team. That seems like it would be a nice problem to have.