What Motivates Bradley Beal to Be a Good Basketball Player?
Bradley Beal has been a rising star for quite some time. But his last three seasons have been his coming-out party, and he continues to improve in his eighth season in the NBA. This isn't a coincidence. Beal has worked hard as a basketball player to get to where he is, but he couldn't have done this without motivation every step of the way. 
The shooting guard spoke about this recently as he discussed life on and off the basketball court. It served as a fascinating insight into what makes Beal tick. 
Bradley Beal's NBA career to date
Selected third overall in the 2012 NBA Draft, Beal entered the league with lofty expectations. With John Wall by his side, Beal was expected to be part of a tandem that would rise to great lengths.
He showed his place in the league almost immediately, putting up nearly 14 points, two assists, and four rebounds a game. The promise was there, but Beal also needed to work on things. He hovered around 42% from the field.
This isn't a bad percentage. But it's alarming for a player who shoots 40% from the three-point arc to struggle to shoot much better inside. Beal took this to heart and grew his game. By his fifth season, he was shooting over 48% from the field.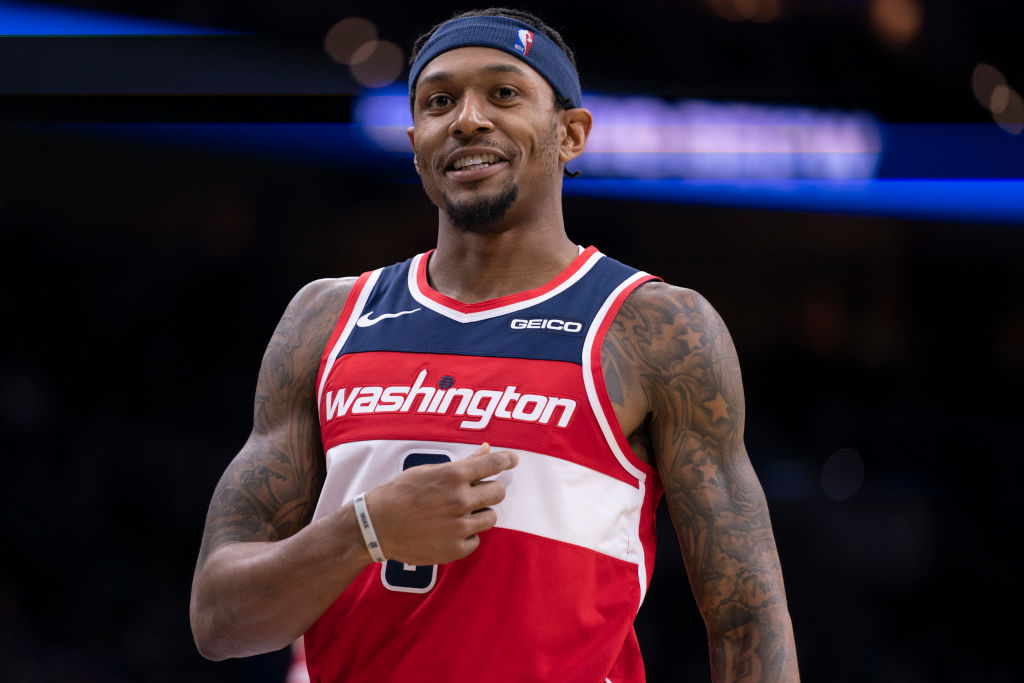 Unfortunately for Beal and the Wizards, the results are hit or miss. Every time they seem to be on the rise, something happens that brings them back down. Wall's injury history has hurt the team, but organizational problems and consistency have kept the Wizards from becoming a true threat.
Lately, however, Beal has been doing everything he can to keep them afloat. The 26-year-old is now a 28 points-per-game scorer, throwing seven assists as a playmaker and grabbing five rebounds. He is easily putting up the best numbers of his career for a struggling Wizards team.
Despite these obstacles, however, Beal keeps a positive attitude and continues to use every pitfall as a growing opportunity. He's discussed what drives him on several occasions.
A dream come true for Beal
Beal was just 19 when he entered the NBA as a Wizard. After impressing everyone as a freshman at Florida, he gambled on himself by foregoing the rest of college for the NBA.
Beal says his educational journey was not forgotten. School helped him learn to become a better basketball player and prioritize what he needed to do. He claims that his education taught him how to work hard at everything he does.
"I worked hard in the classroom, so I worked hard out on the court, so I always saw school as motivation, as well," Beal told the Wall Street Journal. "I just saw my dream. What I really wanted to do was play basketball in the NBA one day … and the opportunity was right in front of me, so I had to just take advantage of it."
Beal prides himself on working hard on everything he does. But years out of college, his motivation has shifted a little bit.
Fatherhood and basketball for Beal
This past offseason, Beal's life changed for the better with the birth of his son, Bradley Emmanuel Beal II, who was born on July 23. This has given Beal a new outlook on life and more motivation to succeed as a player and a person. Speaking on fatherhood, Beal put things into perspective:
"It's definitely an extra motivational push," Beal said. "It gives you something to realize that you're playing for, you're representing someone else — the role model that you're becoming for somebody [in] basketball and non-basketball."
Beal has handled himself well since entering the NBA. From school to fatherhood, he cares about what he can do to become better. Still only 26 years old, he still has a ways to go. While we often think athletes wake up in the morning naturally being the way they are, the fact is that they have to work hard to get where they are.