What NBA Player Has the Most Shot Attempts?
Shooting: Everybody does it! Some players do it more than others. The top three players in shot attempts in NBA history are not too surprising, but they do say a lot about the trajectory of the league and these players' careers. Were they ball-hogs or simply great scorers? And could a man they call "the King" make his way onto the list? Here are the NBA players with the most shot attempts.
3. Kobe Bryant
Kobe was a hero to millions of basketball fans. The adoration was deserved. Bryant was a totemic figure for a couple generations of players and NBA watchers. The legendary shooting guard inspired people to pursue their dreams and still had so much more to give. But it is no disrespect to the dead to admit Bryant never saw a contested mid-range jumper he didn't love. 
Bryant's public image is largely defined by two concepts: unbreakable confidence and shameless humility. This dichotomy is what gave Bryant the personal license to look for his own shot as often as he did. He took 26,200 shots over the course of his career, hitting 11,719 (44.7%) of them. The amount of shots he took had a shade of selfishness about it. It's clear he always believed in himself more than most of his teammates, even if they were All-Stars like Dwight Howard. And there was that time when he refused to shoot in an elimination playoff game against the Suns to make a point. But Bryant earned that cache because of his greatness.
The height of his shot-taking abilities was the 2005-06 season when he averaged 27 shots a game. Bryant made good use of the opportunities. He averaged 35 a game, and put up two of the best performances of his career. He lit up the Dallas Mavericks for 62 points in three quarters. But this season is most remembered for the 81-point game against the Toronto Raptors a month later. 
Bryant's efficiency went down the drain after tearing his Achilles, but that didn't stop him from gunning for shots. He left the game the only way he could. In his final game, he scored 60 points on 60 shots to defeat the Utah Jazz. It was absurd, a tad egotistical, and a perfect send-off for one of basketball's greatest soloists.
2. Karl Malone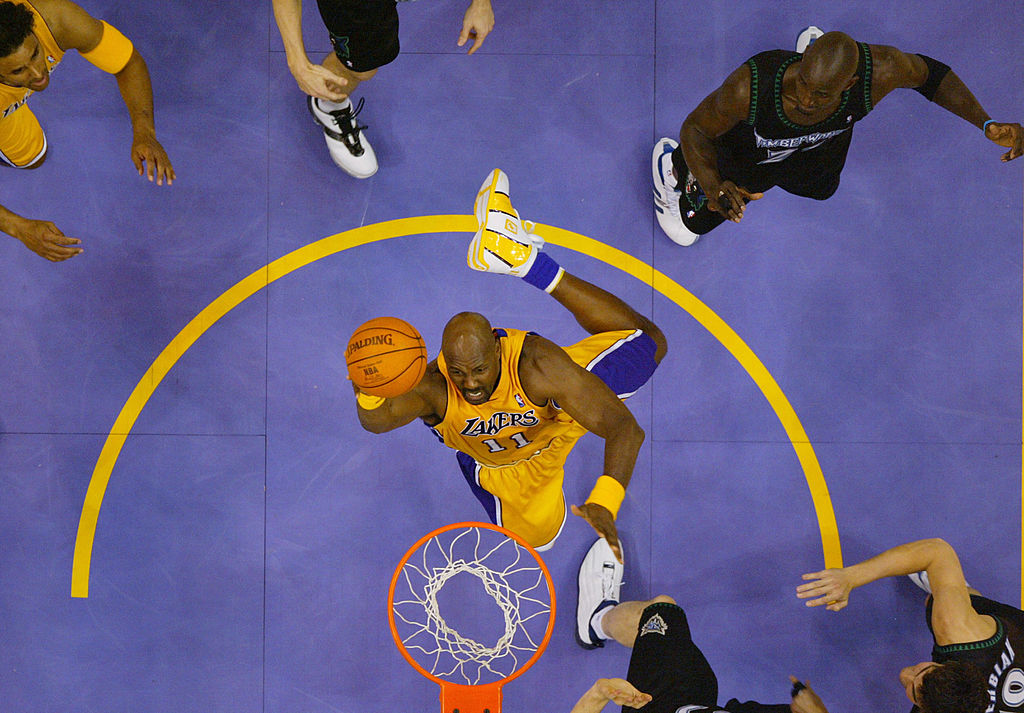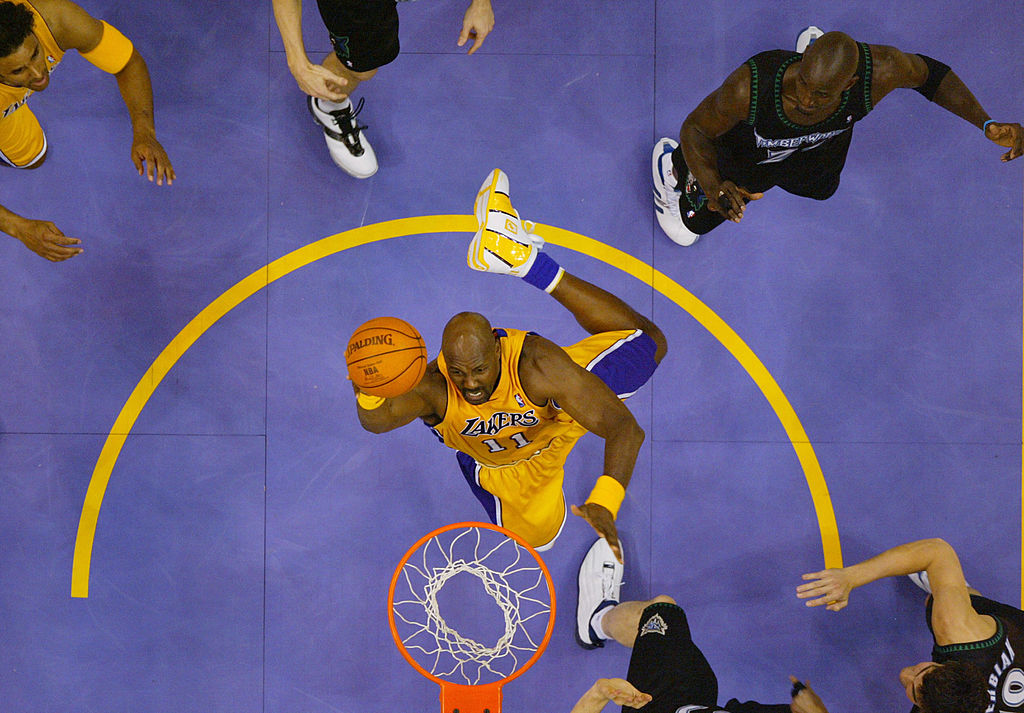 Few players have displayed the longevity of Karl Malone. He is the biggest surprise on this list. But he accrued consistent numbers for such a long time that he deserves it. His style was far from flashy — Malone holds the records for most free throws taken (13,188) and made (9,787) across a career — but it was certainly effective.
He took 26,210 shots during his career and hit 13,528 of them for an impressive shooting percentage of 51.6%. Malone failed to average at least 20 points a game in only his rookie year and his final season with the Lakers. 
The overpowering athlete and knew how to harness his gifts. He was both stronger and faster than many of the players tasked with guarding him. He was also incredibly durable. Malone didn't miss more than five games in any season until that last one in LA. That durability helped him become one of the oldest players to win the MVP award. 
Malone never won a title. But this has more to do with being in the NBA at the same time as Michael Jordan than his own shortcomings. 
1. Kareem Abdul-Jabbar
The man formerly known as Lew Alcindor has such a great career after his playing days that it sometimes gets forgotten that he's one of the best players of all time. In fact, Kareem Abdul-Jabbar should be in the "best player ever" conversation far more often than he is. The athlete has six championships, two Finals MVPs, six regular-season MVPs, 19 All-Star appearances, and 10 All-NBA First Team honors.
Abdul-Jabbar averaged 25 points a game over the course of his 20-year playing career. He took 28,307 shots and made 15,837 of them (55.9%). He took a lot of shots because he was the owner of the most unblockable shot in basketball: the skyhook. 
The shot harnessed Abdul-Jabbar's seven-foot frame and long arms into a shot that impossible to guard. This skill helped him win the scoring title twice at the beginning of the seventies. He may not have flourished in the modern NBA, due to the lessened importance of the post-game, but his place in the record books will last forever.
Which player is most likely to break into the top three?
Each of the three players at the top of the shot attempts list have a few things in common. They all were substantial NBA players for the better part of 20 years. They avoided serious injuries and had the physical and mental stamina to take all of those shots. All of those achievements are hard to attain. You need a fair bit of luck to even approach the conversation.
There are only four players currently in the NBA in the top 50 of the shot attempts list. No offense to Kevin Durant, LaMarcus Aldridge, and Russell Westbrook, but James is the only guy with a chance of making it. He's already fifth on the list with 24,654 shots, which is 3,653 from the top spot. He averages about 1,540 shots a season, meaning he'll probably break the record within the next three years.
James would be a relatively ancient 38 at that point. But he shows so few signs that he ages like a normal person that it's safe to assume he'll get there. James is well aware of this. He's talked about breaking the all-time scoring record that Abdul Jabbar also holds. It's an impressive achievement considering how happy he is as a playmaker. But James has made a habit of doing things that were thought to be impossible.