What Orlando Brown Jr.'s Potential Franchise Tag Would Mean for the Chiefs
The Kansas City Chiefs have a busy offseason ahead of them. They have just over $11.4 million in cap space, which is below the NFL average ($15.6 million). With 24 unrestricted free agents, the front office must make tough decisions. One of the easiest moves could be locking Orlando Brown Jr. up for the 2022 season and beyond.
Brown started 16 games for the Chiefs in 2021 after spending his first three seasons with the Baltimore Ravens. General manager Brett Veach previously stated that the Pro Bowl left tackle was high on his priority list in the offseason.
It seems more and more likely that Kansas City uses the franchise tag to keep Brown in town.
Chiefs GM Brett Veach likely to use franchise tag on Orlando Brown Jr.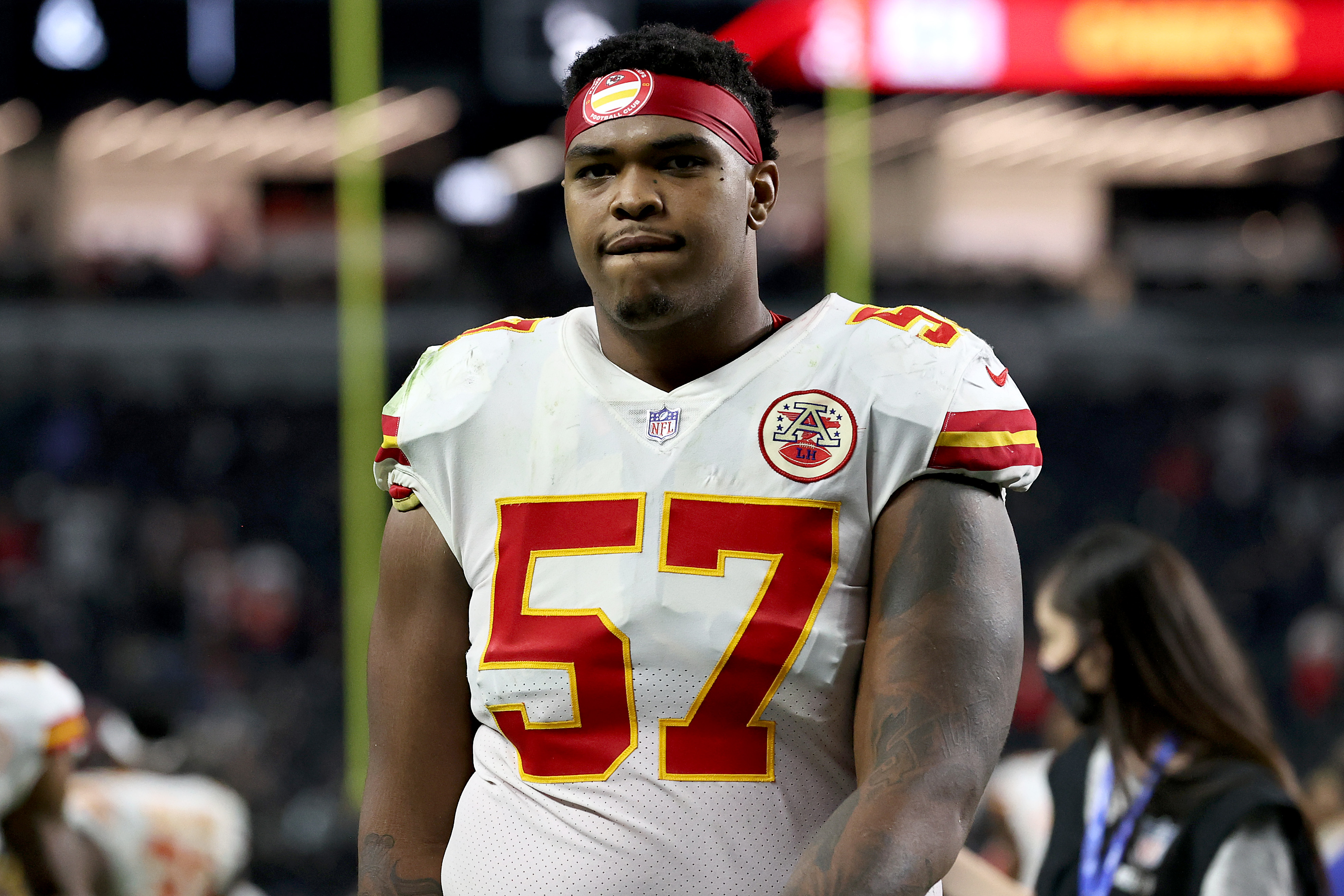 The Kansas City Chiefs made a big splash by acquiring Orlando Brown Jr. from the Baltimore Ravens before the 2021 season. They sent a first-round draft pick to Baltimore in exchange for the big man.
Brown played out the final season of his rookie contract in Kansas City, and now he's an unrestricted free agent. The franchise tag window is officially open, and the 25-year-old offensive tackle is a prime candidate for it in the 2022 offseason.
Brett Veach spoke about the latest contract talks at the NFL Scouting Combine.
"Yeah, I'll say first off with Orlando, I'm sure that's likely," Veach said per the Kansas City Star's Herbie Teope. "We're going to work hard to get a deal with him."
Left tackles usually command a great deal of respect in terms of contract figures. Brown's market value is currently five years, $116.5 million, about $23.3 million annually. A deal like that would put him in the range of David Bakhtiari (Packers) and Trent Williams (49ers).
"Typically the larger the deals, the longer they take," Veach added. We've been through that with Pat [Mahomes] and with Chris Jones. So, on one end, we're going to work to see if we can get things executed as efficiently as possible, but we also know that it might take some time. We feel confident, though, by the start of the season, we'll be in a good place."
The front office is making protecting Patrick Mahomes a priority
Whether via the franchise tag or a long-term contract, Brett Veach and the Chiefs must lock Orlando Brown Jr. down for the foreseeable future.
Patrick Mahomes is the $450 million man in Kansas City. That's a massive investment in a single player. However, the fifth-year quarterback's greatness is unquestioned. As special a talent he is, Mahomes can't do it alone. Travis Kelce and Tyreek Hill are elite receiving weapons. Still, the offense can only go so far unless it has talent along the offensive line.
The Chiefs' offensive line battled inconsistency throughout the 2021 season, but the unit improved down the stretch. Brown was no different. However, the flashes of brilliance and potential outweigh anything he lacks at the moment.
Pro Football Focus gave the Oklahoma product a solid grade of 75.2 on the year. Brown played a total of 1,127 snaps, allowing just four sacks.
Kansas City needs Orlando Brown Jr. to play as well as he did toward the end of the season moving forward. At 6-foot-8, 363 pounds, he's a mountain of a man. He possesses excellent strength and pop at the point of attack, which helps him excel in run blocking. His most prominent area of opportunity is against speed rushers.
If Brown can take the next step, he'll be blocking for Patrick Mahomes for a long time.
What's next for the rest of Kansas City's free agents?
It sounds like Brett Veach will decide on Orlando Brown Jr.'s future soon. Once that domino falls, the front office will focus on the long list of remaining unrestricted free agents.
After Brown, the Chiefs have admitted that bringing back Tyrann Mathieu is another one of their top priorities. The three-time All-Pro safety has made it clear that he wants to be in Kansas City. What will the team be willing to pay him, though?
Mathieu is coming off a three-year, $42 million contract. The Honey Badger and the Chiefs are hoping to reach an agreement that would be beneficial for both sides.
"After the Cincinnati game, we had a chance to talk," Veach said per Arrowhead Pride's John Dixon. "We communicated that we certainly love Tyrann — and Tyrann loves being here."
Head coach Andy Reid chimed in as well. "We love Tyrann, so it's a matter of how that all fits in."
Meanwhile, Kansas City has several other key contributors hitting the market. Cornerbacks Charvarius Ward and Mike Hughes, defensive end Melvin Ingram, defensive tackle Jarran Reed, and running back Darrel Williams are among the unrestricted free agents.
If the Chiefs want to clear cap space to make more moves in free agency, they will need to part ways with some of these guys. It's unclear which players, but Kansas City can't keep everyone.
All stats courtesy of Pro Football Reference and contract figures courtesy of Spotrac.
RELATED: 2022 NFL Free Agency: 4 Best Destinations for Tyrann Mathieu