What Patriots Coach Bill Belichick Really Thinks About Aaron Hernandez
Aaron Hernandez had the potential to be one of the best tight ends in the NFL. But it all came crashing down in 2013 when police charged him with first-degree murder. In 2015, the athlete was convicted of the crime and received a life sentence in prison.
Hernandez ultimately committed suicide in April 2017. Given that Bill Belichick coached Hernandez for three seasons, the Patriots coach got to know the tight end rather well. Here's what Belichick really thinks about the late NFL player.
Aaron Hernandez's football career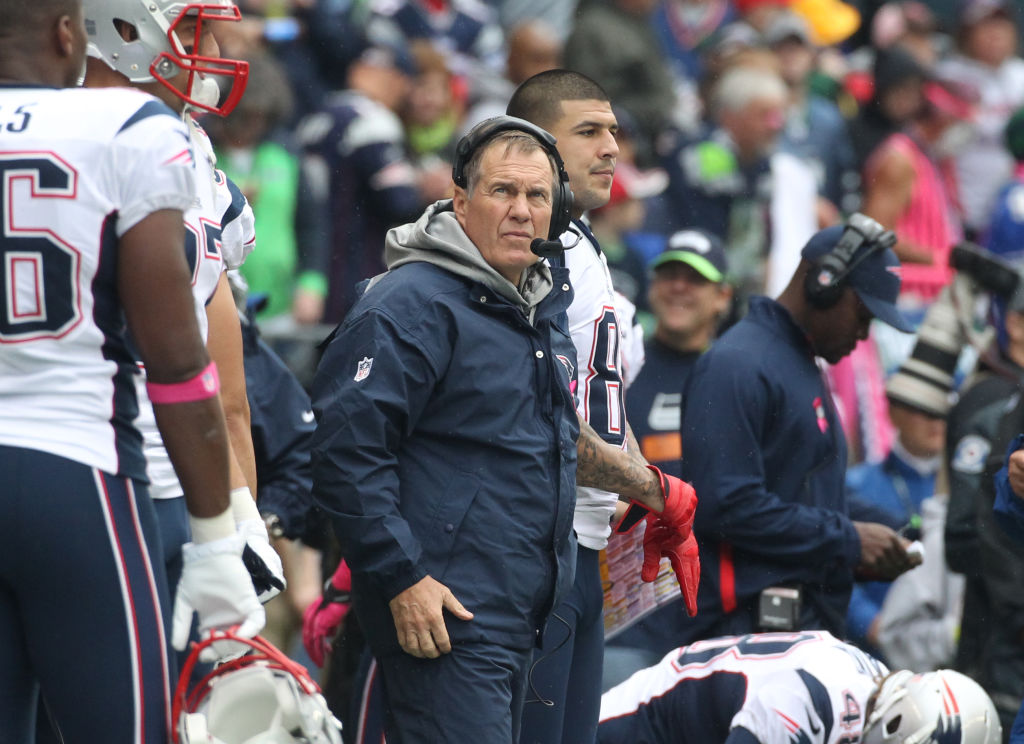 After graduating early from Bristol Central High School in Connecticut, Hernandez enrolled at the University of Florida. He played three seasons for the Gators, recording 1111 receptions in 40 games and totaling 1,382 yards and 12 touchdowns.
Hernandez declared for the NFL draft after his junior year. In 2010, the Patriots drafted him in the fourth round (No. 113 overall). In 14 games, including seven starts his rookie season, Hernandez caught 45 balls for 563 yards and six touchdowns. In 2011, he posted career bests with 79 catches for 910 yards and seven touchdowns in 14 games (12 starts).
The tight end's final season came in 2012. He hauled in 51 receptions for 483 yards and five scores in 10 games. Hernandez dealt with injuries for a lot of his playing career, which kept his stats down a bit.
Hernandez's relationship with Bill Belichick
Hernandez had a strained relationship with Belichick and the Patriots even before his arrest and legal troubles. In February 2013, he reportedly asked Belichick for a trade; he expressed fear about the safety of his fiance and daughter because "people might potentially harm" them.
Hernandez and Belichick's meeting came during the NFL's scouting combine. The athlete asked the team to either release or trade him to a West Coast team. Belichick declined the request. But he did offer to connect the tight end with the Patriots' security chief, an offer Hernandez turned down.
Later, when Hernandez was in jail, he spoke with former teammate Brandon Spikes over the phone, reports the New York Post. During the call, Hernandez expressed disgust with Belichick for not supporting him after his arrest. A former Patriot told the Boston Globe that Belichick said in a team meeting Hernandez "is not part of this team" and "he will not be spoken about in this locker room."
For his part, the first time Belichick publicly addressed Hernandez's arrest and murder charges, he didn't mention Hernandez by name — referring to him only as "one of our players" — and saying that as the team's coach, he's "personally disappointed and hurt in a situation like this."
What Hernandez's lawyer thinks about Belichick
Hernandez's lawyer, Jose Baez, wrote a book that detailed the events leading up to his client's suicide, according to NESN. In it, he discussed Hernandez's trade request. The lawyer wrote that Hernandez told him, "The coach was incensed by the idea, and reminded Aaron the team had made a significant investment in him."
During a promotional tour for the book, Baez spoke with the Boston Globe. During the interview, he seemed to place blame for Hernandez's legal situation and death on Belichick and the team. Baez asked, hypothetically, "Had they taken [the request] seriously, how would things have worked out?"
Baez went further in the interview, saying, "You're innocent until proven guilty in this country, but not in that organization" regarding the Patriots cutting Hernandez before the murder charges officially broke. The lawyer called the personnel move "hypocritical."
Follow more updates from Sportscasting on our Facebook page.