What Peyton Manning's Keepaway Prank Says About His Record
Broncos quarterback Peyton Manning always seems to be in control. In control of his offense, in control of the huddle, in control of his emotions, in control of the situation, in control of the game. In fact, we'd say that it's one of Manning's greatest traits. The way he organizes and manages his team has a lot to do with why Manning has thrown more touchdown passes than any player in the history of the National Football League.
So you can imagine our surprise when Manning's teammates appeared to "pull one over" on him after the star quarterback broke Brett Favre's career touchdown record Sunday night against San Francisco. Receivers Demaryius Thomas (who caught the pass), Emmanuel Sanders, and Wes Welker engaged in a friendly game of keepaway on national television to delay Manning's chance of getting his hands on the record-breaking football, as their leader raced back and forth with his hands up trying to catch up to the pigskin.
After the game, Manning told reporters with a smile that he was "a little bit hurt" by the stunt, saying: "They're kind of picking on me. … I've lost my vertical leap — it's not there anymore — and the side-to-side agility's not quite as quick, so it hurt me." He admitted, however, that he "enjoyed it," calling the exhibition "pretty funny."
That's all well and good, but it seems that Manning wasn't nearly as surprised by the prank as he appeared to be. In fact, according to his teammates, Manning came up with the idea and orchestrated the whole thing ahead of time.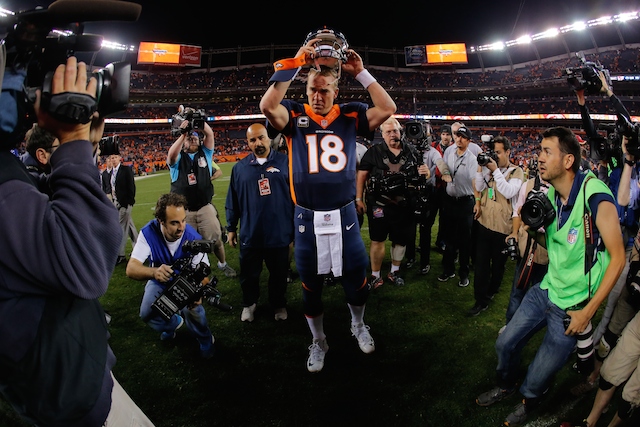 In his post-game press conference, Thomas let the world know that the prank was a Manning creation, but also added that the quarterback had actually had them "practice" the routine during the week. And if that's not Peyton Manning in a nutshell, we don't know what is.
The reason Manning has been so successful in his illustrious career is his attention to detail and his ability to serve as part coach, part offensive coordinator for the players he quarterbacks. Manning teaches young players how to get open, how to run routes, and how to come back to the football the exact way he needs them to, and then he has them practice it over and over again until the techniques are flawless. So of course the Broncos practiced a relatively pointless keepaway gag. It's Peyton's way.
There's no way we were the only ones chuckling at a "confused" Manning during the monkey-in-the-middle escapade, shaking our heads in admiration when we found out it was Manning's idea to fool us and then nodding in acceptance when we found out, as Allen Iverson would say, that Manning and his receivers were talking about "practice." (And yes, we readily admit to buying Manning's "confused" act. Hey, the guy's a great actor. Watch some commercials or an old episode of Saturday Night Live and that's obvious.)
In the scheme of things, even though Manning said he'll "definitely" remember those moments forever, the few seconds of keepaway were inconsequential and unimportant on a historic night in Denver. Yet at the same time, the significance is real. Manning shattered Favre's record — in three-and-a-half seasons less than the former Packer needed to accomplish it — because the perfectionist is picky about the little things, and he's taught his teammates from Monday to Saturday how to prepare for every situation they might face on Sunday. That's why a practiced version of "keepaway" was the perfect way to celebrate setting one of the greatest records in sports.
It's Peyton's way.