What Really Happened When Stephon Marbury Nearly Got Sent Home From the 2004 Olympics
Stephon Marbury's NBA career was defined by frustration and disappointment. His stint at the 2004 Olympics was no exception. Marbury was chosen for one of the worst USA basketball teams ever put together. He described it as the worst 38 days of his life due to issues with coach Larry Brown. The feud was an omen for how badly the tournament would go for the United States.
Stephon Marbury wasn't supposed to be on this Olympic team in the first place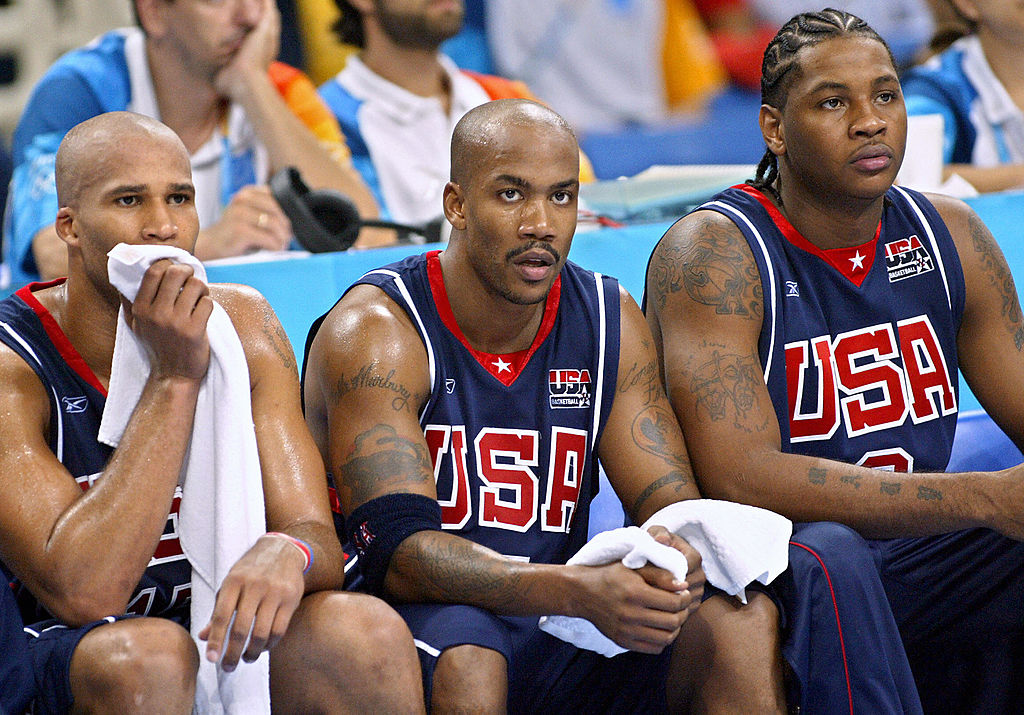 The 2004 USA men's basketball team was a miserable experience for players, coaches, and fans. Just putting together the roster was difficult. A number of factors made playing in the Summer Olympics less appealing than usual.
Mike Bibby and Tracy McGrady cited security concerns for why they wouldn't join. Kevin Garnett and Vince Carter both got married that summer; Ray Allen's fiancée was pregnant, and Jason Kidd underwent microfracture surgery.
Shaquille O'Neal, Jermaine O'Neal, and the Detroit Pistons players who just won the title needed a break after their playoff runs. Kobe Bryant was in the middle of his sexual assault trial. There were issues with the coaching staff, too. Larry Brown's conservative style was seen as an obstacle for potential recruits.
With most of the best players out of the running — Allen Iverson and Tim Duncan did show up — the USA roster became a mishmash of players with no experience together for a coach they didn't like in a competition they underestimated. In hindsight, their disappointing showing was likely.
Per usual, he had contentious relationships with the coaches
The rigidity of the coaches' approach set up a personality clash with Marbury. He made a habit of clashing with authority figures, ever since he forced a trade away from the Timberwolves. Marbury was still a good player in 2004. He averaged 20 points and nine assists in his first half-season with the Knicks. But his reputation as a troublemaker was well-known.
The situation got so bad that Brown tried to kick Marbury off the team via his assistant coach Gregg Popovich, reports Complex. Marbury, offended that Brown couldn't say any of this to his face, confronted Brown himself. He gave his version of events in an interview with New York Daily News:
"I was, like, 'Look, man. Why don't you [Popovich] tell Larry Brown to come down here and tell me in my face, and you stop doing his dirty work,'" Marbury said. "He was, like, 'You know what? I'm gonna do exactly that.' He called Larry Brown, and then Larry Brown: 'Oh, what is this I hear you talking about?' And I said, 'Exactly. Why you had your assistant coach come and talk to me? You could've came and talked to me like a man.' And then, after that, I told him, 'Look, you're not gonna have not one problem with me. Don't worry; I'm not gonna say nothing. I'm gonna do my job."
Marbury stayed on the team and became the USA's leader in assists with a whopping 3.4 per game.
The 2004 Olympics was the nadir for USA Basketball
Despite the turmoil, the U.S. went to the Olympics as gold-medal favorites. They left as laughingstocks. The tournament began with two losses in the group stage, the most humiliating one being a 19-point upset to a Puerto Rico squad led by Carlos Arroyo. They lost again in the semifinals to Argentina, becoming the first American team to finish with a bronze medal since 1988. 
After that humiliation, Team USA worked to ensure the humiliation of being the third-best team in the world would never happen again. Jerry Colangelo was installed as director of USA Basketball. His first move was to hire Mike Krzyzewski to be the head coach. The "Redeem Team" grabbed the gold in 2008. Of the four players from the 2004 team to stay on the roster, Marbury was not one of them.