What Ryan Tannehill's Extension Means for Luck and Wilson
Be prepared to do a double-take when you read the following statement. On Monday afternoon, the Miami Dolphins made quarterback Ryan Tannehill the sixth-highest paid player in the NFL in terms of average yearly salary. That is not a typo. The former Texas A&M signal-caller just signed a 6-year, $96 million contract extension. Tannehill's new contract has the 26-year-old quarterback in line to earn higher yearly salaries than players like J.J. Watt, Peyton Manning, Tom Brady, and his new teammate, Ndamukong Suh. Tannehill has been the starter in Miami since the Dolphins selected him with the eighth overall pick in the 2012 NFL Draft. As a refresher, that was the same Draft that yielded such quarterback prospects as Andrew Luck and Russell Wilson. Apparently the decision-makers in Miami have seen enough out of Tannehill to believe that he is franchise quarterback material. We don't exactly agree, but either way, here is a quick rundown on Tannehill's career statistics.
48 starts
61.9% completion percentage
11,252 passing yards
63 touchdown passes
42 interceptions
84.0 quarterback rating
760 rushing yards
4 rushing touchdowns
23-25 overall record
0 postseason appearances
Those numbers are solid, but do little to suggest that Tannehill is worthy of a contract that pays him in line with the other elite quarterbacks around the league. For us, Tannehill's career up to this point has been full of moments where he flashes the potential to be a perennial Pro Bowler, followed up by moments of inconsistency that make you wonder when the Dolphins are going to be ready to move on from the 6-foot-4 quarterback. Regardless, as the first quarterback from the 2012 NFL Draft class to sign a massive contract extension, Tannehill likely set a baseline market value for franchise quarterback contract extensions going forward.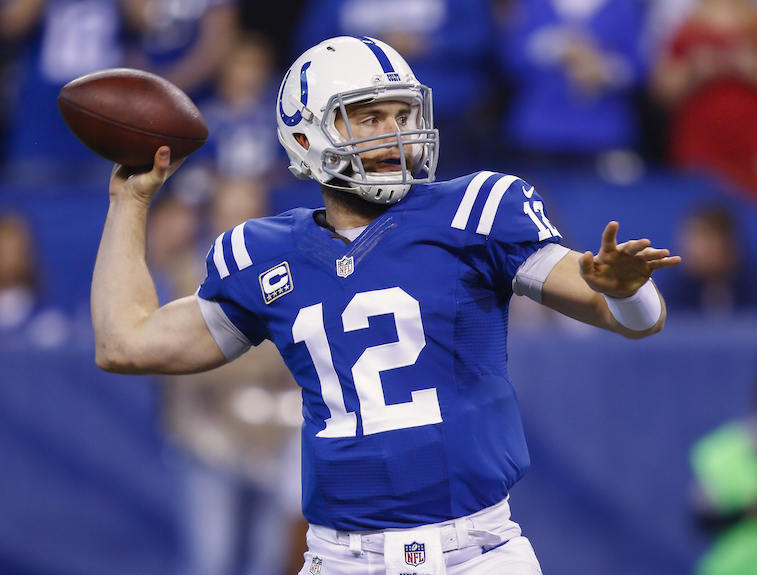 Contract negotiations between Luck and the Indianapolis Colts, and Wilson and the Seattle Seahawks have been ongoing for the past few months. Needless to say, neither the Colts nor the Seahawks could have been pleased to learn about the maximum value of Tannehill's contract. Simply put, Tannehill is not in the same class of quarterbacks as Luck or Wilson. For comparisons sake, here is a look at the career stats of both Luck and Wilson through their first three seasons in the NFL.
Luck
48 starts
58.6% completion percentage
12,957 passing yards
86 touchdown passes
43 interceptions
86.6 quarterback rating
905 rushing yards
12 rushing touchdowns
33-15 overall regular season record
3 playoff appearances
3-3 playoff record
Wilson
48 starts
63.4% completion percentage
9,950 passing yards
72 touchdown passes
26 interceptions
98.6 quarterback rating
1,877 rushing yards
11 rushing touchdowns
36-12 overall regular season record
3 playoff appearances
6-2 postseason record
2 Super Bowl appearances
1 Super Bowl title
As you can see, both players compare quite favorably to Tannehill in nearly every statistical category. What really sets Luck and Wilson apart from Tannehill, though, are their overall win/loss records and their success in the postseason. While Tannehill is still in search of his first postseason appearance, Luck helped the Colts go from being the worst team in the league in 2011 to a playoff team in 2012, and Wilson already has one Super Bowl ring and two Super Bowl starts on his resume.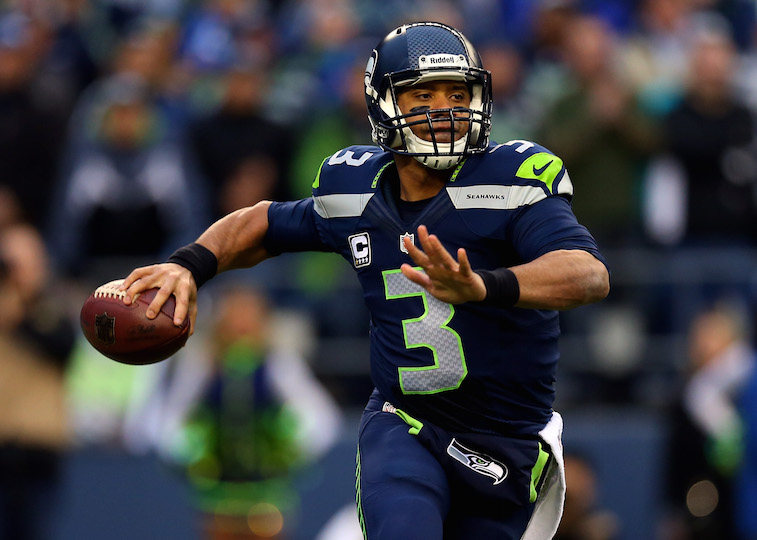 To be fair, the Dolphins did structure Tannehill's new contract in a way that would allow them to walk away with minimal financial damage if the three-year veteran never plays up to his full potential. With that being said, you can safely bet on the fact that Luck, Wilson, and their respective representatives will look at the maximum value of $96 million over six years in Tannehill's contract and push the Colts and Seahawks for a significantly higher maximum value in their pending contract extensions. Just to provide a little perspective on the situation, Tannehill's deal likely set Luck up to land a six-year contract with a maximum value of close to $150 million, and put Wilson in line to land a six-year deal worth close to $125 million in maximum value. It goes without saying that the big winners in Ryan Tannehill landing a massive contract extension with the Miami Dolphins were his fellow quarterbacks, Andrew Luck and Russell Wilson.
All statistics courtesy of Pro-Football-Reference.