What Should the Yankees Do About Gary Sanchez?
The morning after one of the worst games of Gary Sanchez's young career, the New York Yankees released this statement: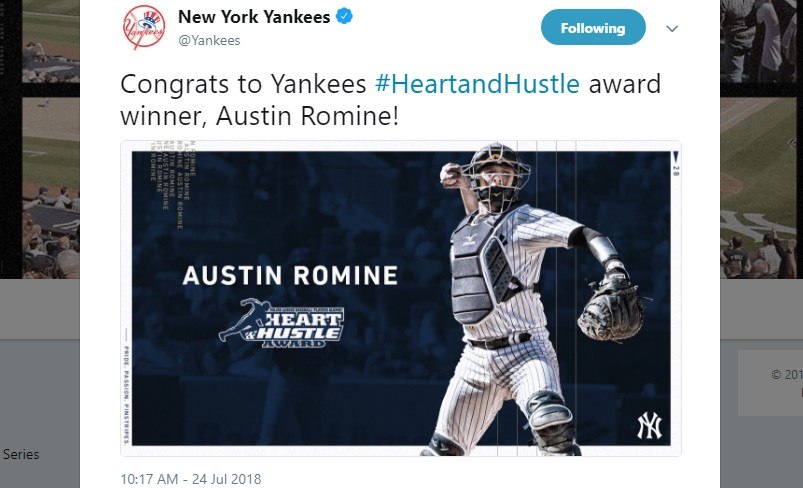 Maybe it was just poor timing, but the recognition of backup catcher Austin Romine's great hustle was an awkward reminder of Sanchez's game the night before.
Down in Tampa, the Rays got on the board 1-0 after a passed ball by Sanchez led to a runner scoring from second. (Sanchez jogged after the ball as the runner sped around third toward home. The throw from Sanchez wasn't close.)
In the ninth inning with two outs, Sanchez came up with the bases loaded and a chance to even the 7-6 score. Instead, he grounded to short and — after Aaron Hicks hustled to beat the throw at second — Sanchez was easily cut down at first to end the game.
Replays showed Sanchez jogging down the line as the Rays recorded the final out. Headlines from New York tabloids blared the words "laziness" and "lollygagging." The Post ran with a back cover of "Gary Maniloaf."
Sanchez's zero-hustle bookends to the game reignited the conversation about how the Yankees should handle the 2017 All-Star moving forward, and it's a discussion worth having.
First, let's take a look at what Sanchez is actually delivering for the club this season.
Sanchez ranked 3rd among AL catchers through July.
While Sanchez's 2018 campaign is light-years away from his performance in 2017 (.278, 33 HR in 122 G) or 2016 (.299, 20 HR in 53 G), he's still played above the level of nearly every American League catcher.
According to Fangraphs WAR, only Cleveland's Yan Gomes and Tampa's Wilson Ramos (currently on the DL) have been more valuable to their teams this season. (Sanchez ranks 10th among all MLB catchers with at least 200 PA.)
Given his low batting average (.188) and on-base percentage (.283), it's easy to forget he has 14 HR and 42 RBI in 66 G. He's tied for the lead in homers and is sixth in RBI among all MLB catchers.
Meanwhile, in defensive metrics, he ranks 16th in the game (sixth in the AL). Overall, those aren't terrible numbers. (They're quite good, in fact.) However, the problem has been Sanchez has played far below his potential, and you can see it in one defensive counting stat.
Sanchez leads MLB in passed balls — in limited action.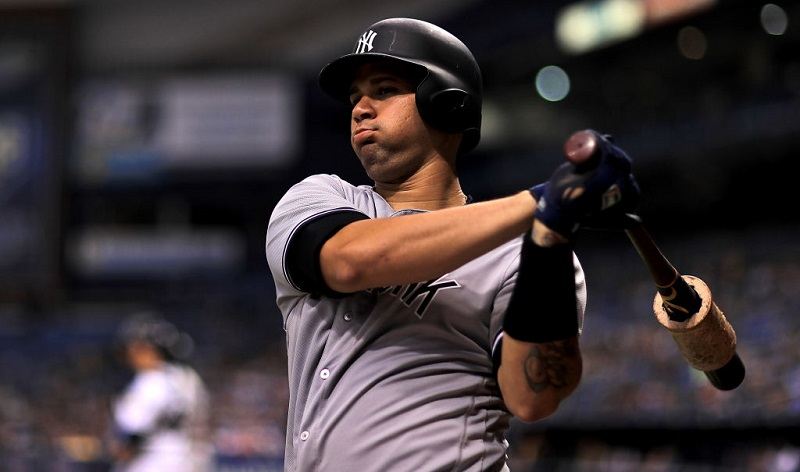 While most fans don't notice the intricacies of catching (pitch framing, etc.), they will notice passed balls. In that department, Sanchez leads all of baseball with 10 in 2018. (That number accumulated despite losing a month to a groin injury.)
As ESPN's Coley Harvey pointed out, Sanchez also leads all MLB catchers in passed balls (32) since he came up in 2016.
Clearly, the Yankees have a problem here, but Sanchez's offensive output let management overlook this weakness in the past. Now that he's struggled at the plate and looked lazy at his position, the club's starting catcher will have to answer for the results.
During an in-game confrontation with Sanchez, Yankees ace Luis Severino seemed to ask for answers in Tampa. Afterward, Sanchez admitted to reporters he had to do better, while Yankees Manager Aaron Boone said he'd look into it.
Yet options with Sanchez remain limited.
Are the Yankees better off benching Sanchez?
Yankees fans on Twitter and talk-radio reacted as you'd expect: They wanted Sanchez benched following his performance in Tampa. Certainly, starting Romine (.270, 6 HR) for a few days would not hurt the club. (Romine played very well in Sanchez's absence beginning in June and is a single tick below him at 0.9 WAR.)
However, with Sanchez starting to hit the ball well, the Yankees might risk defusing a hot streak. When Sanchez gets hot, he can carry the team for weeks. Meanwhile, you can't be sure how long Romine will continue to provide such value as a starter.
Yet the Yankees also can't support a star player who isn't hustling. The sight of Severino openly confronting his catcher in dugout is a rare one in Yankeeland. That moment should set off alarms among New York coaches.
In the end, the best team the Yankees can put on the field includes Gary Sanchez — a focused, determined Gary Sanchez. Whatever it takes to get him to that point is worth a shot.
Trading him or otherwise alienating the star catcher won't do the club any good. But some discipline and, yes, a few days on the bench wouldn't hurt.
Update 7/24/18 4 p.m.: MLB insider Jon Heyman reported, "Word is, Gary Sanchez may have re-aggravated groin injury on first inning passed ball last night…Was afraid to tell team initially because he dreads return to DL."
If this report holds up, the Yankees will be benching Sanchez with the injury as the reason behind it. A trip to the DL may be the best possible scenario for the club at the moment. Looking forward, the Yankees might need to invest in a No. 3 catcher (a better alternative to Kyle Higashioka) for the remainder of the season.
Stats sourced at Fangraphs and Baseball-Reference.com.