What Sports Do Tom Brady's Kids Play?
New England Patriots quarterback Tom Brady's children have been seen cheering on their dad at many of his games and even though they love watching him play football, they're not really into playing the sport themselves.
Brady has three kids. His eldest child, John "Jack" Edward Thomas, is from his previous relationship with actress Bridget Moynahan, and his other two, Benjamin and Vivian Lake, are with wife Gisele Bündchen. But while their father is an elite quarterback, none of the Brady bunch children are following in his footsteps.
So which sports do they play?
In 2018, the signal caller told People that both Jack and Benjamin watch NFL games and Jack has even played fantasy football.
"My oldest son, he really knows the game. He had [Atlanta Falcons running back] Devonta Freeman on his fantasy team, so he knows how good he is," Brady explained.
However, neither one of his sons chose to actually play the game.
"I think they're into watching [football] because of their dad, but … my oldest son Jack really loves soccer. He wants to be an Olympics soccer goalie," the quarterback said, adding, "My son Benny is really into hockey."
With all the information there is out now about the dangers of concussions and head injuries some parents have steered their kids away from playing football. However, Brady would have no issue if his children wanted to play the game and told WEEI, "I had a lot of people tell me that I can't. I won't tell my kids they can't do anything that they want to do. Whatever they choose to do I will fully support."
But at this time he's helping them with soccer and hockey.
"I'm trying to support them the best I can even though those aren't my natural sports," he admitted.
Now that we know what his sons play, what about his daughter? Has Vivian picked up any sports yet?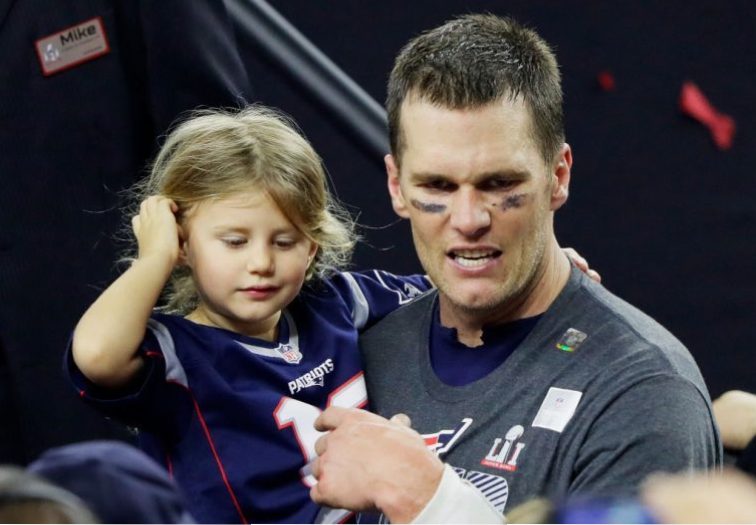 She's not involved in athletics right now, but Brady believes she's going to get into tennis or soccer in the future. A few of the other activities his children enjoy include skiing, swimming, and surfing.
Something the kids do love as much as their dad though is their diet. A lot has been made about what Brady puts into his body and it turns out his supermodel wife and children eat the same thing.
The family's personal chef, Allen Campbell, has been with the Bradys since Benjamin and Vivian were very young so they've become accustomed to his cooking.
"Eighty percent of what they eat is vegetables. [I buy] the freshest vegetables. If it's not organic, I don't use it," Campbell explained. "The other 20 percent is lean meats: grass-fed organic steak, duck every now and then, and chicken. As for fish, I mostly cook wild salmon … Vivi was only nine months when I started, so I gave her first food. And 90 percent of the time they [the whole family] all eat the same thing."
Follow The Cheat Sheet on Facebook!