What Team Has Had the Most Players Starting an NBA All-Star Game?
The NBA All-Star Game is a great event to showcase talent from all across the league. But once in a while, a single team comes in and dominates the game with its collection of representatives.
Unlike MLB, the NBA doesn't require at least one player from all 30 teams to participate in the game. Nor does it have a limit on how many participants a single team can have. This has led to some squads sending the majority of their starting five to this blockbuster event.
As you'll soon see, there have been several clubs with more than a few All-Stars in a season. Though there's one team that was so well-represented, it made up 60% of its conference's starting lineup.
The Celtics and Warriors are among the teams to have four All-Star selections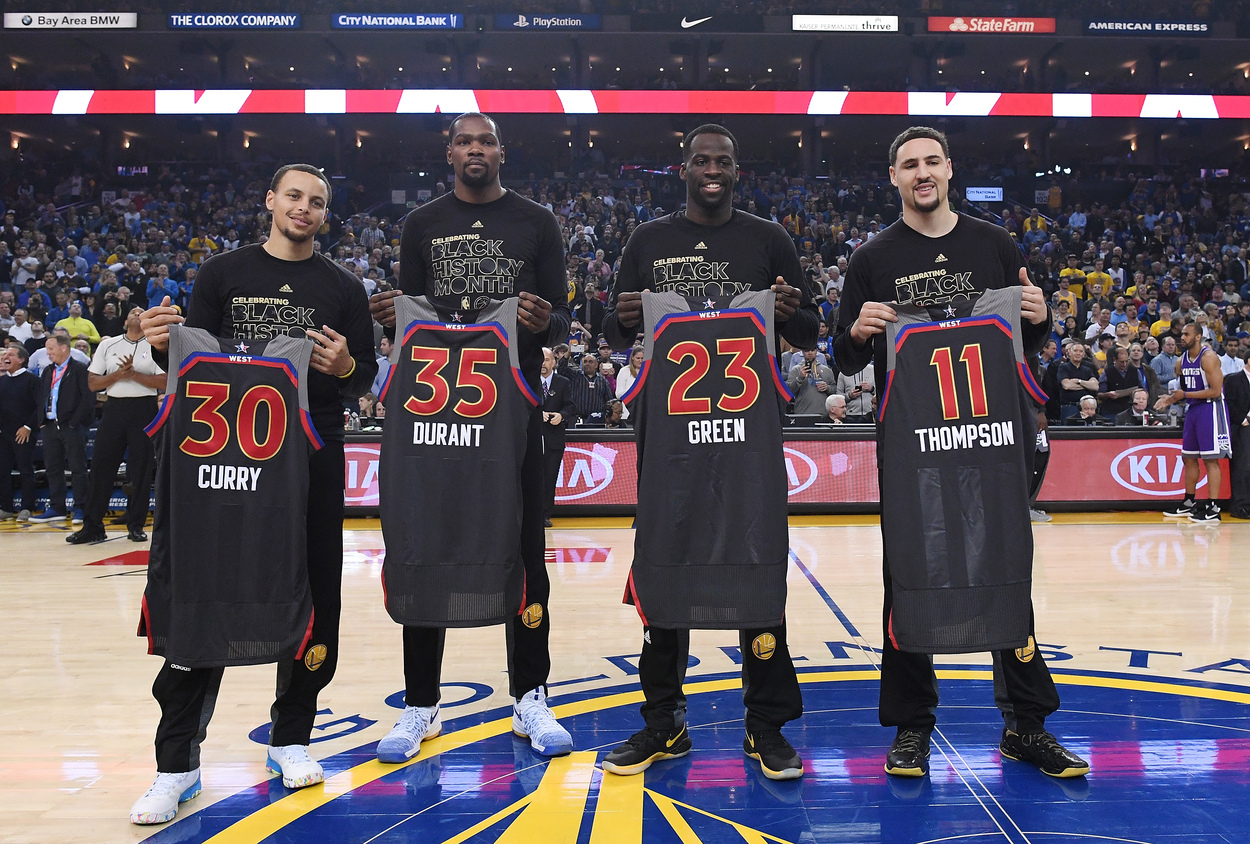 Fans have determined All-Star Game starters for the majority of its history while the coaches select reserves. Most years end up with a variety of representation, though there have been nine times where one team was rewarded with four selections.
The first was the 1962 Boston Celtics, which requires a little bit of context. Up until 1973, every team had at least one All-Star and no team could have more than three. In '62, the Celtics had Bill Russell, Bob Cousy, and Tom Heinsohn make the team. However, when the Syracuse Nationals' Larry Costello was ruled out with an injury, Boston's Sam Jones took his spot.
In 1975, the Celtics made All-Star noise once again. With today's roster rules now in effect, John Havlicek started for the Eastern Conference while Dave Cowens, Jo Jo White, and Paul Silas served as reserves. Boston also had four reps in 2011 when Kevin Garnett, Paul Pierce, Ray Allen, and Rajon Rondo all came off of the bench.
In more recent years, the Golden State Warriors have been well-represented. Stephen Curry, Kevin Durant, Klay Thompson, and Draymond Green each appeared in both the 2017 and '18 editions of the game. Curry and Durant also started each of those contests.
Four other teams have had four All-Stars: The 1983 Philadelphia 76ers, 1998 Los Angeles Lakers, 2006 Detroit Pistons, and 2015 Atlanta Hawks. Just like the Celtics from '11, the eight combined players for Detroit and Atlanta were all backups.
The Philadelphia 76ers had three players start in the '83 All-Star Game
By now, you're probably realizing that it's not unheard of to have four All-Stars from one team. Chances are, it will happen again sometime in the near future. But three All-Stars starting? That one is a little more impressive.
The 1983 All-Star Game at The Forum in Inglewood was one to remember, and not just because of Marvin Gaye's historic rendition of "The Star-Spangled Banner." The East defeated the West 132-123 thanks to an MVP effort from Julius Erving, one of three starters from the 76ers.
Erving led the league with over 700K All-Star votes, placing him alongside Larry Bird as a starting forward. The next-highest vote-getter across all positions was center Moses Malone, who joined his teammate Erving in the lineup. And although Isiah Thomas led all Eastern Conference guards in votes, the Sixers' Maurice Cheeks finished a close second and earned a starting spot in his first All-Star Game.
The three stars were also joined by Andrew Toney, Philly's lone reserve. And if that wasn't enough, 76ers head coach Billy Cunningham was the East's bench boss after his club made the NBA Finals a year earlier.
While all of the Sixers ended up performing well, Dr. J stole the show. The Hall of Famer scored a game-high 25 points and won his second All-Star MVP Award, the first of which came back in 1977.
Erving, Malone, and Cheeks would each go on to have multiple All-Star appearances. But nothing will top all three starting together in the '83 midseason classic.
The 1982-83 season got even better for the 76ers
Few teams have won a season at the level of the '83 Sixers.
First, Philly entered the All-Star break at an impressive 43-7. After finishing up a break they largely dominated, the Sixers rolled through the rest of the season to finish an NBA-best 65-17. Malone, who averaged 24.5 points and a league-leading 15.3 rebounds, was named MVP.
Perhaps the thought of playing a team with four All-Stars, three of whom started in the exhibition, was too daunting for their opponents. Whatever the reason, the 76ers lost just one game all postseason and won their third title in franchise history with a clean sweep of the defending champion Lakers. Malone would also earn Finals MVP in his first and only championship victory.
Surprisingly, only the Warriors have had four All-Stars and won the title later that year. Golden State defeated the Cleveland Cavaliers in 2017 and '18, with Durant winning MVP honors for both.
Eventually, there may be a new team with four All-Stars. But it could take some time before a club has three All-Star starters, the game's MVP, as well as the league MVP. Oh, and also wins the championship a few months later.
Needless to say, that 1983 Sixers squad deserves all of your praise and recognition.
All statistics courtesy of Basketball Reference.
RELATED: Who Has the Most Career Points in the NBA All-Star Game?