What Team Penske's 3 Drivers Must Do to Reach 2022 Championship 4
When the green flag waved, NASCAR's Championship 4 race at Phoenix Raceway on Nov. 7 started with an obvious void. Team Penske was absent from the Cup Series title race for just the third time since 2014:
Joey Logano failed to seriously contend after a blown engine at Texas Motor Speedway.
Ryan Blaney missed on his fourth attempt to advance beyond the Round of 8. 
Brad Keselowski had one foot out the door on his way to a driver-ownership deal with Roush Fenway Racing, now known as RFK Racing. 
With 2020 Xfinity champion Austin Cedric joining Logano and Blaney for his first full-time Cup ride in 2022, Team Penske's new roster mix of experience, consistency, and youth could quickly end its streak of final-four absences. 
Joey Logano must rebound from a mediocre 2021 season and serve as garage leader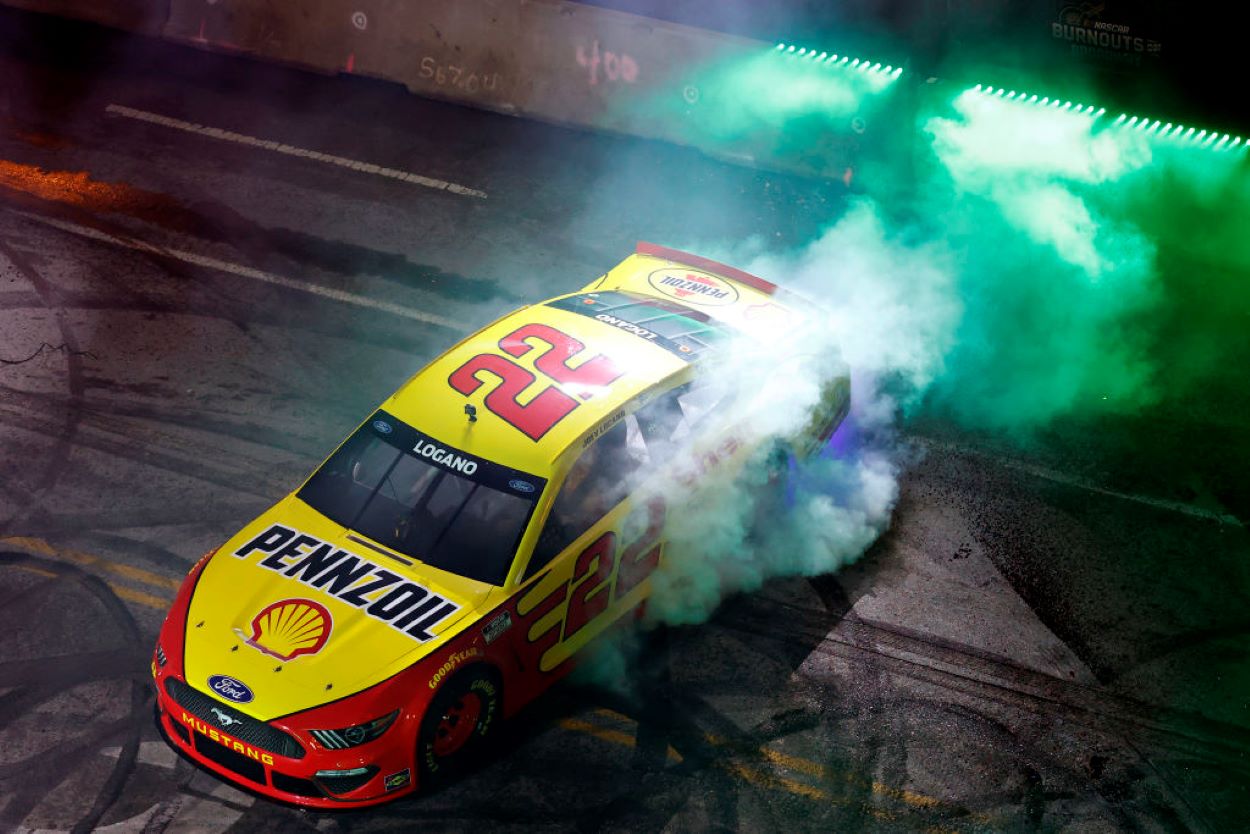 Logano, the 2018 premier series champion, qualified for the playoffs with a historic win at Bristol Motor Speedway, claiming NASCAR'S first dirt event since 1970.
In the eight seasons of the current playoff system, Logano has qualified seven times. Four times he reached the Championship 4 race. He's an experienced contender who failed to discover his edge last season.
Finishing with one win, 10 top-five finishes, and 19 top 10s, Logano remained with the first tier of drivers through much of the regular season but failed to crack the top 10 in four playoff runs.
During the Round of 8 opener, engine failure doomed Logano's No. 22 Ford.
While teammates, Logano didn't always see eye-to-eye with Keselowski. Now as the "star" of Team Penske's garage, he will serve as a mentor to the team's top draft choice.
Rookie Austin Cindric ready to step into full-time Cup Series role
Two turns from back-to-back Xfinity Series championships, Cedric's machine received a bump from behind by Daniel Hemric, who surged ahead and toward a stunning victory and series title.
Despite the dramatic defeat, Cindric's Cup Series ticket was reserved, one way or another. Wood Brothers Racing initially baited Cedric to pilot the No. 21 Ford, but Team Penske eventually hauled him in after Keselowski's departure was finalized.
It's a big driver's seat the rookie is preparing to slide into. Keselowski collected 34 wins with the No. 2 Ford.
Already warned of common rookie pitfalls, Cindric will be paired with crew chief Jeremy Bullins, who will be tasked with easing the first-year driver into the Cup scene. Bullins guided Keselowski to four wins and a second-place finish in the drivers' standings in 2020.
Cindric knows how to win, collecting 13 Xfinity checkered flags. Last season, he had five wins. Now comes the next step in the rookie's development, learning how to win at the Cup level.
Blaney's top goal is breaking his final four 0-for-4 for Team Penske
Of his eight seasons on the premier series, Blaney has gone 0-for-4 in his bids to qualify for the Championship 4 race.
His latest postseason disappointment developed during a 37th place finish at Kansas Speedway on Oct. 24. His race started by dueling eventual Cup champion Kyle Larson with side-by-side racing along the second turn. By Turn 3, however, Blaney was left behind and soon labeled DNF. Blaney's final demise came with an 11th-place finish at Martinsville Speedway on Oct. 31.
As Team Penske's No. 2 driver, Blaney could be one of the top breakout candidates for 2022. Last season, he collected three wins, 10 top-five finishes, and 19 top 10s. He was consistent, but he knows he has one major career hurdle, qualifying for the Championship 4.
Team Penske's new lineup has experience, youth, and consistency. Will it be enough?