What the Kyrie Irving Rumors of an Imminent Return Mean for the Brooklyn Nets
According to a report, there are indications Kyrie Irving will return to the Brooklyn Nets this season. That will be great news for Kevin Durant, who has miraculously avoided missing time with back problems while carrying the team to the top of the Eastern Conference. But the situation is more complicated than simply Irving returns, and they all live happily ever after.
The Nets shut Irving down on Oct. 12. The city of New York mandates vaccinations for people using public gyms. With Barclays Center in Brooklyn and Madison Square Garden in Manhattan lumped into that classification, the Nets faced a choice. Irving could play part-time or not at all. The team chose the latter option.
Kyrie Irving is communicating with Kevin Durant
According to Shams Charania of The Athletic, there is growing optimism Kyrie Irving will play this season. New York's mandate remains in effect. So there are two potential solutions:
Irving receives the COVID-19 vaccination and returns to the Brooklyn Nets full-time.
Brooklyn relents, and Irving comes back to play road games (offer void in New York City and Toronto).
Charania's report indicates the Nets want Irving back. Who wouldn't want a three-time All-NBA point guard in the lineup? But the story also alluded to increased chatter between Irving and his partner-in-free-agency from 2019, Kevin Durant:
"In recent weeks, Irving and Kevin Durant, his co-star and close friend, have had increased communication about his fit on the team, breaking down the games, and about life in general, sources added. There appears to be an increased level of enthusiasm between the two superstars."

Shams Charania of The Athletic
That sounds terrific — in theory. But there are realities to the situation to consider.
Kyrie Irving brings good and bad to the Brooklyn Nets
It's difficult to question Kyrie Irving's resume. He's an NBA champion, seven-time All-Star, a Rookie of the Year, and an excellent addition on the court when he's healthy.
Let's start there. Since joining the Nets in 2019, Irving has played in 54 of 171 regular-season games due to injury or personal reasons. He's appeared in nine of the team's 16 playoff games the last two seasons.
The Brooklyn Nets didn't want Irving as a part-time player this season. But the reality is that is precisely what he's been since he got to the organization. An outstanding part-time player, mind you, averaging 27.0 points and 6.1 assists per game on nearly 50/40/90 shooting. But a part-timer just the same.
The Nets have battled injuries this season. Sharpshooter Joe Harris is out for at least two to six weeks after ankle surgery. Paul Millsap is in health and safety protocols and, as the Chicago Bulls are teaching us, where goes one, others almost inevitably follow.
But Irving's resume contains significant gaps. He's missed less than 10 games in a season once, back in 2014–15. His track record indicates he is nearly as fragile as he is gifted.
There were reports of locker-room strife during his two seasons with the Boston Celtics. Irving does his thing, and we can respect that. But that individuality is sometimes problematic within the structure of a team sport.
But considering it's been more than two months since Irving participated in any team activities, there will be a period of reintegration. He'll have to get into game shape. It's not like a video game; Irving won't be gone today and play 40 minutes tomorrow.
James Harden must love the idea of an Irving return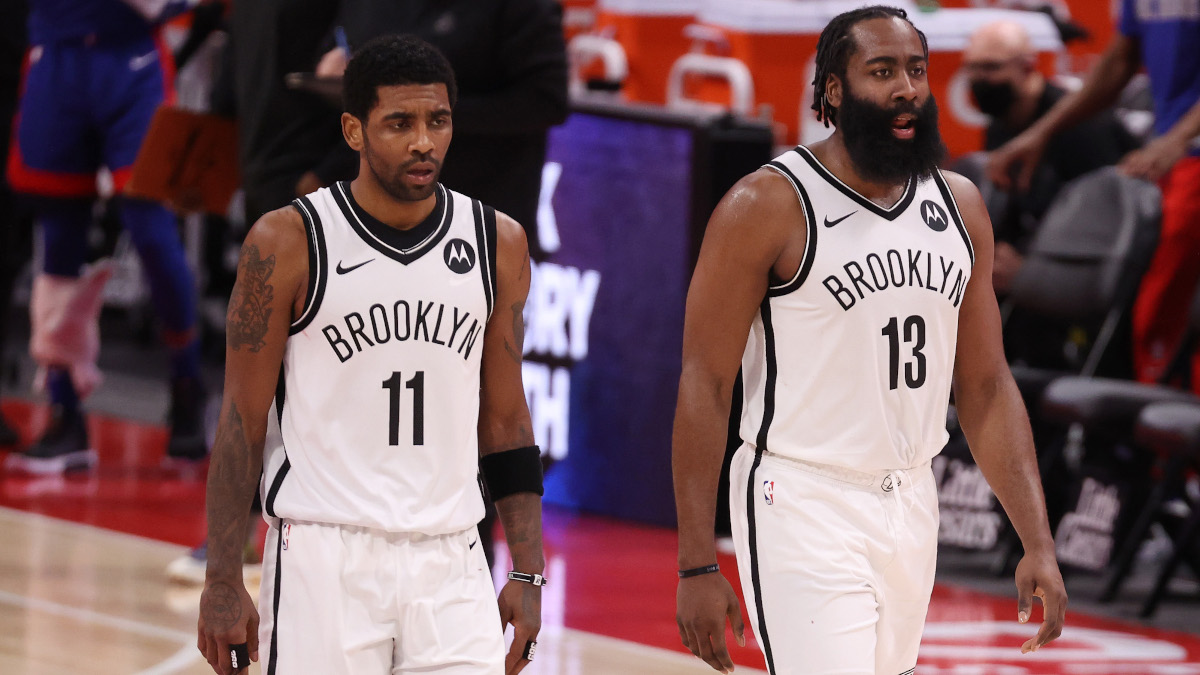 Durant has extra pressure this season, not just because of Kyrie Irving's absence. James Harden is having the worst year of his career as a starter, shooting barely 40% overall, a career-low 33.7% from 3-point range, and turns the ball over five times a game.
When he came to the Brooklyn Nets in January 2021, Harden never expected to be the primary ballhandler. That was Irving's job. During a postgame press availability in late November, he alluded to the difficulties of his expanded role.
"Honestly, I'm trying to figure all that out right now. I'm trying to figure it out. I'm trying to figure out when to score, when to be a playmaker, when to run offense, when to do a little bit of everything. Just trying to figure it out has been a little difficult, especially since — well, whatever. But I'm just trying to figure it out."
If Irving comes back full-time, Harden's role is clarified. The two played well together last season. In 27 games and 703 minutes, Brooklyn was plus-4.3 points per 100 possessions and had an offensive rating of 118.9. That's ahead of the Nets' NBA-record 117.3 offensive rating as a team.
It works because Irving and Harden are interchangeable pieces. Both can handle, pass, and play off the ball.
Irving can be the difference between the Brooklyn Nets contending for an NBA championship or returning to favorite status. But that declaration comes with a significant number of ifs. That's the reality of Kyrie Irving in a career where his greatness always comes with caveats.
Statistics courtesy of Basketball Reference and NBA.com.