What the Lack of Derek Carr Extension Talks Means for the Raiders
The Las Vegas Raiders are coming off a rollercoaster ride of a season. Between players being arrested and head coaches being fired, the Raiders were hit with controversy at every turn in 2021. However, despite the several hiccups that occurred, Derek Carr was somehow able to guide Las Vegas to a Wild Card Round appearance.
Part of this can be attributed to the expanded postseason format and part of it to the Indianapolis Colts' ugly end-of-year collapse. Regardless, Carr and the Raiders gave Joe Burrow and the Cincinnati Bengals a run for their money, proving they belonged in the postseason.
With a new head coach and general manager now in the building, all eyes are pointed toward what the Raiders have in store for the future.
The Raiders are trying to become the Patriots 2.0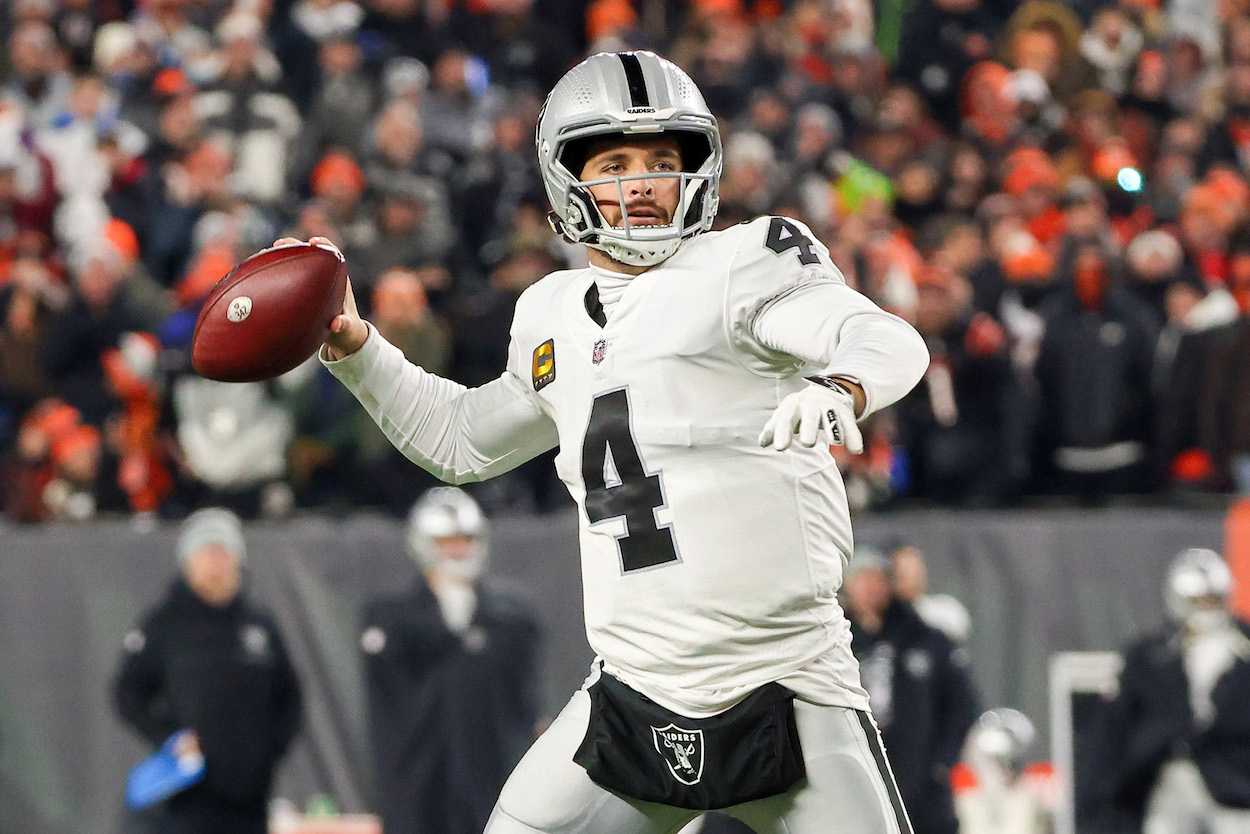 After exiting the 2021 NFL Playoffs, the Raiders wasted little time figuring out their new leadership duo. They had already fired former head coach Jon Gruden and parted ways with general manager Mike Mayock after the playoffs.
This paved the way for GM Dave Ziegler and HC Josh McDaniels to take over the franchise. Two longtime New England Patriots employees who are presumably looking to take the "Patriot Way" to Las Vegas.
Of course, as we saw these past two seasons, the famed Patriot Way could probably be better described as the Tom Brady way. Brady was the main engine powering the Patriots for all those years, a reality that was proven in 2020 when he won Super Bowl number seven with the Tampa Bay Buccaneers.
With that in mind, the pressing question in Las Vegas is whether Ziegler and McDaniels believe they have their version of Tom Brady or not.
The Raiders have tabled Derek Carr extension talks … for now
When Ziegler and McDaniels first took the Raiders job, the first thing they did was heap loads of praise on Derek Carr. From the outside looking in, it appeared they were both entirely on board with the idea of handing Carr $40 million per season to keep him in Raiders silver and black.
However, as the offseason creeps along, less and less conversation regarding an extension between Carr and the Raiders is surfacing. According to McDaniels himself, the two sides haven't spoken about a new contract recently.
While Las Vegas Raiders quarterback Derek Carr is primed to enter the final year of the then-record five-year, $125 million contract extension he signed in 2017, new head coach Josh McDaniels acknowledged Wednesday at the combine that no new extension talks have taken place.

"But that doesn't mean that's not going to change," McDaniels said. "We are aware of where we're at on that, in that process."

Paul Gutierrez, ESPN
What next for Derek Carr?
Carr has only ever played for the Raiders. It's reasonable to assume he'd be more than happy to sign a long-term extension to remain with the team for the rest of his NFL career.
However, for the same reasons, Carr could be intrigued by a fresh start with a team better suited to win now. Additionally, Ziegler and McDaniels have no reason to be attached to Carr. They didn't draft him. It'd make a lot of sense for this new power duo to target their own franchise quarterback in one of the next two drafts.
The lack of movement on an extension likely signals the Raiders' desire to see Carr play out the final year on his current deal. If Carr has a massive season and Las Vegas makes the postseason again, Ziegler would presumably offer him a lucrative extension. However, should Carr struggle, it'd make sense for the Raiders to use it as an opportunity to start fresh at the QB position.
Like Sportscasting on Facebook. Follow us on Twitter @sportscasting19.
RELATED: Kirk Cousins Being Openly Bashed by Mike Zimmer Is Proof the Vikings Need a New QB