What Tom Brady Returning Means for the Buccaneers' Offseason Plans
It honestly felt like a matter of time, but now it's official. Tom Brady is returning to the NFL and rejoining the Tampa Bay Buccaneers for the 2022 NFL season. His retirement was an extremely brief one.
The Buccaneers reportedly "left the light on" for Brady this whole time, and were in constant communication on how they would shape the roster should he return for another season. Now that Brady is back, it's time for Tampa Bay to prove their secret plan is a good one.
Brady isn't returning just for fun; he is looking to secure another Lombardi Trophy. To do that, the Buccaneers need to transform their roster back into a winning one quickly.
The Buccaneers and Tom Brady are back in win-now mode
When Brady first "retired," it was unclear how the Buccaneers planned to address things. They still had a good roster set in stone. However, with no franchise quarterback under center, many speculated the Tampa Bay front office would shift toward a rebuild of sorts.
Once top quarterbacks Aaron Rodgers and Russell Wilson came off the board, it looked even more like the Bucs were preparing for the worst in 2022.
However, now that Brady is back, the Buccaneers can jump back into an aggressive state of mind. They've already franchise-tagged key wide receiver Chris Godwin, and are reportedly working on a long-term deal. However, more work needs to be done if the Bucs are going to compete for another Super Bowl in 2022.
The Buccaneers need to spend money in free agency
The good news in Tampa Bay is that its superstar QB is back. The bad news is that the rest of the roster is not.
The Buccaneers have several key players set to hit free agency. This list includes C Ryan Jensen, CB Carlton Davis, G Alex Cappa, TE Rob Gronkowski, TE OJ Howard, RB Leonard Fournette, DT Ndamukong Suh, RB Ronald Jones, RB Gio Bernard, S Jordan Whitehead.
Jensen, Davis, Cappa, and Gronkowski, in particular, are of great importance. They all played vital roles during the Bucaneeers' Super Bowl-winning 2020 season.
It's also worth mentioning that former starting guard Ali Marpet announced his retirement a few weeks after Brady. One can only assume the Bucs will be contacting him about returning to block for Brady in 2022.
Tom Brady is an elite recruiter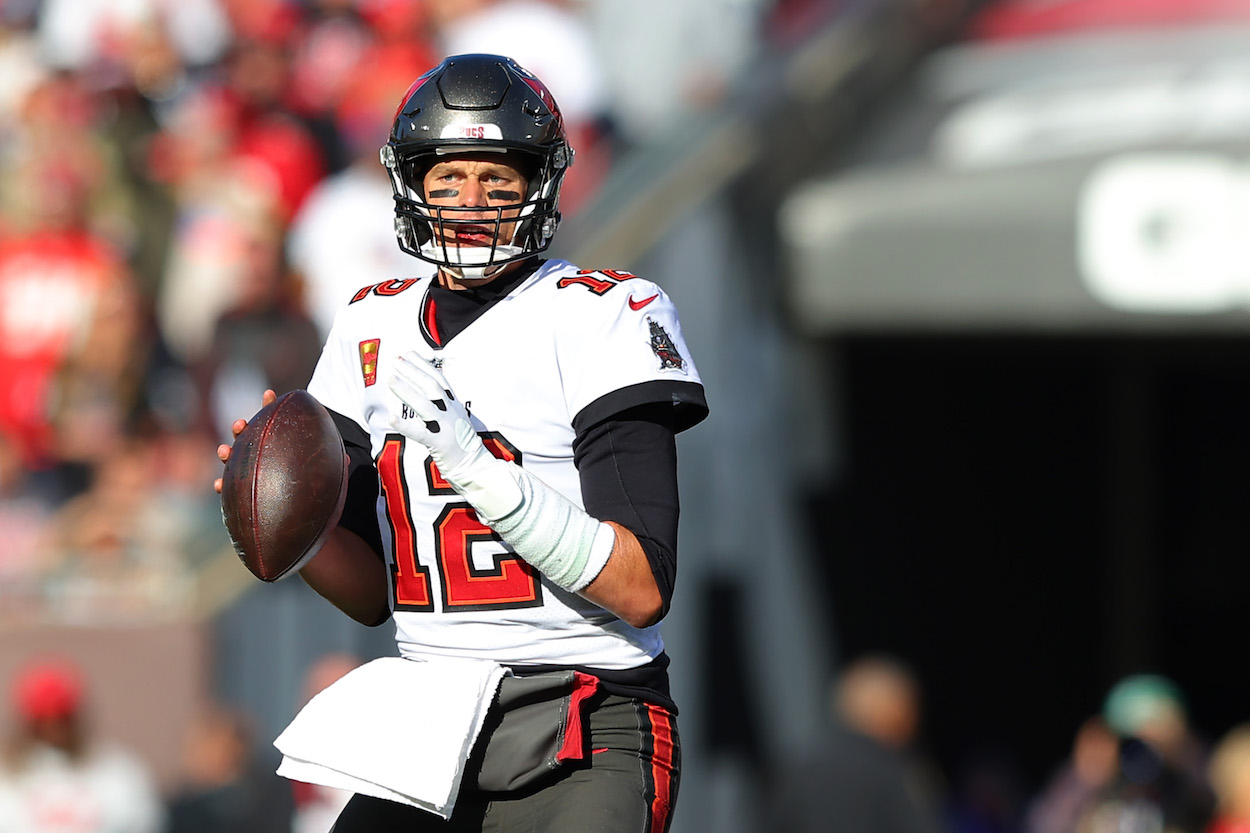 The Buccaneers will have to open up the checkbook and perform some money magic with their cap space. However, it's also essential to acknowledge Brady's ability to recruit talent.
For example, Gronkowski returning to Tampa Bay on a reasonable salary is almost a foregone conclusion right now. He's made it clear before that he'll always prioritize catching passes from Brady over everything else.
With all of that said, the Tampa Bay front office needs to show a willingness to be extra aggressive this offseason. There's no guarantee Brady will stick around in 2023, and the NFC is wide open for the taking. The Buccaneers should even consider trading away some of their 2022 draft capital if that means bringing in more elite talent for Brady to play with.
Like Sportscasting on Facebook. Follow us on Twitter @sportscasting19.
RELATED: Amari Cooper Trade: Do the Cowboys Regret Initially Acquiring the WR?