What Used to Be a Strength for the Green Bay Packers Has Become a Potentially Season-Ending Weakness
Mason Crosby is a legend for the Green Bay Packers. By a wide margin, the veteran kicker has won the Packers more games than he's lost them. Still, his struggles this season have to be highly concerning.
Having been automatic for so long, Crosby was at one point a massive strength for Green Bay. He's now become a liability for the Packers, though. So much so that his field goal/PAT unit looks to be a major weakness as Green Bay barrels on toward the NFL playoffs.
Mason Crosby and the field goal/PAT unit has become a liability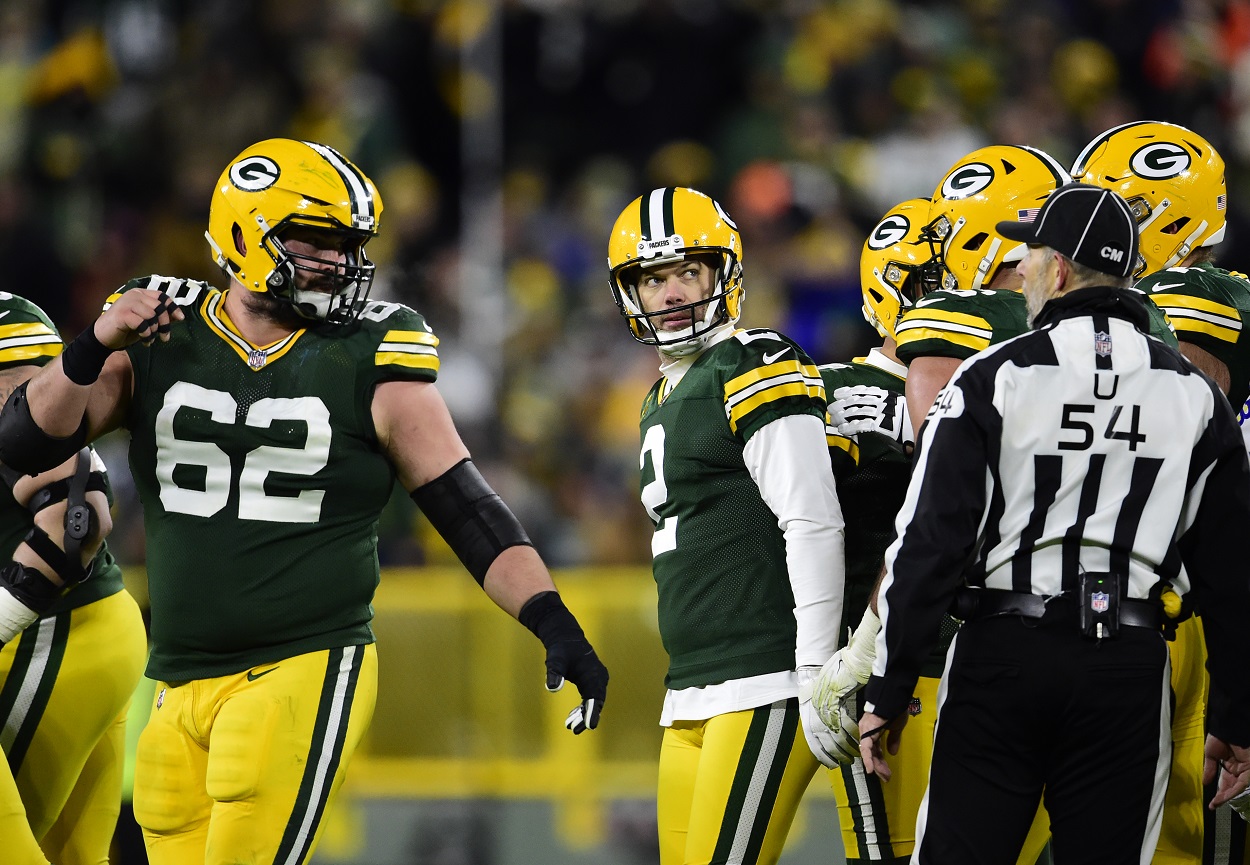 For years, if Aaron Rodgers couldn't find the end zone, the Packers knew they had a guaranteed three-points in the bag by trotting the kicking unit out. That was automatic for so many seasons in Green Bay.
Green Bay also knew it could rely on Crosby to knock down a game-winner and not think twice about it. He had ice in his veins.
Where did that ice go?
It's not like it's disappeared because Crosby still has it in him to knock down big kicks. There's a major flaw somewhere in the process, though. He's missed far too many kicks, so much so that confidence in Crosby has to be at an all-time low.
Crosby has missed a whopping nine field goal attempts so far in 2021. That's the worst mark in the league, and it's accompanied by a 66.7% field goal percentage, which is the worst among all qualified NFL kickers as well.
The placekicking operation demands a high level of attention to detail
The kickers get all the credit and blame, but there's actually a whole "operation" that goes into kicking a football through the uprights.
First comes the long-snapper, who shoots the ball back to the holder. The holder then has to place the football down onto the ground and rotate it, so the laces are facing away from the kicker. This is all choreographed with the timing of the kicker's approach to football.
There's a seamless transition between snap, hold, and kick when it works. When it doesn't? Well, that's where missed field goals and blocks come from, or worse. If you've ever seen a holder receive the football and aimlessly run around the backfield before getting tackled, chances are there was a bad snap.
The incredible thing is that so much precision goes into it. This all happens in seconds, and every little detail matters. Everything can go wrong if anything is off, such as a low snap or the holder placing the football down at a slightly different angle.
Here's how Packers special teams coach Maurice Drayton recently explained the process, according to PackersNews.com:
"You're looking for your long snapper to snap the ball with accuracy, location, so that's going to take velocity, the same revolutions to get to the holder in the same catch point (every time)," Drayton said. "Then it's the holder's job to put that ball down on a spot roughly the size of a dime, and maybe with very little movement, and then lean the ball in a manner that your kicker needs it."

Green Bay Packers special teams coach Maurice Drayton on the kicking operation
There has to be something wrong with the Green Bay Packers' kicking operation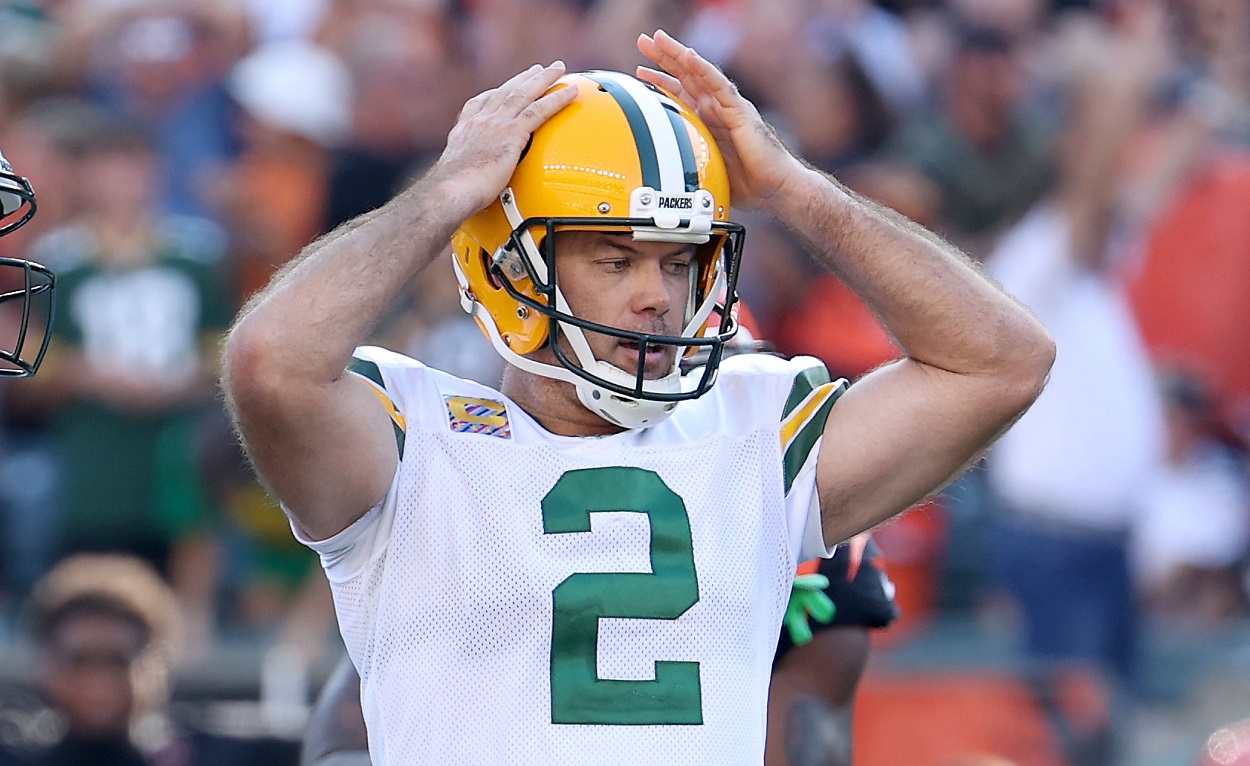 There has to be some kind of issue with the operation in Green Bay. Crosby has shouldered much of the blame, but he's on a unit of three, and he's far too experienced to be struggling this much without something else going wrong in the process.
The fact are clear cut. He's on his second long-snapper this season and has a new holder, to him, in punter Corey Bojorquez. Last season, Crosby went 16-of-16 on field goals with long snapper Hunter Bradley and holder JK Scott.
Scott was cut in favor of Bojorquez, which has made sense in terms of pure punting skill but perhaps not so much in holding. Bradley had struggled to place his snaps much of the season and was recently replaced by Steve Wirtel from Green Bay's practice squad.
The turnover in what was a very consistent unit in 2020 has had to play a role in Crosby's struggles this season. Drayton, himself, seemed to blame everyone but Crosby recently, which also lends credence to the theory that the veteran kicker isn't struggling on an island.
"Mason Crosby deserves better," Drayton said in mid-November. "Well, I owe him. We owe him and we're going to make it happen."
This season, the Packers are a Super Bowl favorite, but it's easy to see where their hopes could be dashed if Green Bay doesn't quickly sort out the kicking operation. Playoff games are often close, and three points (and even an extra point) can be the difference between hoisting the Lombardi Trophy or ending another season in disappointment.
The Packers have to fix this ASAP.
If Drayton does owe Crosby, the bye week is the perfect time to pay up.
Stats courtesy of ESPN and Pro Football Reference.