What Was John Thompson's Net Worth?
John Thompson Jr. was one of the greatest college basketball coaches of all-time. His Georgetown career was incredible as the Hoyas were practically unbeatable during the years that he was their head coach. Thompson's death, however, was sadly announced on Aug. 31, 2020. So, since he was such a successful and legendary coach, what was John Thompson's net worth?
John Thompson was a legendary coach at Georgetown
After having success as a prep head coach at St. Anthony Catholic School, Thompson went to Georgetown in 1972. He then ultimately transformed the Hoyas from an awful team to one of the most outstanding programs in the entire country.
Within three seasons, Thompson took Georgetown to the NCAA Tournament. Then, after making the big dance in two of his first six seasons, Georgetown began a run of 14 straight trips to the tournament in 1978-79.
In 1979-80, the Hoyas went on an excellent run, going to the Elite Eight, but in 1981-82, Thompson helped lead Georgetown to the national championship, where they eventually lost to the North Carolina Tar Heels. Thompson and Georgetown then went back to the championship in 1983-84 with stellar players like Patrick Ewing. They ultimately won it all that year too. 
The win made Thompson the first Black head coach to win the national championship, according to Bleacher Report.
Thompson ultimately coached at Georgetown until 1998-99, leading them to three Final Fours and winning that one championship. He went 596-239 overall in his career.
Thompson died at 78 years old
It was announced on Aug. 31, 2020, that Thompson died at 78 years old. The cause of death was not immediately announced.
"We are heartbroken to share the news of the passing of our father, John Thompson, Jr," his family said in a statement released by Georgetown, per ESPN. "Our father was an inspiration to many and devoted his life to developing young people not simply on, but most importantly, off the basketball court. He is revered as a historic shepherd of the sport, dedicated to the welfare of his community above all else."
The statement continued: "However, for us, his greatest legacy remains as a father, grandfather, uncle, and friend. More than a coach, he was our foundation. More than a legend, he was the voice in our ear every day."
Stars have mourned his death
Many stars around the basketball community took time to remember Thompson after his death.
Chris Haynes of Yahoo Sports recognized what Thompson meant to the Black community.
"Growing up, we thought Georgetown was an HBCU the way legendary coach John Thompson represented that university and had us all wearing Hoya starter jackets," Haynes tweeted. "The Black community continues to mourn. Brutal week. RIP, coach."
Kentucky coach John Calipari also remembered Thompson on Twitter.
"I'll never forget when coach Thompson protested an NCAA rule that he felt discriminated against Black players by refusing to coach a game until it was changed," Calipari tweeted. "He was ahead of his time by speaking truth to power when it was hard to do."
Additionally, former Warriors coach and current ESPN analyst Mark Jackson also tweeted about Thompson.
"If I could pick 1 coach that I never played for to be my coach, it would be coach John Thompson," Jackson tweeted. "He LOVED his players!!! They LOVED him!!! He Impacted their Lives! Thank u 4 ur example! Praying 4 your family, friends, and fans. Well done Coach!"
Thompson also had a massive impact on NBA legend Allen Iverson.
"I want to thank Coach Thompson … for saving my life," Iverson said during his 2016 Basketball Hall of Fame enshrinement speech, according to Yahoo Sports. "For giving me the opportunity. I was recruited by every school in the country for football and basketball. The incident happened in high school and all that was taken away. No other teams, no other schools were recruiting me anymore."
According to Bleacher Report, Iverson lost nearly every scholarship offer after getting a 15-year prison sentence following an incident at a bowling alley. He served four months before being granted clemency and ultimately getting his conviction overturned.
What was John Thompson's net worth?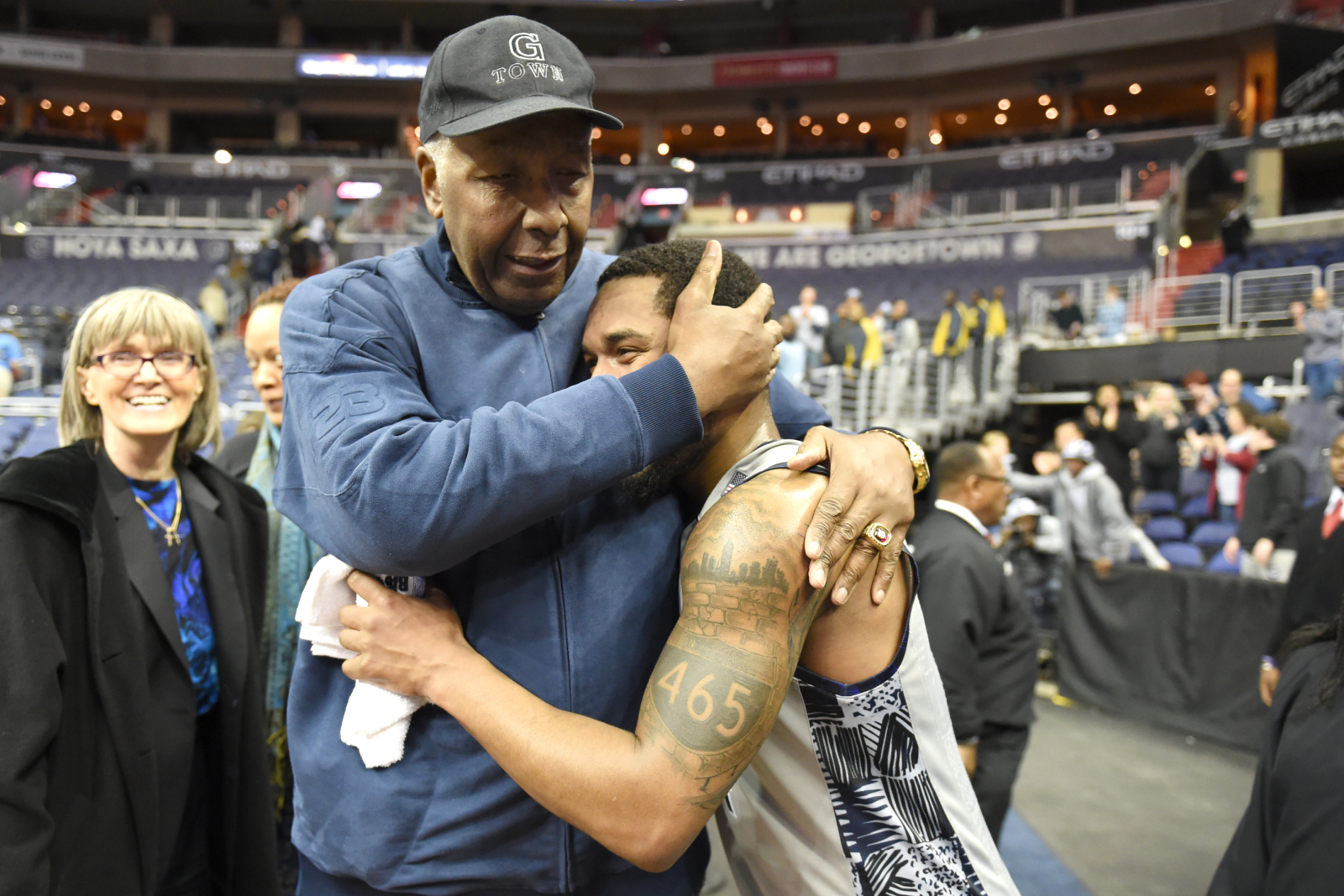 With Thompson being such a legend and having so much success as a coach, he ultimately racked up a nice net worth in his life.
Celebrity Net Worth reports that he was worth $3 million.
John Thompson ultimately impacted many lives throughout the years and has an incredible legacy. His success as a coach ultimately paid off for him too.
Coaching stats courtesy of Sports Reference