What Will It Take for Jim Harbaugh to Be Har-Bought?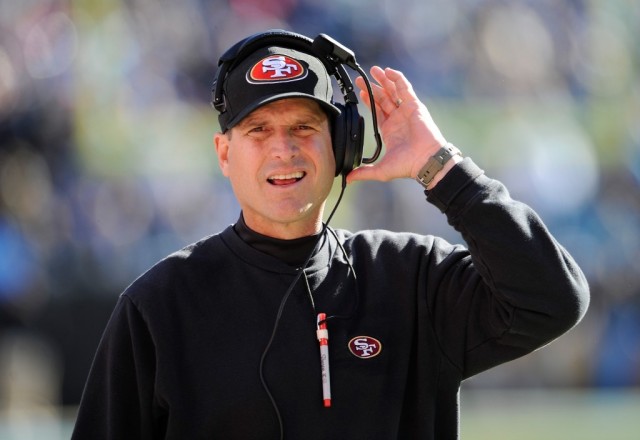 The Jim Harbaugh saga could come to an end as early as the middle of next week. Reports have surfaced that the San Francisco 49ers intend to fire their highly successful yet highly controversial head coach within 24 to 48 hours of the team's season finale against the Arizona Cardinals on Sunday.
Harbaugh, who has a career record of 43-19-1 as a head coach in the NFL, will certainly be a hot commodity on the open market. The two jobs he has been most commonly linked to are with the Oakland Raiders and at the University of Michigan. What's interesting about the situation with Harbaugh is that he stands to get a substantial raise despite (likely) being fired by the 49ers.
His current contract with San Francisco pays him $5 million per year, which falls just outside of the top 10 of NFL head coaching salaries. Prior to the rift with management that is probably going to result in his termination, Harbaugh was seeking a contract extension and significant raise to stay in San Francisco. What exactly will it cost for a team — college or professional — to sign Harbaugh to a contract to be its next head coach?
The University of Michigan has reportedly offered Harbaugh a six-year contract worth $8 million per year. The offer would make Harbaugh the highest-paid coach in college football. The offer has not been confirmed, but sources close to Harbaugh have said that he now has legitimate interest in the job, meaning that something that looked like a nothing more than a pipe dream two weeks ago could become a reality in the near future.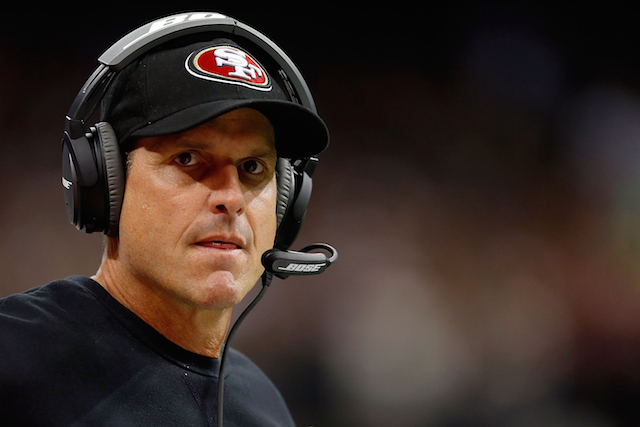 Eight million dollars may be the magic number for Harbaugh's services at the NFL level, as well. When Harbaugh was negotiating a contract extension with the 49ers, he made it no secret that he wanted to be the highest-paid coach in the league. Eight million dollars per year would put him in a three-way tie with Sean Payton and Pete Carroll as the highest-paid coaches in the league. As ESPN's Adam Schefter reports, a lack of potential quality job openings could have a major impact on where Harbaugh will be next year. The Miami Dolphins were said to be highly interested but have since said that current head coach Joe Philbin will be returning next year.
That leaves the New York Jets and the Oakland Raiders as the only two teams that are certain to be in the market for a new head coach. Neither situation is particularly attractive from a personnel standpoint, but Raiders owner Mark Davis is said to be willing to spend big money on the team's next head coach. Oakland would also allow the Harbaugh family to stay in the Bay Area, something that has been a priority in the past. That being said, several Oakland players have been publicly lobbying for interim head coach Tony Sparano to get the full-time job.
There will be multiple factors for the Harbaugh family to consider in this decision. While Michigan is reportedly offering a six-year contract, Harbaugh would likely only get four or five years from an NFL team. His next contract will pay him something close to $8 million per year on average with either job, but in the NFL, he wouldn't have to worry about recruiting.
However, he would likely have a higher sense of job security at the college level, and what would be more gratifying for Harbaugh than to revive the football program at his alma mater? Whichever direction Harbaugh chooses to go, he is in line to become one of the highest-paid coaches in the industry.