What You Need To Know About Onyeka Okongwu
The 2020 NBA draft class consists of many great players, including the former USC Trojan, Onyeka Okongwu. After having an incredible freshman season with the Trojans, Okongwu is expected to become a pretty solid NBA player and has the potential to become a star. So, in case you didn't follow USC too much during Okongwu's college career, here is what you need to know about him.
Onyeka Okongwu went to high school with Lonzo and LaMelo Ball
Okongwu went to Chino Hills High School with Lonzo and LaMelo Ball. Lonzo was a senior when Okongwu and LaMelo were freshmen.
LaMelo didn't stay at Chino Hills, but the two stars have stayed in touch.
"Both our dreams were to get to the NBA and he knew I was talented and I knew he was talented," Okongwu said, according to Yahoo. "Me and LaMelo, we've worked hard for this ever since we were young kids. I've known him since I was 8 years old and we've always been talking about one day being NBA players."
Okongwu went on to become a star at Chino Hils. During his junior year, he averaged 28 points per game, 12 rebounds, and four blocks, according to his bio on USC's site. He ultimately earned the California Interscholastic Federation Division I John R. Wooden Player of the Year award, as well as the Los Angeles Times Player of the Year award.
During his senior season in high school, Okongwu averaged 27 points per game, 11 rebounds, 4.3 blocks, and four assists. He ultimately became the fifth player in the CIF state championship era to earn California "Mr. Basketball" in back-to-back seasons. Okongwu also helped lead Chino Hills to three Division I state championships during his four seasons there.
He became a star with the USC Trojans
During his college career at USC, Okongwu continued to prove his unreal potential. He led the team in points per game with 16.2, to go with 8.6 rebounds, per his USC bio. Okongwu also set the school freshman record with 76 blocks. That number was also the fourth-most by a freshman in Pac-12 history.
Okongwu ended up having some pretty big games while at USC, too. Against Pepperdine, he recorded 33 points and five rebounds. In a game against Harvard, Okongwu scored 27 points and pulled down 14 rebounds, and against Washington State, he recorded 27 points and 12 rebounds. Okongwu ultimately earned First-Team All-Pac-12 honors with the Trojans for his stellar play.
The Trojans had a pretty nice season with Okongwu, too. After they went 16-17 in the season prior, USC went 22-9 in 2019-20.
Onyeka Okongwu has a chance to become an NBA star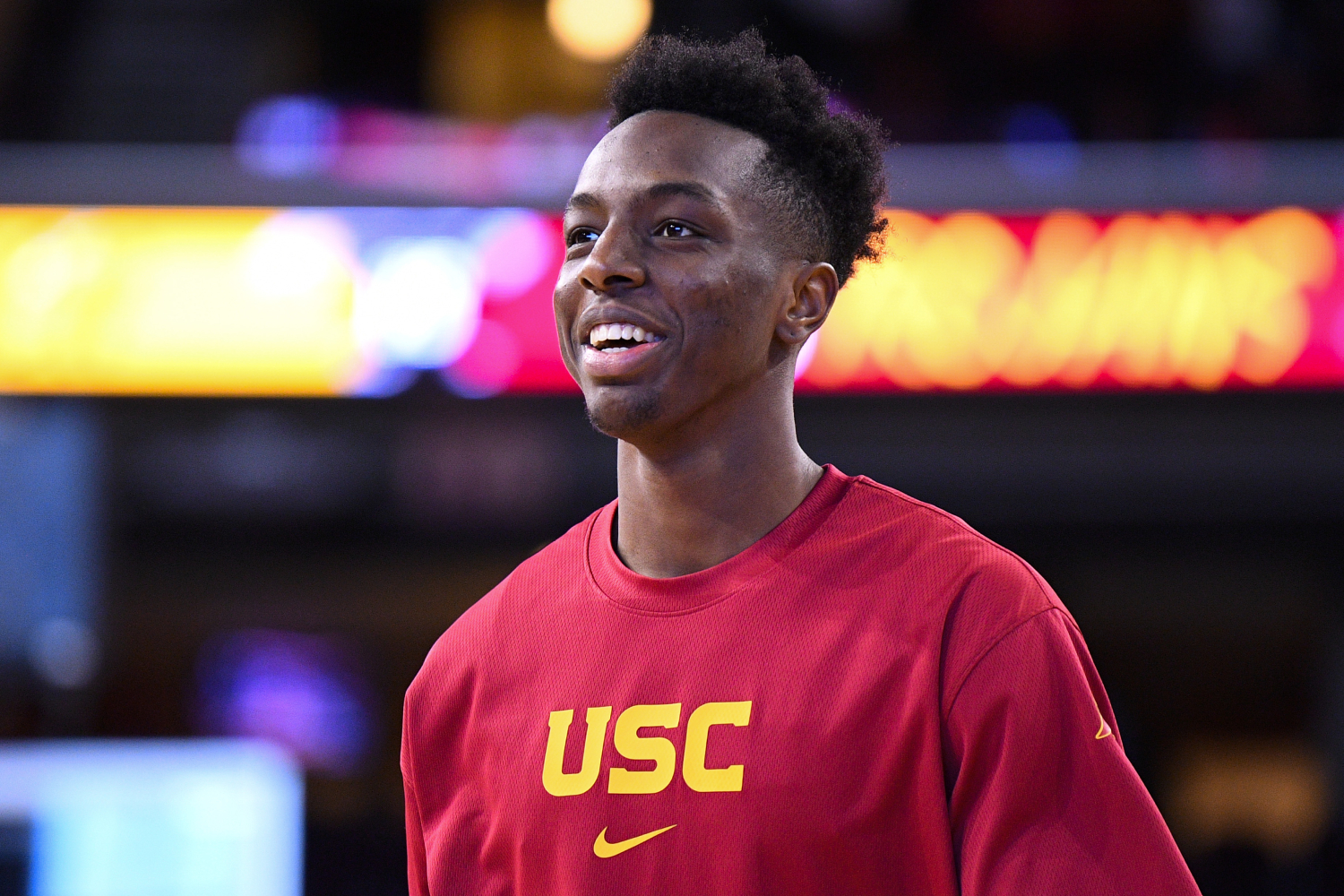 Okongwu is 6 feet, 9 inches, but he has a 7-foot-2 wingspan, according to Yahoo. This, along with his athleticism, allows him to guard the perimeter as well as players in the post, making him an excellent defender.
"I think I'm the best defender in this draft class," Okongwu said, according to Yahoo. "I take a lot of pride in my defense. It has been built in me ever since I was a little kid."
Some of the players that Okongwu has been compared to are Bam Adebayo and Taj Gibson.
Here is what Kevin O'Connor of The Ringer says about him.
"Good post scorer. He does a nice job of getting into position by sealing off defenders. Once he gets the ball, he displays flashes of advanced ability with spins, drop steps, and fakes," O'Connor wrote. "Handles the ball like a wing. He has a quick first step with an arsenal of moves, including crossovers and rip-throughs, that he uses to get to the rim. But he doesn't overdo it; he makes good decisions and plays within himself."
When looking at Okongwu's success and his tools, it's pretty clear that he has a chance to become an NBA star.