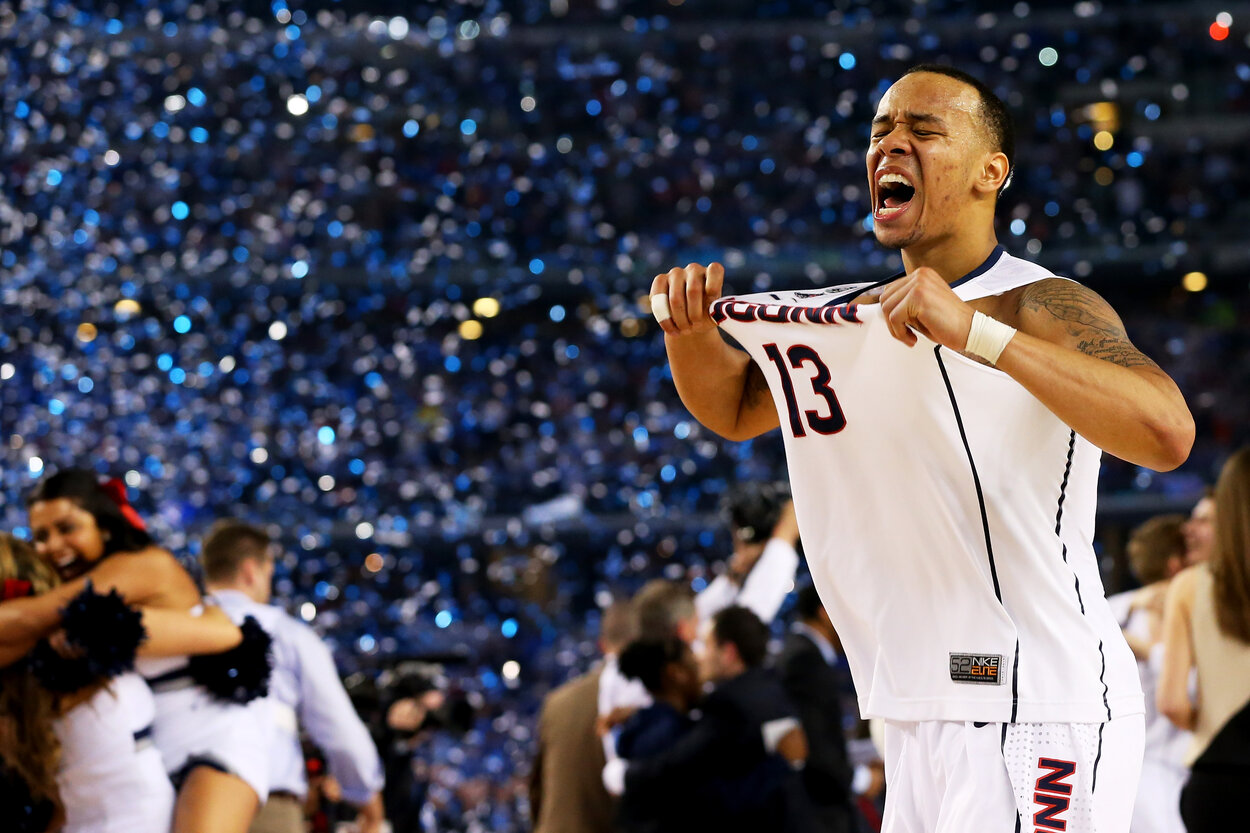 Whatever Happened to Shabazz Napier, UConn's March Madness Hero?
Shabazz Napier became an March Madness legend when he led UConn to an NCAA Tournament title in 2014. What is Napier doing in 2021?
March Madness is the perfect opportunity for players such as Shabazz Napier to become college basketball legends.
In the spring of 2014, no one could stop Napier, the UConn Huskies' starting point guard. Napier took over in the NCAA Tournament — catching the eyes of even LeBron James — en route to the Huskies winning the National Championship game.
Nearly seven years after that historic run, what is Napier up to now?
Shabazz Napier led UConn to an NCAA Tournament title in 2014
Three years after Kemba Walker led the UConn Huskies to a national championship, Shabazz Napier stepped up and did the same. 
A true freshman who averaged 7.8 points off the bench behind Walker during the 2010-11 season, Napier was a grizzled veteran when the 2013-14 campaign arrived. UConn made that year's tournament as a seven seed in the East Region and never backed down, in large part because of Napier. 
In six tournament games, Napier averaged 21.2 points, 5.5 rebounds, 4.5 assists, and 2.5 steals per game. All eyes were on the senior point guard — and that included LeBron James, then in his fourth and final season with the Miami Heat.
Napier ended his college career with a flourish, scoring 22 points on 8-of-16 shooting with six rebounds, three assists, and three steals in the National Championship game. 
UConn defeated Kentucky, 60-54, for their fourth title in program history.
Napier played for several teams in the NBA
LeBron James publicly vouched for Shabazz Napier, and the Miami Heat — only weeks away from losing James in free agency — acquired UConn's star point guard in a 2014 draft-night trade with the Charlotte Hornets.
The 24th overall pick, Napier averaged 5.1 points and 2.5 assists in 51 games and 10 starts during the 2014-15 season.
Miami traded Napier to Orlando in the summer of 2015, beginning a stretch where Napier played for five teams in five seasons.
Napier's longest tenure came in two seasons with Damian Lillard and the Portland Trail Blazers from 2016-18, averaging 6.8 points on 41.5% shooting in 127 games and 12 starts.
Napier split the 2019-20 season between the Minnesota Timberwolves and Washington Wizards, contributing 10.3 points and 4.7 assists in 56 games and 32 starts before the league shut down amid the coronavirus pandemic.
What is Shabazz Napier doing now?
As of publication, Shabazz Napier — who turns 30 in July — remained a free agent despite his strong play on two mediocre teams last season.
Napier is still playing basketball, however. The former first-round pick recently suited up for the Puerto Rico national team in the FIBA AmeriCup 2022 qualifiers.
Napier scored 14 points in Puerto Rico's 102-97 victory over the Bahamas on February 21. Puerto Rico, which also has former Mavericks guard J.J. Barea on the roster, qualified for next year's AmeriCup.
Like Sportscasting on Facebook. Follow us on Twitter @sportscasting19.