Whatever Happened to Controversial Baylor Football Coach Art Briles?
Art Briles' college football reputation is forever tainted.
A successful coach at Houston and Baylor, Briles didn't destroy his legacy with how he coached. Instead, a sexual assault scandal that rocked the college football world has kept Briles out of college football since the spring of 2016.
Nearly five years after his most recent game at Baylor, where is Art Briles now?
Art Briles won two Big 12 titles at Baylor
A Texas native who played receiver at Houston in the 1970s, Briles returned to his alma mater as the head coach in 2003. Briles went 34-28 with the Cougars and won consecutive Conference USA West titles in 2006 and 2007.
Houston made four bowl games in Briles' five seasons. He recruited record-setting quarterback Case Keenum, who has had a solid NFL career, and set the stage for Houston's eventual jump to the American Athletic Conference.
Briles jumped to Baylor after the 2007 season and slowly turned the Bears into a contender. By 2010, and with future Heisman Trophy-winning quarterback Robert Griffin III running the spread offense, Baylor began a streak of six straight winning campaigns under Briles.
Baylor won at least 10 games every year but once between 2011-15. The Bears also won three of the six bowl games they played in Briles' tenure.
Briles lost his job in 2016 after a sexual assault scandal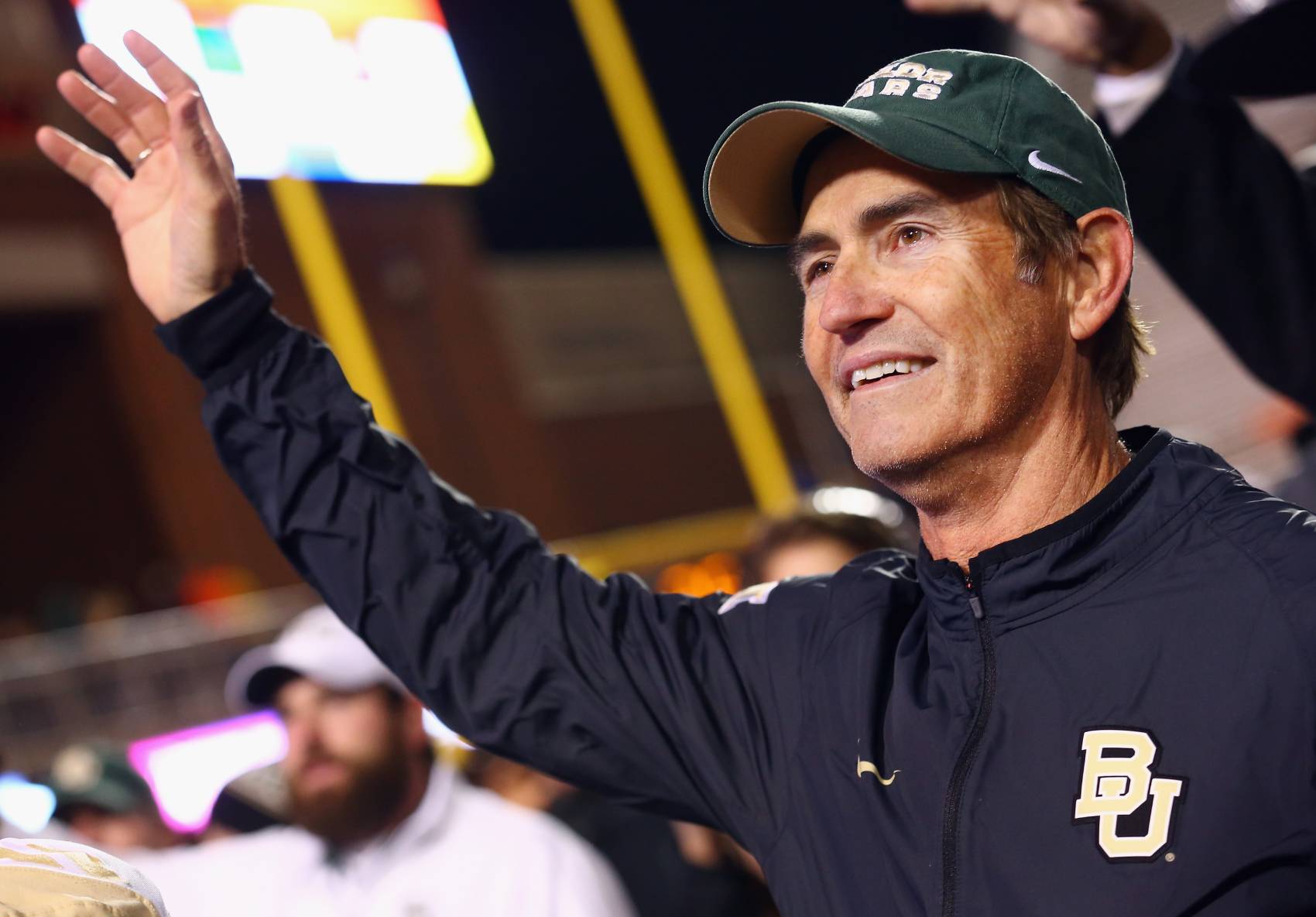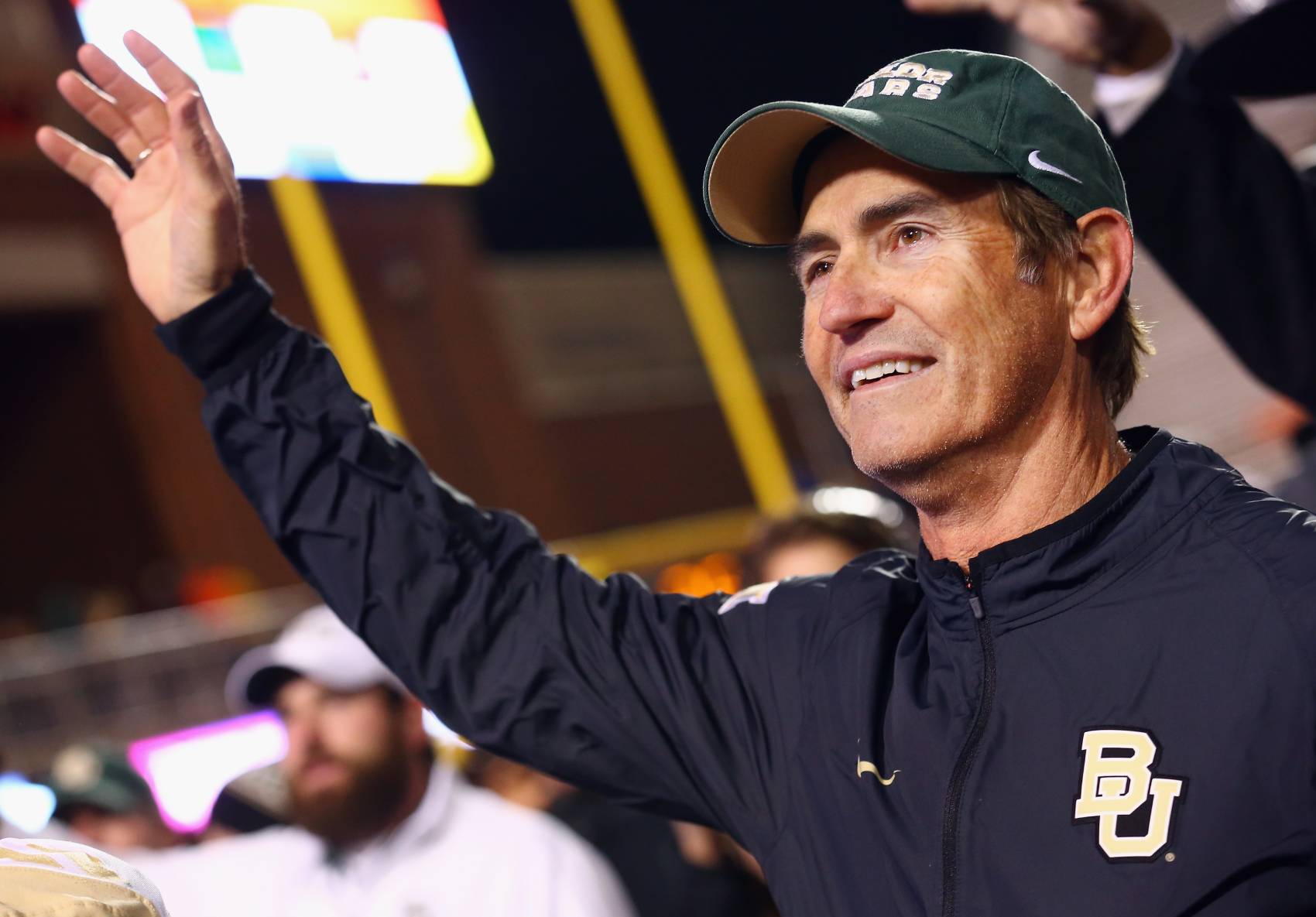 Art Briles wasn't long for Baylor after he posted another winning season in 2015.
Baylor fired Briles in May 2016 after it was revealed university officials covered up alleged rapes and other sexual assaults involving student-athletes.
A lawsuit filed in January 2017 by a former Baylor student alleged 31 football players committed 52 "acts of rape." Five gang rapes were alleged to have taken place between 2011 and 2014, according to the Texas Morning News.
Briles lost his job, and Baylor president Ken Starr resigned. Title IX Coordinator Patty Crawford also resigned after she alleged Baylor didn't allow her to do her job properly.
Briles had nearly $40 million left on his contract when the school fired him. The two sides reached a settlement in June 2016, according to Sports Illustrated.
Where is Art Briles now?
Art Briles has bounced around the football world since his time at Baylor ended.
The Canadian Football League's Hamilton-Tiger Cats hired Briles as an assistant head coach in August 2017. The team announced hours later that he wouldn't join the team.
Owner Bob Young acknowledged the team made a "major blunder" in hiring Briles.
Briles coached in the Italian Football League a year later. He went 8-3 in his one season with the Estra Guelfi Firenze team in Florence, Italy.
Briles is now the head coach at Mount Vernon High School in Texas. Mount Vernon went 8-3 last season and lost in the first round of the Texas high school playoffs.
Art Briles' son, Kendal, is the offensive coordinator at Arkansas. The younger Briles stayed at Baylor in 2016 and spent one season each at Florida Atlantic (2017) and Houston (2018) before he coached at Florida State last year.