Whatever Happened to Duron Carter, Cris Carter's Talented Son?
Duron Carter entered the football world, if not the world itself, with high expectations.
A standout high school wide receiver and the son of Vikings legend Cris Carter, Duron Carter had a crazy football journey that took him to four schools — including Ohio State — and, eventually, the Canadian Football League. Where is the younger Carter now?
Duron Carter was a highly-recruited high school receiver
RELATED: The Eagles Can Thank the NFL's Supplemental Draft for Cris Carter
Like many of the top high school players in Florida, Duron Carter went the private school route. Carter played at St. Thomas Aquinas in Fort Lauderdale — pass-rushers Nick and Joey Bosa are among the NFLers who played there — and shined.
St. Thomas won consecutive state titles in 2007 and 2008 and Carter was a big reason why. Carter totaled 39 receptions for 739 yards and 14 touchdowns as a senior and signed with Ohio State out of high school.
Duron's father, Cris, famously played at Ohio State and earned All-American honors in 1986. There was optimism that Duron Carter could be the Buckeyes' next standout receiver the way his dad was.
Carter had a wild and busy college career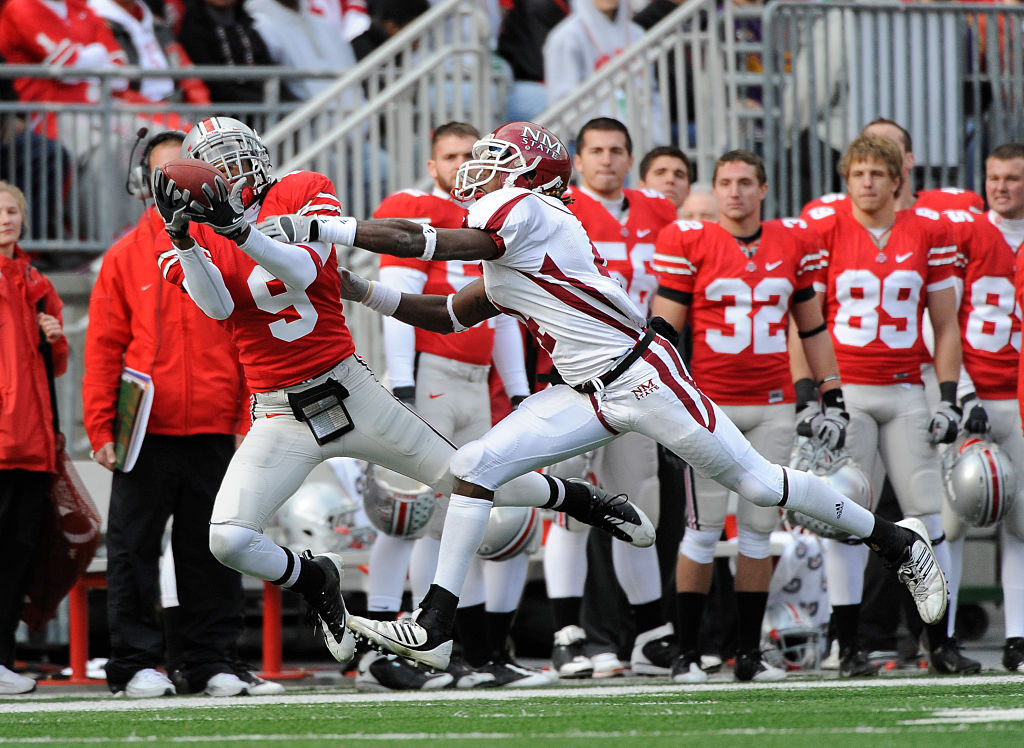 RELATED: Nick Saban Doesn't Win 5 National Titles at Alabama Without Rich Rodriguez…Wait, What?
When Duron Carter saw the field at Ohio State as a true freshman, he found ways to contribute. Carter caught 13 passes for 178 yards and a touchdown in 13 games. He also returned punts and played on kickoff coverage.
Carter only lasted a year at Ohio State, though. Academic issues forced him to transfer to Coffeyville Community College in Kansas, but Carter made the most of it.
Duron Carter totaled 44 receptions, 690 yards, and 10 touchdowns at the junior college level. His play there earned him an opportunity at Alabama in 2011, although more academic issues kept him from playing that year.
Carter transferred again, this time to Florida Atlantic, for the 2012 season. The NCAA denied Carter's request to immediately play at FAU and he left the Owls in December 2012.
Carter had one year of eligibility left, but entered the NFL draft and went undrafted. Carter had a post-draft tryout with the Minnesota Vikings, though he didn't make his father's former team.
Duron Carter has enjoyed success in the Canadian Football League
RELATED: Former Cowboys Fan Favorite Lucky Whitehead Has Stunning Pandemic Workout
When the NFL didn't work out, Duron Carter took his talents to the Canadian Football League and quickly became a star. Carter averaged 18.6 yards per catch and scored five touchdowns as a rookie in 2013 for the Montreal Alouettes.
A year later, Carter totaled 75 catches, 1,030 yards, and seven touchdowns. After a brief offseason stint with the Indianapolis Colts in 2015, Carter returned to the Alouettes. The second trip to Canada didn't go as well as the first.
Carter recorded 61 catches for 938 yards and five touchdowns in 14 games, but the team released him and his cousin, Kenny Stafford, after numerous issues with teammates.
Duron Carter posted a second 1,000-yard season with the Saskatchewan Roughriders in 2017. He split time between cornerback and receiver in recent years and even played quarterback on gadget plays.
Carter turned 29 this year and is currently a free agent. It is not yet known when the 2020 CFL season will begin, nor if he will sign with a team before then.