Whatever Happened to Elijah Holyfield, Evander Holyfield's Running Back Son?
Elijah Holyfield could have been known solely as the son of a boxing legend. He wanted much more from his life, though.
Rather than go into boxing like his father, Evander Holyfield, Elijah spent his years on the gridiron and eventually earned a spot on the Georgia Bulldogs.
As his father prepares for a comeback tour, now is the perfect time to find what happened to Elijah Holyfield.
Elijah Holyfield had a standout career at Georgia
A 5-foot-10, 217-pound running back from Georgia, Elijah Holyfield elected to stay close to home for college. ESPN ranked Holyfield as the country's 11th-best running back in the class of 2016.
Holyfield played sparingly in his first two seasons with the Bulldogs but made the most of his opportunities. He averaged 5.75 yards per carry and scored two touchdowns from 2016-17.
Attrition allowed Holyfield to split starting reps with D'Andre Swift in 2018. Holyfield rushed for 1,018 yards and seven touchdowns on 6.4 yards per attempt as a junior.
Georgia started the year 11-1 but lost to Alabama in the SEC Championship Game. The Bulldogs, led by future Bills quarterback Jake Fromm, then lost to Texas in the Sugar Bowl.
Holyfield's father, Evander, is a famous boxer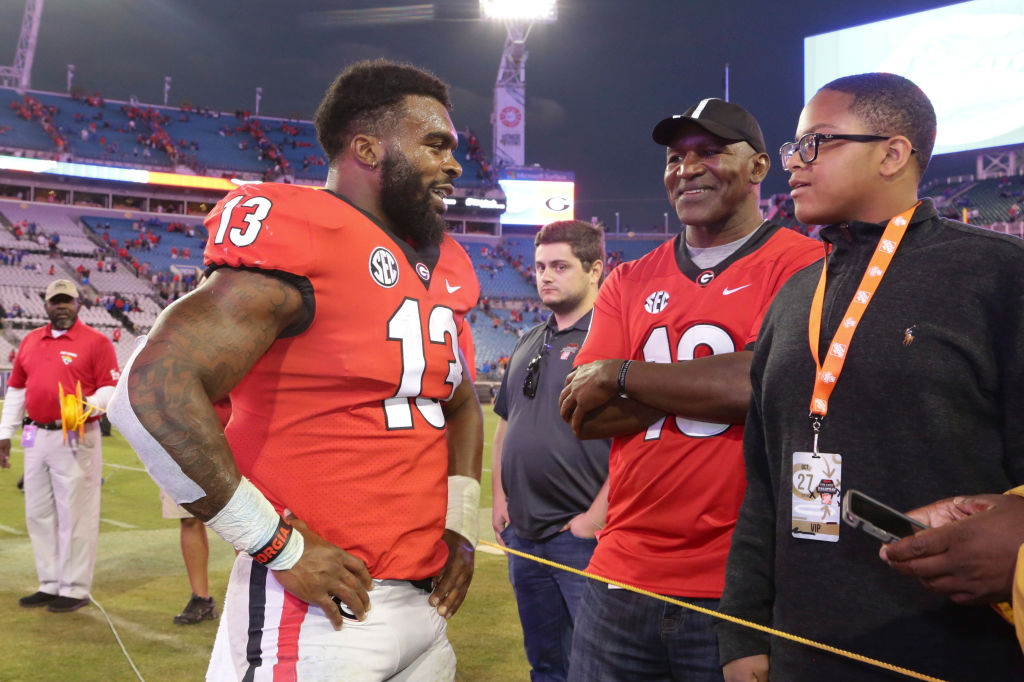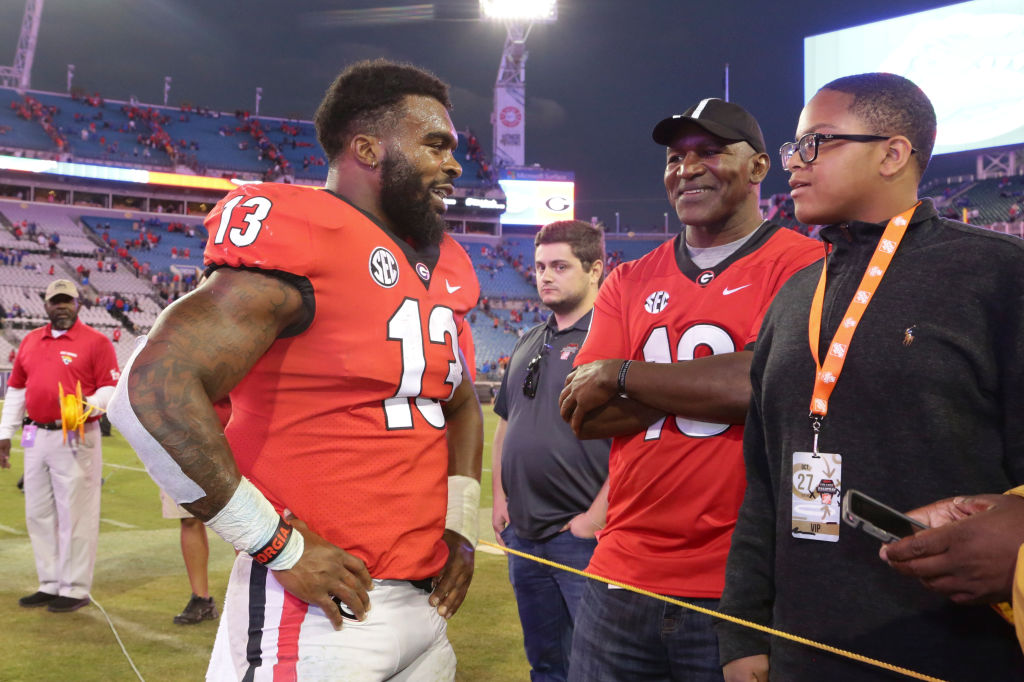 Elijah Holyfield will always be known as Evander Holyfield's son. That isn't at all a bad thing.
The older Holyfield is among the greatest boxers in modern history. Evander Holyfield not only famously upset Mike Tyson in 1996, but he lost part of his ear in a 1997 rematch with Tyson.
Holyfield retired in 2011 with 44 victories — 29 by knockout — in 57 career fights. The four-time world heavyweight champion also won a bronze medal at the 1984 Olympic Games in the men's light heavyweight event.
The older Holyfield is currently working on returning to the ring. Holyfield recently said there have been talks about a potential rematch with Mike Tyson.
Elijah Holyfield is entering his second NFL season
Elijah Holyfield had another season of eligibility remaining after the 2018 season. He instead declared for the NFL draft, but no team used a pick on him.
Holyfield signed with the Carolina Panthers as an undrafted free agent. He spent the preseason with them and, after the Panthers cut him in September, hung around on the team's practice squad.
Philadelphia needed running back depth and signed Holyfield in December 2019. Eagles coach Doug Pederson told reporters that the team considered drafting Holyfield earlier that year.
"I actually went to a private workout with him at Georgia this past spring and was down there. We really liked the kid coming out and all-that, so obviously had our eye on that."

Holyfield didn't appear in any games before Philadelphia's season ended in the first round of the NFC playoffs.
Elijah Holyfield is still on the Eagles' active roster. The second-year back could potentially form an intriguing duo with Miles Sanders in Philadelphia's backfield next season.