Whatever Happened to Ruben Rivera, the Yankees Outfielder Who Sold Derek Jeter's Glove?
Ruben Rivera had the makings of being the Yankees' next great outfielder. He could hit, he could field, and he seemed like a perfect fit in the team's long-term plans.
What Ruben Rivera — the cousin of Yankees legend Mariano Rivera — had in skills, though, he lacked in attitude. Here's what Rivera, who once stole and sold Derek Jeter's glove, is doing now.
Ruben Rivera was a talented Yankees prospect
RELATED: Former World Series Champ Hideki Matsui Won a World Series With the Yankees and Continues to Have an Impact With the Organization
The greatness of the Yankees' Core Four, as well as all of the older veterans, makes it easy to forget how talented the farm system in the 1990s and early 2000s. More often than not, though, the Yankees traded those top prospects to acquire said older veterans.
Ruben Rivera was one of those players. Baseball America ranked Rivera as the sport's second-best prospect in 1995 and the third-best a year later.
Ruben Rivera debuted in 1995 and hit .284 with two home runs and 16 RBIs across 46 games a year later.
New York traded him to San Diego in 1997, though, in a package that eventually brought pitcher Hideki Irabu to the Yankees. Irabu's Yankees tenure is possibly best known for owner George Steinbrenner calling him a "fat p—- toad."
Rivera spent three mediocre years with the Padres and split 2001 between the Reds and Giants. The Yankees brought Rivera, 28, back for the 2002 season in hopes he'd finally break out.
Ruben Rivera enjoyed a strong spring in 2002, but one of the strangest incidents in team history cost him his job and reputation.
The Yankees traded Rivera when he sold Derek Jeter's glove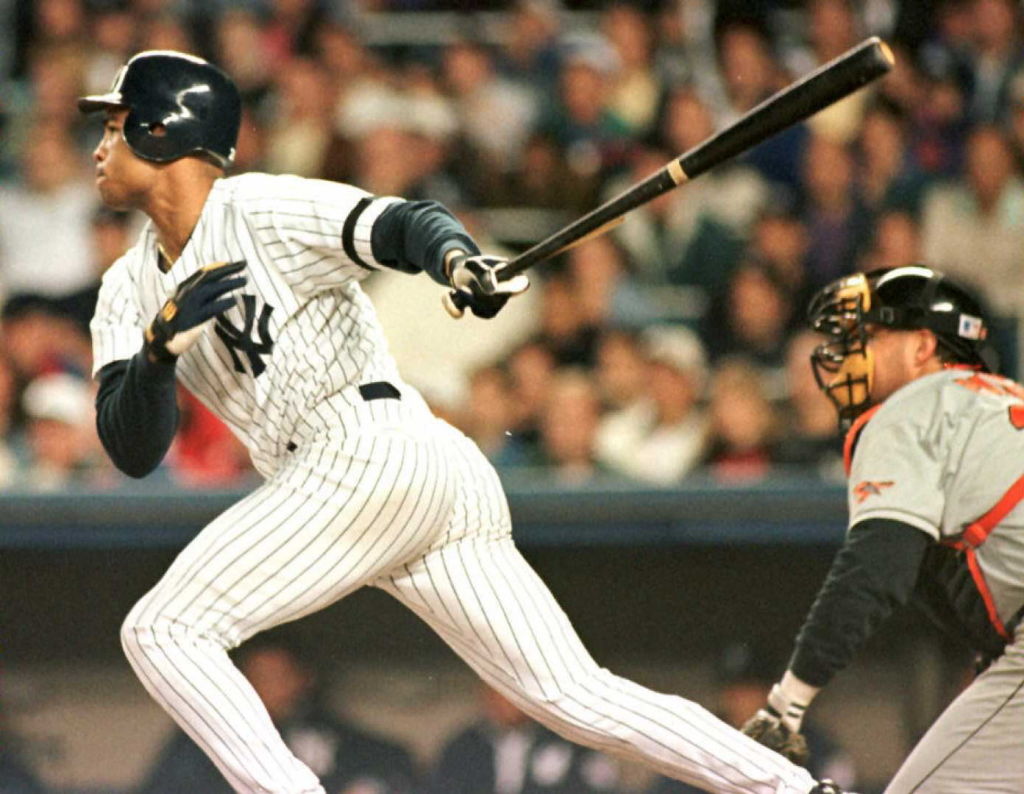 RELATED: Derek Jeter Made $266 Million Playing Baseball But Has 'One Regret' About His Yankees Career
Nearly 20 years later, the Ruben Rivera situation is both hilarious and mystifying.
In the spring of 2002, Rivera stole Yankees shortstop Derek Jeter's glove from his locker and sold it to a sports memorabilia dealer for $2,500. Rivera later said he didn't do that because he needed money.
When the Yankees learned of Rivera's act, the team unanimously voted to release him because he violated the trust and santicy of the clubhouse.
Rivera apologized for the incident and said he committed a "rookie mistake." Amazingly, Rivera then tried turning the situation around and blamed the Yankees for his release.
In an interview with a Panama TV station, Rivera wondered why the Yankees cut him for such a seemingly minor crime.
"Everyone makes mistakes. I haven't killed anybody. It was just a moment when I wasn't thinking right. I've repented. I gave it all back to him the next day. … It wasn't correct what I was doing."
Where is Ruben Rivera now?
RELATED: The Yankees Need to Accept Aaron Judge Doesn't Deserve a $200 Million Contract
Somehow, the Derek Jeter incident may not be the most famous mistake of Ruben Rivera's career. Playing for the San Francisco Giants in 2003, Rivera committed one of the greatest baserunning gaffes in baseball history.
In short, Rivera was caught in a rundown when a play he thought was an out became an error. Rivera attempted to score from first base on the play but was thrown out at home. Giants broadcaster Jon Miller famously called the play "the worst baserunning in the history of the game."
Rivera last played professional baseball in the United States in 2006.
Ruben Rivera has played in Mexico exclusively since 2010. At 45 years old last year, Rivera hit .195 with five RBIs in 35 games.
It is not yet known if Rivera, who turned 46 in November, will play later this year.