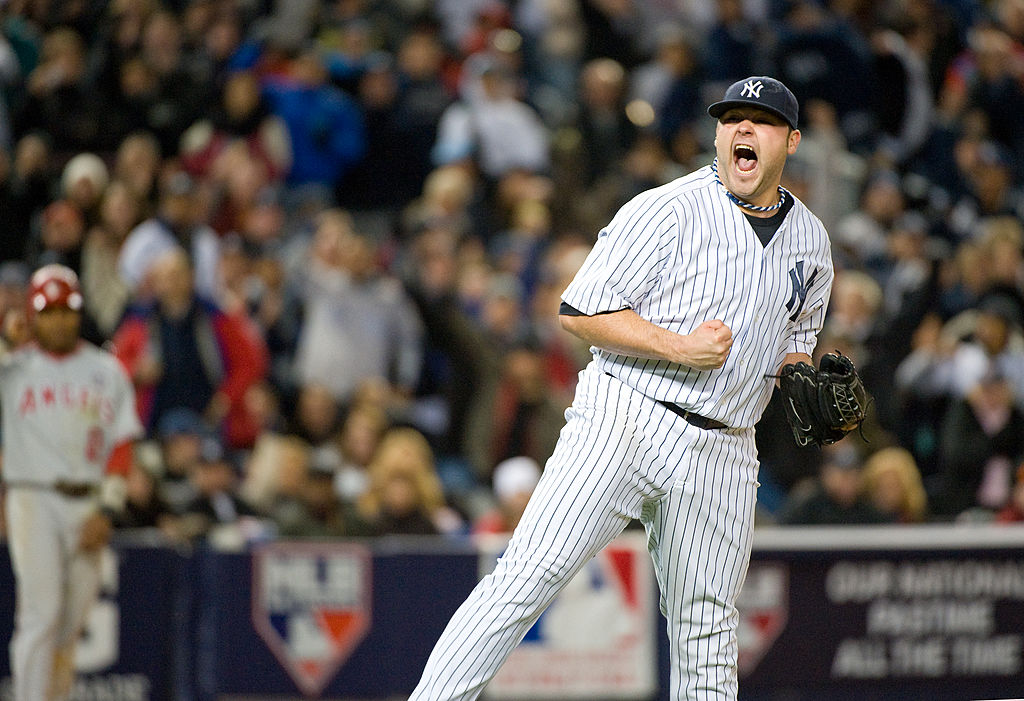 Whatever Happened to Yankees Phenom Joba Chamberlain?
Former Yankees pitcher Joba Chamberlain's career was filled with fist pumps, strikeouts, and injuries. Where is the former phenom now?
The 2007 New York Yankees were ready to change the narrative that they couldn't develop young pitchers. Former first-round picks Ian Kennedy and Phil Hughes contributed to the starting rotation as rookies. Taiwanese right-hander Chien-Ming Wang won 19 games for the second straight season. Top relieving prospect David Robertson was carving his way through the minor leagues and would become a major league mainstay in 2008.
Then, there was Joba Chamberlain. The stocky right-hander from Nebraska reached the big leagues in 2007 and dominated hitters with a fastball that neared 100 mph. Unfortunately for Chamberlain, his excellent start wasn't a sign of things to come and a promising career was derailed by injuries, mismanagement, and overall ineffectiveness.
All of these years after his stellar rookie campaign, what is Chamberlain doing now?
Joba Chamberlain had a thrilling start to his Yankees career
The 41st overall pick of the 2006 MLB draft, expectations were high for the 6-foot-3, 245-pound Chamberlain. Chamberlain skyrocketed through the minor leagues before making his big league debut in August 2007. The baseball world quickly became fascinated with Chamberlain's command — he struck out 34 hitters and allowed only one earned run in 24 innings — and his emphatic fist pumps.
Chamberlain was instrumental in the Yankees' run to the 2007 Wild Card title. The magic ran out for the electric rookie, however, in the American League Division Series. With small flies crowding his face and distracting him on the mound, Chamberlain walked All-Star outfielder Grady Sizemore and threw two wild pitches. A 2-1 Yankees lead eventually became a 3-2 loss in 10 innings. New York lost the series in four games.
The Yankees thought so highly of Chamberlain's future they refused to trade him for Twins ace Johan Santana. In hindsight, the Yankees may have regretted not parting ways with Chamberlain.
Injuries and the Yankees destroyed Chamberlain's career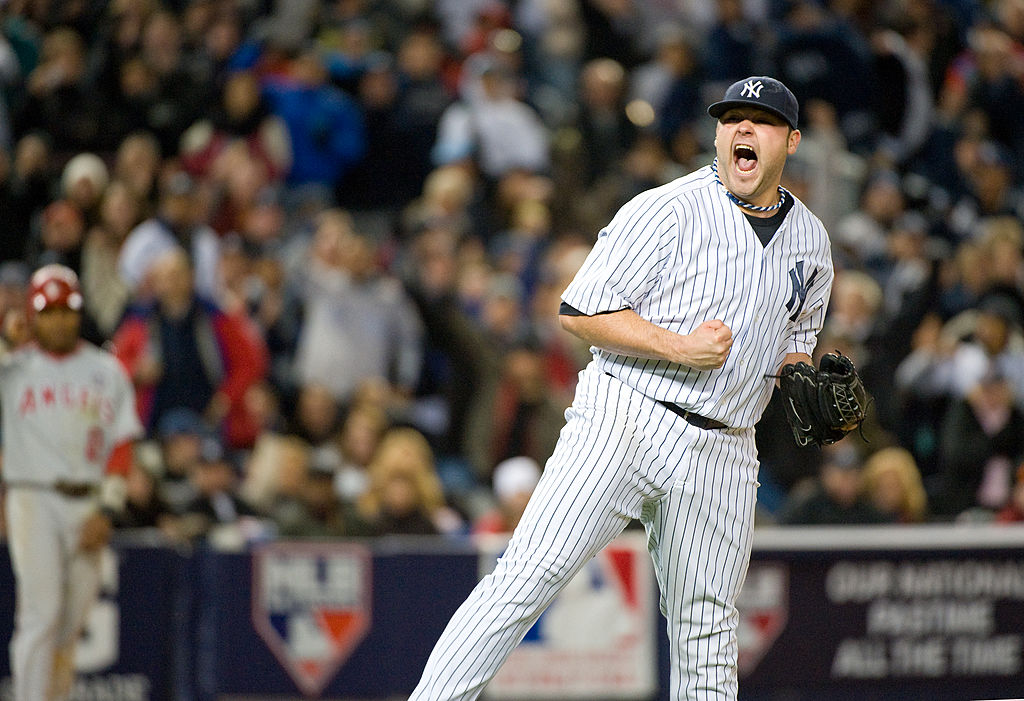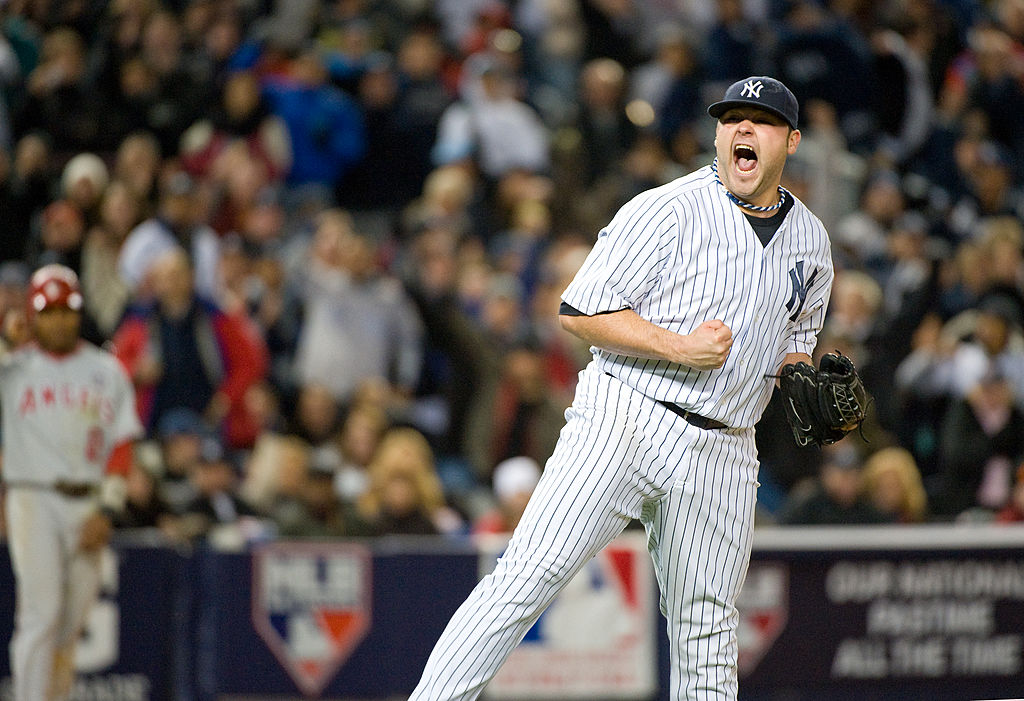 After opening the 2008 season as a reliever, Chamberlain went 3-1 with a 2.76 ERA and 74 strikeouts in 65 1/3 innings across 12 starts that summer. The Yankees kept Chamberlain as a starter in 2009 and watched him go 9-6 with a 4.75 ERA in 31 starts. For every solid start, there were another two where he wouldn't last past the fourth or fifth inning.
The debate about Chamberlain's best fit continued for months. Legendary New York sports radio host Mike Francesa famously argued with a caller about why the media insisted Chamberlain return to the bullpen but didn't say the same for veteran starting pitcher Andy Pettite. New York moved Chamberlain back to the bullpen for the 2009 playoffs and kept him there for the rest of his career.
Although Chamberlain's struggles are rightfully blamed on the Yankees frequently rotating him between the starting rotation and the bullpen, he also struggled with injuries. Chamberlain battled rotator cuff tendinitis in 2008 and, after a strong start to the 2011 season, went under the knife and had Tommy John surgery.
When he was recovering from the elbow surgery, Chamberlain suffered an open dislocation of his right ankle by bouncing on a trampoline in April 2012. Chamberlain returned midseason and had a 4.35 ERA in 22 games.
Where is Joba Chamberlain now?
Joba Chamberlain bounced around several different teams from 2015-17. He spent a month in the Toronto Blue Jays' minor league system in the summer of 2015 before signing with the Kansas City Royals. After recording a 7.94 ERA in six games for the Royals,
Chamberlain was designated for assignment on Oct. 27, 2015, the same day as Game 1 of the 2015 World Series. In a nice gesture by Kansas City, Chamberlain still received a World Series ring when the Royals defeated the New York Mets in five games.
Chamberlain showed flashes of his old self for the Cleveland Indians in 2016. Still, a 2.25 ERA in 20 games and 18 strikeouts in 20 2/3 innings wasn't enough to save Chamberlain from being designated for assignment.
When a spring 2017 stint with the Milwaukee Brewers didn't work out, Chamberlain retired and fully moved on to a post-baseball career. Chamberlain now works as a studio analyst on MLB Network and specializes in pitching commentary.