What's Next for Damian Lillard and the Portland Trail Blazers Now That Part 1 of the Roster Overhaul Is Over?
It was a busy trade deadline for the Portland Trail Blazers. The franchise made three significant deals to begin a roster re-tooling around superstar point guard Damian Lillard.
Norman Powell and Robert Covington were sent to the Los Angeles Clippers in the first move. Then came the blockbuster trade of CJ McCollum to the New Orleans Pelicans. At that point, it began to become apparent that the Blazers weren't necessarily blowing it all up and going into full tank mode.
The final move before the deadline saw the team bring in Utah Jazz veteran Joe Ingles.
Step one of the Lillard-centric overhaul is now complete. But what comes next?
The Portland Trail Blazers completed three moves to begin reshaping the roster in Damian Lillard's image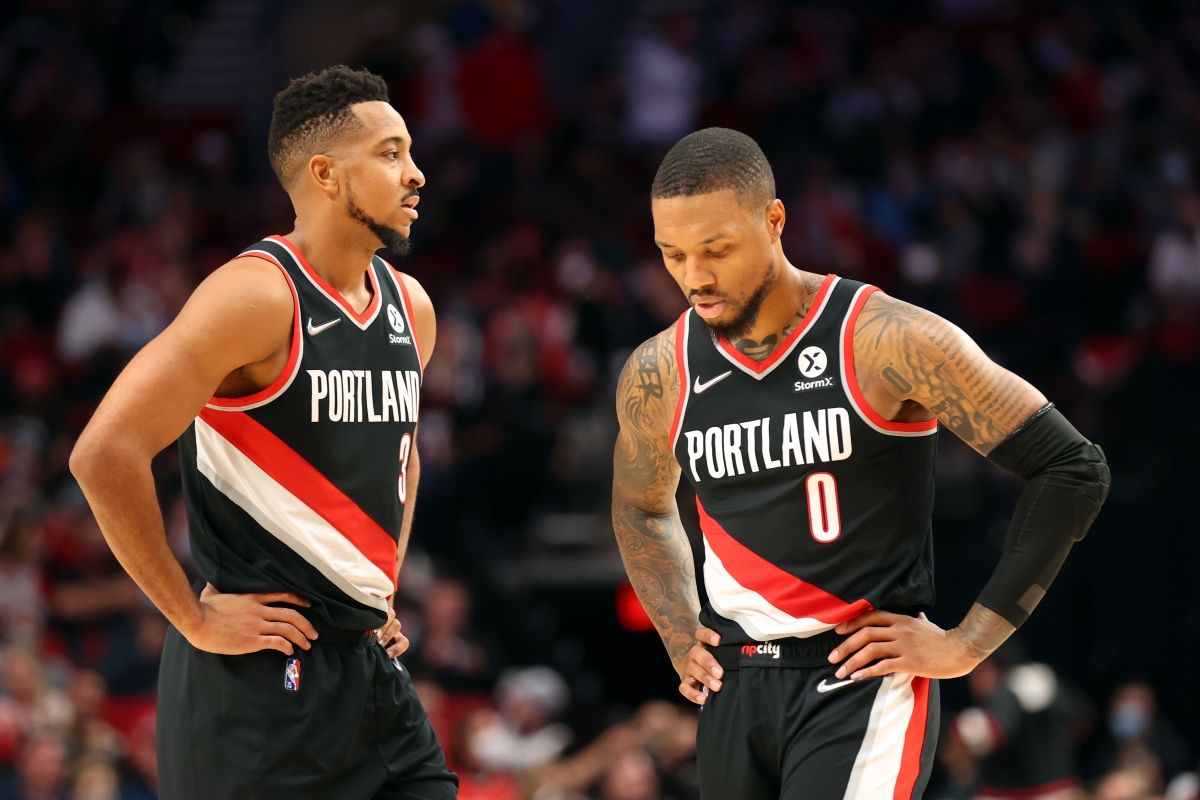 As previously constructed, the Blazers made one Western Conference Finals appearance in 2019. Since then, Portland has won three total playoff games despite Dame consistently being one of the best players in the postseason.
With Lillard and McCollum in the backcourt, the team also made a first-round playoff exit on three other occasions. The time for a new era was long overdue, and interim general manager Joe Cronin finally took the steps toward moving into Lillard's Blazers 2.0.
Powell and Covington went to LA for Eric Bledsoe, Justise Winslow, Keon Johnson, and a second-round pick. For the most part, it was your run-of-the-mill salary dump.
The McCollum blockbuster followed as he, Larry Nance Jr., and Tony Snell went to the Pelicans in exchange for Josh Hart, Nickeil Alexander-Walker, Tomas Satoransky, Didi Louzada, a protected 2022 first-round pick, and two future second-round picks.
Lastly, Cronin re-routed Alexander-Walker and Satoransky in a three-team deal that landed Portland Joe Ingles, Elijah Hughes, and a second-round pick.
In all, Portland cleared at least a possible $45 million in cap space, and the Blazers have only eight players with guaranteed roster spots for next season (including Bledsoe, who could be a buyout candidate in the next few days and is only guaranteed $3.9 million next season if he stays).
Cronin has started paving roads in about a dozen different directions — but that's the easy part. Now that the Blazers have the freedom to make a number of different moves, what decisions do they actually make?
What are the next steps for Lillard and the Blazers?
After the Powell and McCollum moves, there were rumors Portland was interested in Detroit Pistons' forward Jerami Grant.
The 6-foot-7 wing would make sense next to Dame as an athletic defender with secondary scoring ability, but it seems Detroit's asking price of two first-round picks was too rich for anyone's blood as Grant remained in the Motor City.
But that possible move showed two things: One, the Blazers are already willing to add pieces if they're the right fit and at the right price; and two, it gives a hint at one of the archetypes Cronin may be looking for.
And perhaps third, Alexander-Walker and Satoransky both moved on quickly, but Hart stayed.
Both Hart and Grant share similar characteristics — they're strong defenders, play hard, and have (at times in Jerami's case) shown a willingness to play a particular role. Logically, those types of players make perfect sense next to Lillard.
The team's 31-year-old point guard will likely miss the rest of this season with an abdominal injury. The Trail Blazers' first-rounder from the Pelicans conveys if it lands anywhere between Nos. 5-14 — that seems like somewhat of a sweet spot as NOLA will be fighting for a play-in spot in the West.
The franchise could also move that pick in a separate deal during the summer, along with any of the first-round picks it has every season moving forward.
With their cap space, the Blazers can also shoot for the moon in free agency. Bradley Beal and Kyrie Irving both have player options, while Zach LaVine and Miles Bridges are both restricted free agents.
Interestingly, Deandre Ayton did not come to an agreement with the Phoenix Suns on a rookie max extension. Although they can match any offer Portland would make, the Suns do have a number of pricey players already on the books.
The 24-year-old center would be an ideal frontcourt option next to Lillard. That could possibly be the pipe dream Cronin has in his back pocket heading into this offseason.
The ultimate goal is to allow Dame to write the second chapter of his career
Whatever direction the franchise decides to move in, there are options at Lillard's disposal for the first time in his career.
"It had become evident to us that the roster had plateaued," Cronin said via NBA.com. "So it was our decision to do a dramatic shakeup where our goal was to make multiple deals, to balance the roster, to create numerous tools and exceptions and severely pad our cap in order to transact moving forward."
Cronin hit all the keywords — plateaued roster, dramatic shakeup, balance, severely pad the cap, moving forward. Those are all words that should have come out of the Portland front office a year(s) ago.
"Now we have a bit of a blank slate, we've done a lot of work the last few weeks and tearing it down is a lot easier than building it up," he added. "So now our challenge is to build it up."
There's only one thing missing from what Cronin said, but it's likely involved in the plan whether it's made public or not: "So now our challenge is to build it up with Lillard at the center of it."
All salary information courtesy of Spotrac.
RELATED: 5 Players the Portland Trail Blazers Could Target to Help Damian Lillard Win an NBA Title