What's the Deal With Khabib Nurmagomedov's Sketchy Agent?
Khabib Nurmagomedov may be one of the best fighters to ever compete in the UFC. But behind him is a team of coaches, training partners, managers, and agents who support him every step of the way. That said, his agent, Ali Abdelaziz, has a pretty sketchy history.
Who is Ali Abdelaziz?
There is not a lot of information regarding Abdelaziz's background, but as The Washington Post explains, there are some things we know for sure. The first fact is that he's from Egypt. The second is that Abdelaziz was a former MMA fighter, as Tapology reports.
Third, we know he's the founder and president of Dominance MMA Management. Dominance manages a lot of UFC fighters including current champions like Nurmagomedov, Henry Cejudo, and Kamaru Usman as well as former champions like Fabricio Werdum and Frankie Edgar. 
Abdelaziz manages a lot of rising stars in the UFC, like Zabit Magomedsharipov and Islam Makhachev. It also represents more famous men like Kelvin Gastelum and Justin Gaethje. 
Many of the fighters Abdelaziz manages are Russians or Muslims like Nurmagomedov, but his company doesn't discriminate. Abdelaziz represents fighters from around the world and from many different cultures and religions. 
Conor McGregor's accusation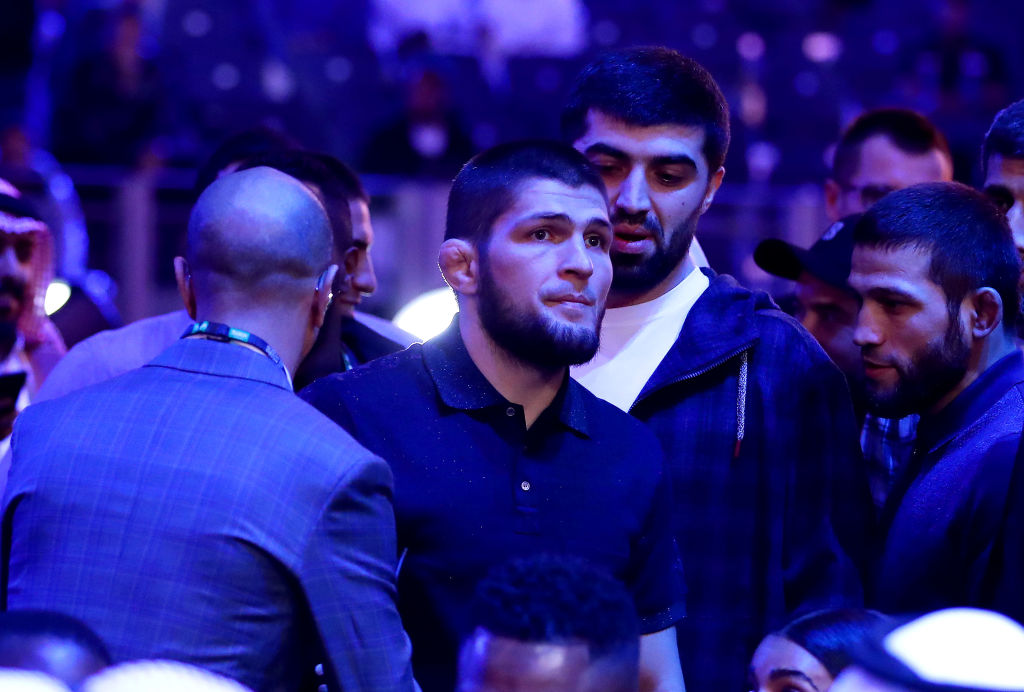 During the buildup to Nurmagomedov's fight with McGregor, the Irish opponent trash-talked everyone around Nurmagomedov. McGregor talked about the fighter, his family, friends, country, and, of course, his agent.
In particular, McGregor called Abdelaziz a "terrorist snitch." He claimed that Abdelaziz was removed from a flight on September 11, 2001, and that he was an informant for the FBI. According to the Washington Post, McGregor more than likely got this information from a book, Enemies Within: Inside the NYPD's Secret Spying Unit and bin Laden's Final Plot Against America.
That book names Abdelaziz and describes his history in the U.S. as well as abroad. However, The Washington Post doesn't report that the book is accurate. As a result, McGregor and his claims about Abdelaziz may or may not be true. 
With that said, Abdelaziz reacted the same way to McGregor's trash talk as Nurmagomedov did. He brushed off McGregor's comments and said he isn't fighting him; McGregor's fighting Nurmagomedov. Surely enough, Abdelaziz got the last laugh, as Nurmagomedov dominated McGregor. 
Why Ali Abdelaziz is so successful
Despite the claims that he's a terrorist and an FBI informant, Abdelaziz has been one of the most successful agents in the UFC. One of the main reasons why is because the fighters he manages seem to like him. It's possible that because Abdelaziz used to be an MMA fighter, he knows the game and can connect with his clients through their mutual experiences in the sport.
In fact, Abdelaziz trains with his fighters. When they're cutting weight, he joins them. Plus, when his fighters get into altercations, Abdelaziz joins in on brawls — at least he has in the past. These actions do build camaraderie, and that's good for business. 
Plus, as their manager and agent, Abdelaziz's main goal is to get the most money out of the UFC for a fight. It's unknown how much exactly the UFC pays its fighters, but Abdelaziz and his company seem to be doing well.
Follow more updates from Sportscasting on our Facebook page.