What's Wrong With the San Francisco 49ers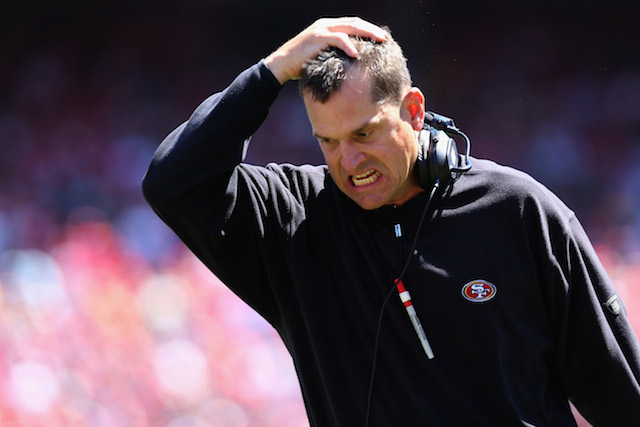 What is happening with the San Francisco 49ers?
It's not an unreasonable question to ask. This is a team that, up until last season, had been to three consecutive NFC Championship games and played in the Super Bowl. The 49ers were tough as nails, confident in themselves and fiery coach Jim Harbaugh, and played the game for each other. Who had it better than them? Not many, that's for sure. It wasn't that long ago that the 49ers were among the NFL elite and a major force to be reckoned with every time they stepped onto the field. Now, we have no idea who they are or what they stand for. But more importantly, do they?
Teams in the NFL don't win unless they have an identity, and they certainly established one in San Francisco over the past few years. However, that doesn't mean that things don't need to be shaken up every once in a while. Clearly the 49ers and Harbaugh needed to "mutually part ways." The relationship between management and coach had soured, and each side needed a fresh start. And that is exactly what's happening.
Harbaugh is now running the show at his alma mater and quickly reaffirming his legendary Michigan status, and the 49ers have promoted from within by making former defensive line coach Jim Tomsula the new head coach. Change wasn't just coming in San Francisco; it had officially arrived. And the franchise had to have braced itself for this moment. However, there's no way the 49ers were prepared to handle the latest bombshell, courtesy of linebacker Patrick Willis.
After eight seasons in the NFL, all of them with the 49ers, Yahoo Sports reported that the All-Pro had decided to retire. Willis's decision will have a monumental impact on the field, but more importantly, it's a move that will greatly hurt the continuity that the organization was hoping to maintain after the coaching shift.
Willis isn't just a defensive stalwart, with seven Pro Bowl appearances and five first-team All-Pro selections — he's an important locker room presence and a core member of a group that's found much success over the past couple of seasons. There has already been a lot of player personnel turnover in the organization since the team's Super Bowl appearance (as you can see from the picture above), but San Francisco was certainly not expecting to lose a figure like Willis anytime soon. And he might not be the only one heading out the door.
The free agency period has not been kind to the San Francisco 49ers. Not only are they set to lose running back Frank Gore, but guard Mike Iupati is planning to leave the organization for the Arizona Cardinals. Unfortunately for the franchise, it doesn't stop there. According to Pro Football Talk, defensive end Justin Smith is also planning to retire from the NFL, as well. Smith is 35 years old with 14 seasons under his belt, but he is still an important defensive cog that will most certainly be hard to replace.
And then there's the situation with quarterback Colin Kaepernick. While General Manager Trent Baalke has adamantly denied that the young QB is on the trade block, there has been no word on the matter from CEO Jed York. Considering the franchise's apparent goal to remove anything Harbaugh-related, it would not be surprising if it was indeed looking to ship Kaepernick. The writing on the wall is clear: Things are not good in San Francisco.
There is no way the recent moves within the franchise could be by design. The news regarding Willis and Smith are clearly shocking, and the Niners must be scrambling to try and figure things out. Never in their wildest imagination did they believe things would happen this way after parting ways with Harbaugh, but it's clear that there is some doubt within the organization.
This was a team that was built to compete and contend, and now it's losing pieces left and right. We're not sure how the franchise plans to fix things, but the 49ers need to do something quickly. They most certainly can't afford to let things get any worse.