When Did Adam Schefter Start Working At ESPN?
Any Twitter user who has pinned tweets on for ESPN reporter Adam Schefter knows how busy he can be on certain days.
Schefter has developed a massive following as one of the premier sports reporters. Few have more significant scoops — especially in the NFL — than Schefter, who breaks everything from hirings to the latest signings and trades.
Football fans will see no shortage of Schefter in the coming years. How long has the veteran reporter worked at ESPN?
Adam Schefter is ESPN's superstar NFL reporter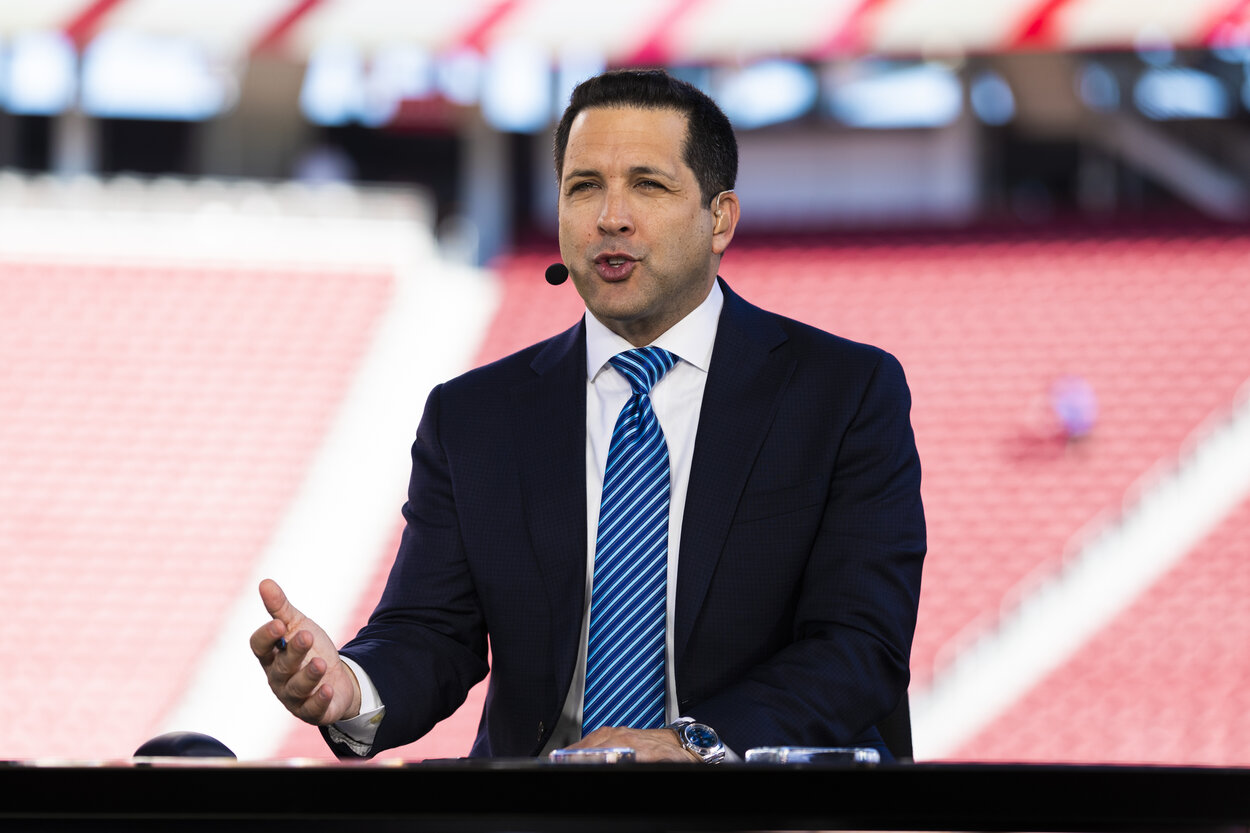 RELATED: 'Woj' Offers the Perfect Reaction To ESPN's Adam Schefter Breaking NBA News
The social media era, coupled with more competition, has greatly changed how ESPN covers breaking news.
The NFL has become a 365-day business — 366 days in a leap year — and Adam Schefter is among the most important figures who aren't directly employed by the league itself. As of publication, Schefter had over 8.3 million followers on Twitter.
Schefter is everywhere on ESPN, whether it's discussing NFL draft prospects in April or breaking injury news only hours before a busy Sunday slate of games kicks off in the fall. Not only is Schefter tweeting the newest rumors or leaks, but he frequently appears on television to share news or lend his insight on trending topics.
Schefter also hosts his own podcast, aptly named The Adam Schefter Podcast. 
When did Adam Schefter begin working at ESPN?
RELATED: How Much Money Does Adam Schefter Make?
Before Adam Schefter joined ESPN, he spent most of his career covering the Denver Broncos. In the days before Twitter and podcasts, Schefter devoted his energy to writing about John Elway for The Denver Post.
The NFL hired Schefter in 2004 to not only write for NFL.com but to appear on the league's official network. It wasn't until 2009 when ESPN poached Schefter away from his on-air duties at the NFL Network.
Schefter debuted on ESPN in August 2009, who has been with the Worldwide Leader since then. ESPN invested heavily in Schefter, and he's developed a massive following in the process.
Football fans knew of Schefter, a reliable veteran reporter, before he joined ESPN. But when he first held a microphone with the network's logo, it officially set Schefter on the path to superstar status.
Schefter has a bright future ahead of him at the Worldwide Leader
RELATED: A Tyreek Hill vs. Adam Schefter Race Is the Post-COVID Event We All Need
Adam Schefter turns 55 later this year, but he has shown no signs of slowing down.
Schefter continues breaking stories with the best of them, and he'll remain a massive presence at ESPN for the years to come. Much like how ESPN has devoted so much time and money to Stephen A. Smith as a talking head, the network has done the same with Schefter when it applies to the NFL.
It will be interesting to see how Schefter's role changes over the next few years. ABC and ESPN will air more NFL games in the next TV package, which begins in 2023. The idea of Schefter doing occasional sideline work for an NFL game suddenly doesn't seem so unrealistic.
Like Sportscasting on Facebook. Follow us on Twitter @sportscasting19.