When Did Larry Bird Retire?
When one lists the greatest NBA players of all time, it won't take long to bring up Larry Bird. The Boston Celtics Hall of Famer, who turned in 13 wall-to-wall great seasons in his illustrious career, still inspires awe from modern fans. So when did Bird retire, why did he do it, and how do his records hold up compared to NBA players who have come since?
Larry Bird's injuries derailed an incredible 1991-1992 season for the Boston Celtics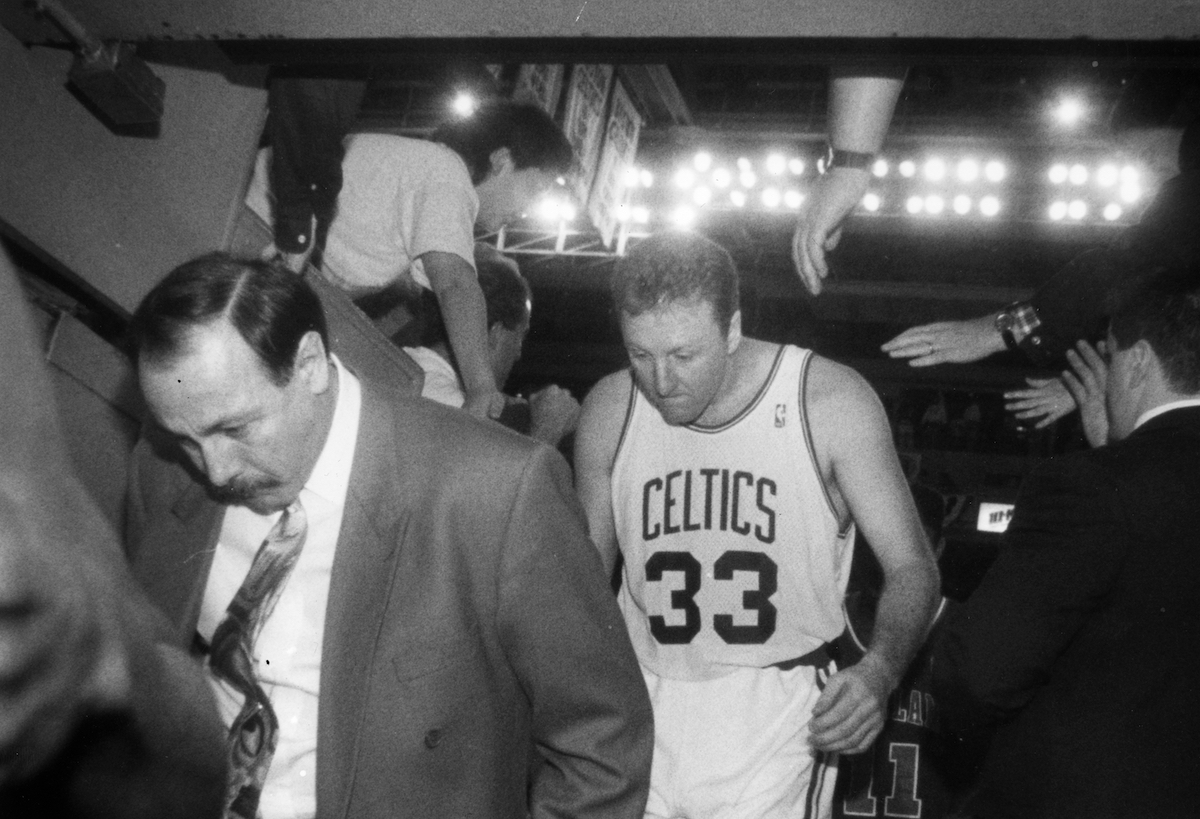 Bird intended to retire in 1988, when his worsening ankle issues had already made every minute on the hardwood painful. However, the sudden death of promising first-round pick Len Bias kept him with Boston for four more seasons. By the time his final season rolled around, Bird was pushing through constant pain.
When he could will his body to move anyway, he was 100% the man who earned the nickname "Larry Legend." The 1991 Boston squad closely trailed the New York Knicks for the division crown early. Bird put on one of his career highlights, according to the New York Times: a 49-point, double-overtime primetime classic against the Portland Trailblazers.
But Bird hit his limits, his body giving him no choice but to miss 37 games. The Celtics understandably sagged without their superstar leader on the court, eventually falling behind the Chicago Bulls in overall wins and losses.
Bird's late-season return helped the team win the division title, sweep the Indiana Pacers in the first round of the playoffs, and take the Cleveland Cavaliers to a seven-game series before finally being eliminated.
When did Larry Bird finally retire?
Saying the words "finally retire" might seem like a bit much regarding Bird, of all people. The Celtics hero played for 13 seasons — a respectably solid run. But his injuries, as severe and painful as they were, meant his final playing years were spent in agony.
Because of the location and severity of the bone spurs in his ankle, only a potentially career-ending Achilles surgery could give him any hope of relief. He decided to play through it for as long as he could.
Missed games aside, his suffering didn't show in his final seasons' stat line. According to Basketball-Reference, he averaged 20.2, 9.6 rebounds, and 6.9 assists per game. If the surgeries required to repair his back and ankle weren't so major at the time, he likely could've played for at least a few more seasons before hanging up his jersey.
How Bird's incredible records hold up in 2021
Even with a truncated career, Bird's playing days still stick out as some of the best in NBA history. He had three consecutive league MVP awards, a feat only accomplished by Bill Russell and Wilt Chamberlain. No one else has managed it since.
Fox Sports reports that he was the first NBA player to turn in a 50-40-90 season — shooting 50% from the floor, 40% from three, and 90% from the free-throw line — which seven other players have ever matched. Oh, and he did it two years in a row. Bird averaged over 20 points, 10 rebounds & and five assists per game in five separate seasons. This record remains untouched.
Sure, some of his previous crowning achievements, like overall accuracy, have been surpassed by today's sharpshooters. Steph Curry's 'Supernova' season really was a sign that the game had changed; those old standards would no longer count. Yet Bird still has some incredible stats that clearly place him among the very best of all time even today.
RELATED: Larry Bird Once Revealed the Only Player 'Who Can Really Shut Me Down'