When Did Zion Williamson Realize He Could Handle the NBA?
"I expected to make an impact but not anything like this," Zion Williamson told ESPN in February 2020. With this statement, following his long-awaited debut with the Pelicans, Williamson also proved himself the master of the understatement.
A pre-season knee injury took him out for the first half of the season, and the basketball world waited patiently while he rehabbed. What was initially scheduled to be a six- to eight-week recovery stretched to 13 weeks. The world wondered what Williamson would play like when he stepped back on the court.
Zion Williamson's debut stats are All-Star level
When Williamson finally debuted, he immediately racked up incredible stats: 22 points in just over 18 minutes played, or 1.20 points per minute. Four-for-four from behind the arc, the first NBA rookie to be perfect after three or more attempts.
Williamson shot eight for 11 overall for a scorching 72.7% in the net. Finally, those 22 points gave him the Pelicans records for most points scored in a debut game — one more than Cole Anthony in 2012. Oh, and he also picked up seven rebounds and three assists.
Williamson realized he could keep up in training camp
Last summer, Williamson realized in Pelicans training camp that he could transfer his skills from high school and his year at Duke to the NBA. What he didn't expect was that his more seasoned teammates would look to him to make an immediate impact.
Williamson thought that since he's a rookie — one getting a late start — his fellow Pelicans would let him get a feel for the game before they gave him the ball. Not that Williamson felt any jitters; he just didn't expect the level of trust the other players have in him. 
Williamson admitted to having to make a mental adjustment to the pros. He didn't feel confident he could dominate the way he did in high school and college. The forward was prepared to blend into the team once he was cleared to play. This clearly was not the case. He was able to prove to himself and his fans that he's ready to take center stage.
Now he's dominating his idols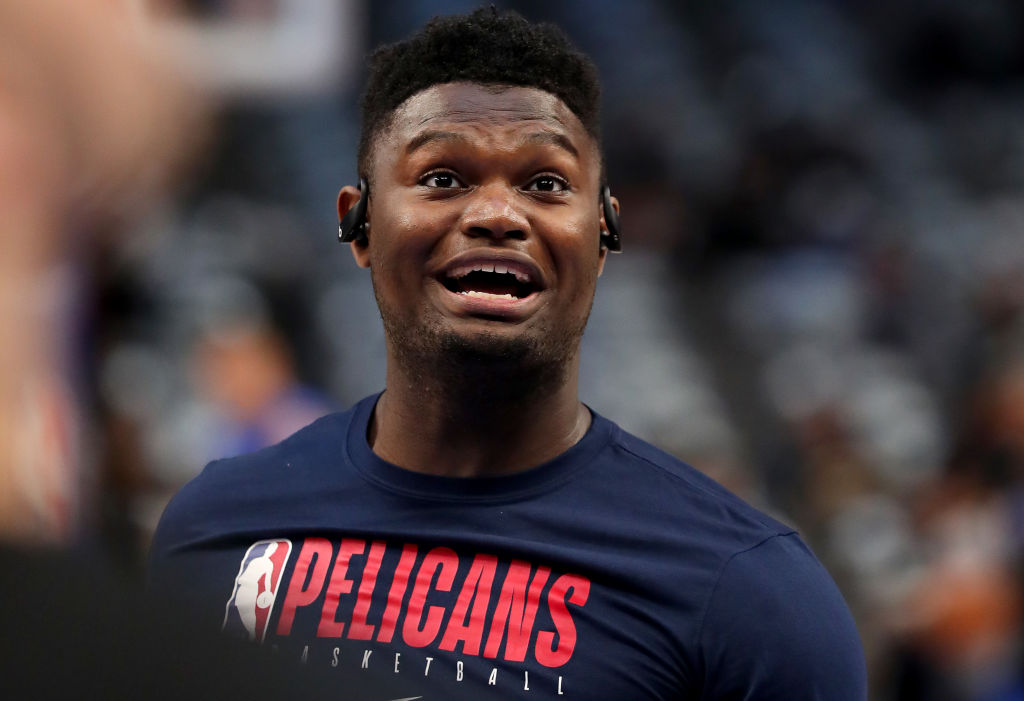 In one of his first games back on the floor with the Pelicans, they went up against the Portland Trailblazers. Williamson got to play against one of his idols, Carmelo Anthony. It was great, he said, to compete against Anthony and it's not at all weird to play with his heroes. Williamson's mind is on winning, and he's going to do whatever it takes.
Handling the fans seems to be more of a challenge for the former Blue Devil than handling his opponents. Two years ago, Williamson was a relatively unknown kid in Spartanburg, South Carolina. Now, he can't go out to grab a bite without fans following him. So far, no one has been bold enough to ask for a fry. 
Williamson's adjusting to NBA life
The NBA schedule is another transition for the teen. Yes, he's only 19 years old. Most guys his age are scheduling classes so they can sleep in.
Williamson has had to adjust to playing every other night during a grueling six-month season — unless they're in a back-to-back series. Duke played two or three times a week until the ACC tournament, so he doesn't get the rest between games he was used to.
If the Pelicans make the playoffs he'll get some rest since the schedule shifts to every few days. Whether the Pelicans can overtake the Grizzlies for the final playoff spot in the Western Conference remains to be seen. What is certain: Zion Williamson is more than ready for prime time. 
Follow more updates from Sportscasting on our Facebook page.