When He's Not Boxing, Manny Pacquiao Is Literally Running the Philippines
While Manny Pacquiao may best be best-known for his prowess in the boxing ring, his political career might be most surprising. Many people, including his former trainer Freddie Roach, think Pacquiao is making a mistake trying to mix the two careers. But this is not the first time he's faced a fight as the underdog.

Manny Pacquiao's early boxing career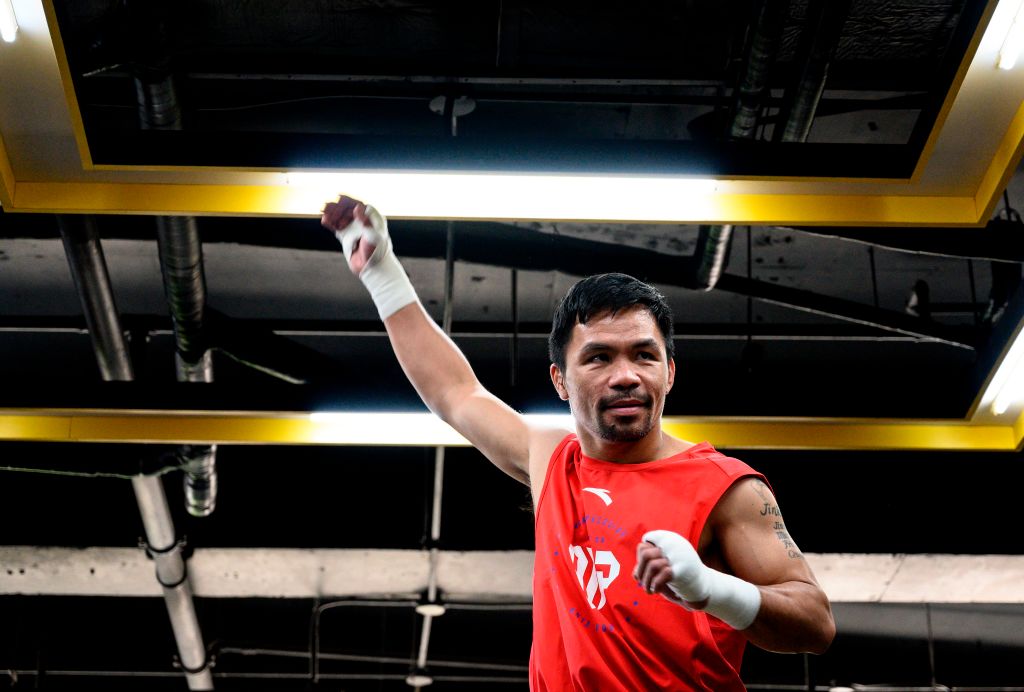 A 12-year-old Pacquiao entered the ring for the first time as an amateur in General Santos City, Soccsksargen in the Philippines, according to the LA Times. Local accounts say he beat his 16-year-old opponent.
At the age of 14, Pacquiao dropped out of school and moved to Manila in search of a way to make enough money to support his mother and five siblings. Pacquiao went on to dominate the amateur ranks with a reported record of 60 wins with 4 losses. 
His biggest fights
RELATED: This Boxing Record Confirms Manny Pacquiao's Versatility as an Octuple Champion
May 2, 2015, saw the culmination of five years of hype when Pacquiao faced Floyd Mayweather Jr in a welterweight title reunification bout in the MGM Grand Garden Arena in Las Vegas, NV. Ticket sales to the event alone brought in $72,198,500. But the real money was from pay-per-view sales that generated over $400 million, reports ESPN.
Pacquiao lost that fight to Mayweather Jr by a unanimous decision from the judges amid accusations that Pacquiao lied on a pre-fight questionnaire by not disclosing an existing shoulder injury. 
As professional boxing's only eight-division champion, reports Premier Boxing Champions, Pacquiao won his latest world title, the World Boxing Association Super World Welterweight, in July 2019 by beating a previously unbeaten Keith Thurman in a 12-round split decision at the MGM Grand in front of yet another sold-out crowd.
The fight was a back and forth battle that could have easily gone either way. Perhaps the deciding factor came in the first round as Pacquiao knocked Thurman down for the first time in his career. The win results in Pacquiao's current boxing record resting at 62 wins 7 losses and 2 draws.
Pacquiao's political career
RELATED: Manny Pacquiao's Faith Might Explain His 9-Year Knockout Drought
Pacquiao's political career began in 2010. He won a seat as a representative serving the southern Sarangani province and later became a senator in the Philippines.
Just as people worry that boxing and politics are incompatible, some say boxing is detracting from his political performance. In 2015, the Chicago Tribune reported that Pacquiao has not been able to push any bills through the committee in six years in office. In 2014, he was only present in Congress for a total of four days. 
None of this seems to bother his constituents as they continue to vote him into office. Much of that support due to his celebrity status. But it also speaks to his generous spirit and giving nature.  Born on December 17, 1978, Pacquiao is currently 41 years old. It is not lost on anyone that when the next Philippine presidential election happens in 2022, Pacquiao will be old enough to run for president for the first time. 
Future politics
The people of the Philippines will elect a new president in 2022 as Rodrigo Duterte will complete his term. Pacquiao is considered a front runner in the election polls and is endorsed by Duterte to be his successor.
The boxing world and the Filipino people will watch to see what this will mean for the popular boxer. Pacquiao says he will bow to the will of the people concerning his boxing career; only time will tell.