When Will Justin Gaethje Get His UFC Title Shot?
The UFC's lightweight division is probably the most exciting in the sport. The champion, Khabib Nurmagomedov, is finally fighting Tony Ferguson on April 18th, 2020. The UFC's biggest star, Conor McGregor, is also trying to become the lightweight champ again. But between all of those famous names is a man named Justin Gaethje, who just wants his title shot.

Who is Justin Gaethje?
Justin Gaethje is probably one of the most exciting fighters on the UFC roster today. The UFC agrees with the fans on that, too, as Gaethje has been awarded a performance bonus in every single one of his six UFC fights. In fact, Gaethje won both the Fight of the Night bonus and the Performance of the Night bonus for a single fight, and that's a rare feat.

Every single one of his fights, win or lose, is guaranteed to be exciting. Gaethje is a perfect example of a fighter who either wins by knockout, or he gets knocked out. His UFC record shows that. He's won four of his UFC fights by knockout, and he's lost two of his UFC fights by knockout.

He also only fights tough opponents. He came into the UFC undefeated at 18-0, and he's only been fighting highly-skilled and highly-regarded fighters ever since. He's faced champions such as Eddie Alvarez as well as title contenders, such as Dustin Poirier. On top of that, Gaethje's most recent win was a first-round knockout of McGregor's next opponent, Donald Cerrone.

Why Gaethje deserves the next title shot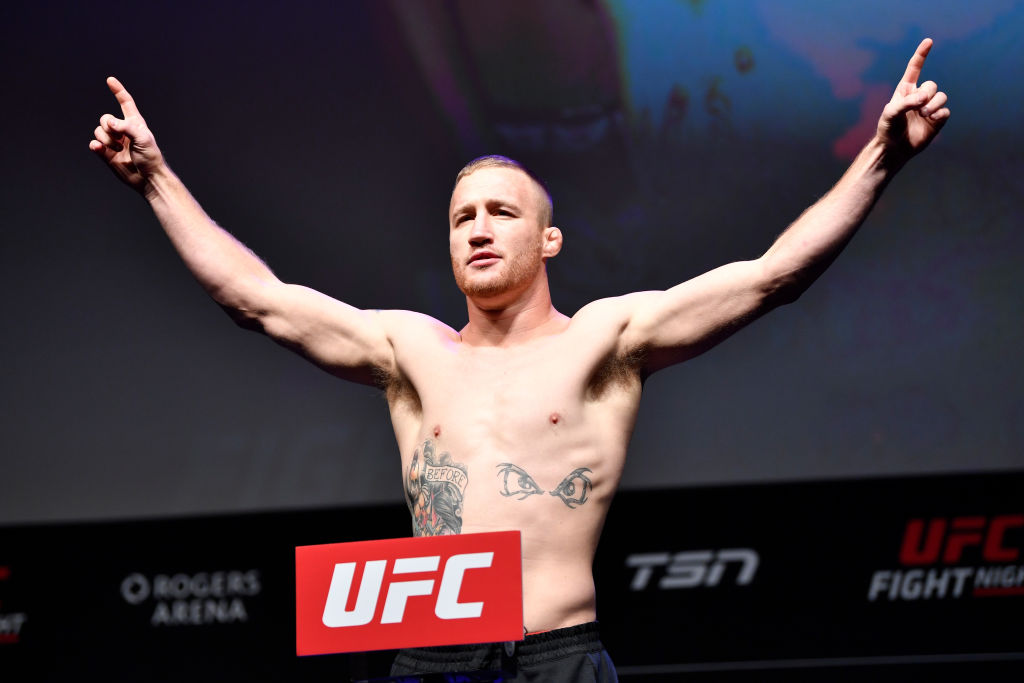 The proof is in the pudding as to why Justin Gaethje deserves a title shot soon. He is not only an exciting fighter and a fan-favorite fighter, but he's also a fighter who's on a three-fight win streak. Again, none of the men that Gaethje's fought were slouches. His latest win came against Cerrone, who's always been a tough man to knock out, but Gaethje did it.

Before that, he topped Edson Barboza, a Muay Thai specialist. Nurmagomedov's beaten Barboza before, but it was in a three-round decision where Nurmagomedov wrestled Barboza to the ground. Gaethje doesn't want to wrestle, so he got into a firefight with Barboza and knocked him out in the first round.

Gaethje doesn't want to wrestle, but that doesn't mean that he can't. He's been considered an "anti-wrestler," but he has the wrestling skills and the knowledge to keep the fight on the feet. That might allow him to beat Nurmagomedov, as Nurmagomedov relies on his wrestling to win his fights.

When Justin Gaethje may finally get his title shot
Unfortunately for Justin Gaethje, he isn't as popular as Conor McGregor. The UFC is a business, so it makes a lot of sense for the UFC to want McGregor to have the next title shot. In fact, according to MMAmania, Dana White, the president of the UFC, bluntly said that McGregor would get the next title shot if he beats Cerrone in January of 2020.

Most fans think that McGregor will beat Cerrone in that fight, so odds are, Gaethje will have to sit it out for a while. White also mentioned that Gaethje wasn't doing himself any favors by not taking fights that the UFC offered him, and if Gaethje decides to sit on the sidelines and wait for a title shot, then the UFC may pass him by.

That said, Nurmagomedov's next fight is against Tony Ferguson, and that fight's been canceled four times in the past. If it gets canceled again, then Gaethje could get a shot at the title. Or if McGregor loses to Cerrone, then Gaethje definitely will get the next shot. That said, Nurmagomedov is a practicing Muslim, and because he fasts during Ramadan, Nurmagomedov refuses to fight in the summer.

So, the best-case scenario for Justin Gaethje is that Conor McGregor loses to Cerrone and Khabib Nurmagomedov loses to Ferguson. That would allow Ferguson to fight Gaethje in the summer of 2020. But the worst-case scenario is that Nurmagomedov wins and McGregor wins, and the UFC sets up a rematch later in 2020. In this scenario, Gaethje may not fight for the title in 2020 at all.