Where Does Ja Morant Rank On the List of the NBA's Best Point Guards?
Ja Morant has exploded since Christmas as he leads his Memphis Grizzlies toward legitimate NBA title contention, but it's not just his stats that are doing the talking.
The Grizz have now won 10 straight and have vaulted themselves into fourth place in the Western Conference standings.
It's been a collective effort, and he has plenty of help, to be sure, but the catalyst for this run has been Ja.
As he continues to tear apart NBA defenses, Morant is climbing the list of the league's best point guards. Heading toward the halfway point of the season, where does he rank on that list?
Ja Morant has been turning his stats into Memphis Grizzlies wins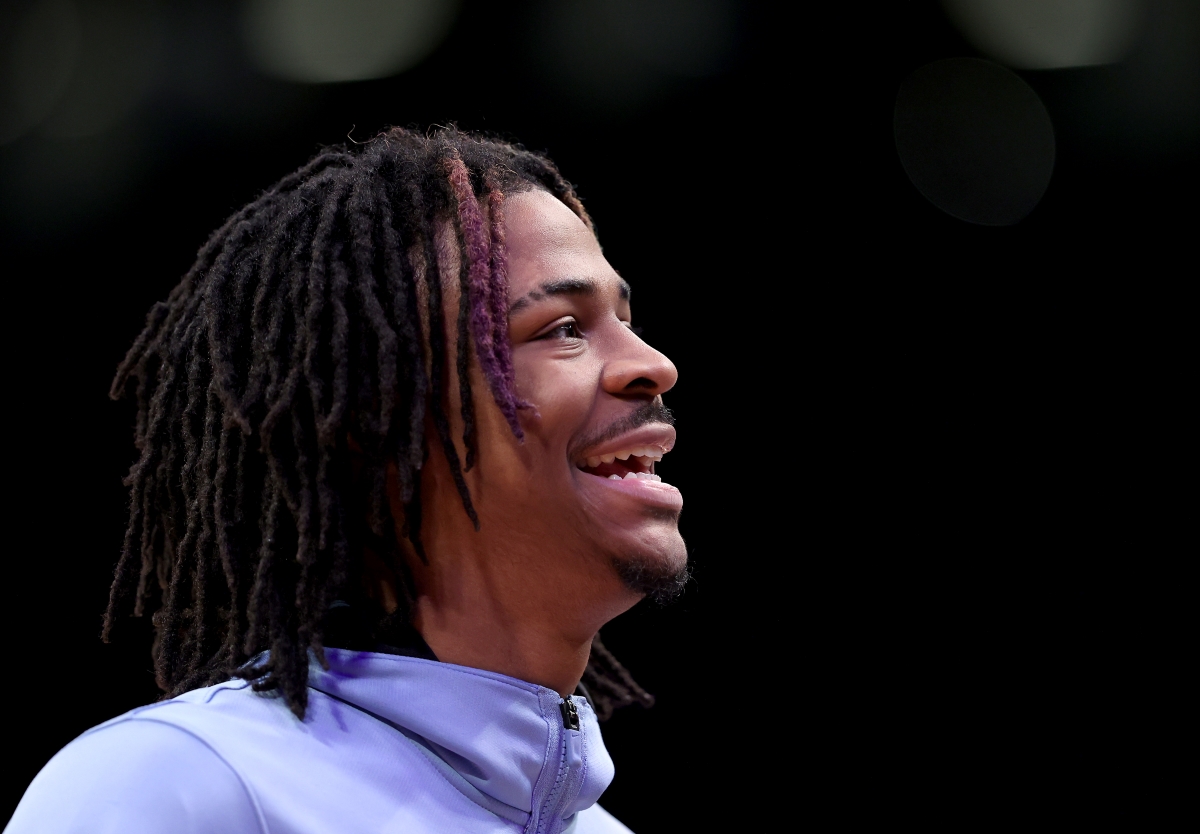 Ja won the NBA Rookie of the Year Award in 2019-20. He was drafted second behind Zion Williamson, who, according to most, was the clear No. 1 pick in the 2019 draft.
Boy, that hasn't quite worked out as planned for the New Orleans Pelicans, has it?
Morant scored 17.8 points and added 3.9 rebounds and 7.3 assists that first year. Last season, he increased almost every stat across the board and showed brilliant flashes of what could be.
This year, however — and specifically the last few weeks — Ja has taken the NBA by storm and put the Grizzlies on the map, something that isn't easy to do in that market.
The former Murray State Racers star is averaging 24.9 points, 5.7 rebounds, and 6.7 assists for the season. He's shooting a career-high 48.9% from the floor on a career-high in attempts.
He's also shooting a career-high 37.9% from three on a career-high 4.1 attempts per night.
But during Memphis's 10-game winning streak, Ja's production has jumped to 27.9 points a night, and he's shooting a ridiculous 52.2% from the field and 46.9% from three.
He has the Grizzlies sitting fourth in the West, only 3.5 games back of the conference-leading Phoenix Suns.
He's put himself squarely on the map as one of the best in the league at his position. But where exactly on that map is he located?
How far has the third-year guard climbed up the NBA point guard rankings?
For the sake of this exercise, only "traditional" point guards will count. LeBron James is the Los Angeles Lakers' point-center (it's crazy that's even a thing), but he's not a traditional point guard.
Denver's offense runs through Nikola Jokic, but he's not a point guard (another point-center?).
On the flip side, Stephen Curry does as much off the ball as on it, but he's still considered a point guard. Kyrie Irving is an incredible isolation scorer and also plays off the ball, but he's still considered a point guard.
Make sense?
With that in mind, Trae Young leads all point guards in scoring, followed by Curry and then Morant. Ja has a higher field-goal percentage on about one fewer attempt per game, and despite shooting a career-high from three understandably trails Curry, but is actually ahead of Young.
Chris Paul is still the league's best floor general, even in his 16th season. His 10.1 assists lead the NBA.
Morant's 6.3 free throws per game would come in third behind Young and Shai Gilgeous-Alexander, but his 76.7% shooting from the line would be significantly behind a handful of lead guards.
His 5.7 rebounds are tops until you get to 6-foot-7 LaMelo Ball.
The eye test also has to be factored in, and in that category, Ja is head and shoulders above everyone else. Young and Curry can shoot it with the best of them, but no one is more athletic, fearless, or better near the rim than Morant.
Despite being listed at 174 pounds, the 22-year-old may be the best finisher in the entire league with his touch and acrobatics near the basket.
So, where does Morant rank on the list of best point guards in the NBA? Statistically, Young and Curry are at the top. Paul can't be ignored, despite his age.
Ja is at least next on that list and arguably ahead of CP3. If there are point guard tiers, he's on tier one. And in the last 10 games, he's the best in the league.
But what comes next will go a long way toward giving us a clear answer.
Ja is proving this Grizzlies team is ready to win now
If the season ended on Jan. 12, Memphis would be hosting a playoff series against the Dallas Mavericks. That's winnable for the Grizz.
Then would come a matchup with most likely Phoenix, Golden State, or Utah, whoever finishes atop the West.
But during their 10-game winning streak, Memphis has already beaten Phoenix and Golden State, as well as the Lakers, the Brooklyn Nets, and the Lakers again.
At their best, the Grizzlies have proven they can beat anyone. And that's because Ja Morant is one of the best point guards in the NBA.
All statistics courtesy of NBA.com.