Where Does Vince Carter Rank for the Most Games Played in NBA History?
One of the most impressive NBA statistics is also one of the most simple: career games played. This stat offers a concise measurement of longevity, conditioning, and endurance—traits that are especially important in an era where players seem more plagued by injuries. Among current players, only one ranks in the top 10: Vince Carter. Let's take a look at the career that has led Carter to this historic milestone, as well as the players who remain ahead of him on the list.

The early career of Vince Carter
The Golden State Warriors drafted Vince Carter with the fifth pick of the 1998 NBA draft — a draft that also included now-retired legends Dirk Nowitzki and Paul Pierce. The promptly traded him to the Toronto Raptors for their number four pick, Antawn Jamison. Carter quickly established himself as a star player in Toronto, winning the 1999 Rookie of the Year Award.

He also proved to be one of the most entertaining players on the court, thanks to his incredible athletic abilities. In particular, Carter dunked like few other players before or since, an ability that led him to win the Slam Dunk Contest during the 2000 All-Star Weekend. Yet Carter grew frustrated with Toronto's postseason struggles, and he eventually went to the New Jersey Nets in a 2004 trade.

Meanwhile, Carter struggled with a variety of knee and hamstring issues that would continue to impact him for the rest of his career. Of course, in his five years with the Nets, Carter still put up huge numbers, and proved one of the most impactful players in the league, making All-Star appearances in 2004, 2005, 2006, and 2007.

Carter becomes a role player in his later years
Following his time with the Nets, Carter bounced around the league more frequently. He spent two years in Orlando, a year in Phoenix, three years in Dallas, three years in Memphis, and a year in Sacramento. For the last two years, he has been a member of the Atlanta Hawks. At 42 years old, Vince Carter is currently the oldest player in the league. He will soon become the first NBA player to play at least one game across four decades.

Naturally, his skills have declined significantly at this point. Yet he has continued to show his ability to be an impactful player, and he has even gotten above the rim for some throw-back dunks. He has also been a helpful veteran presence, mentoring the Hawks' youth-heavy roster. Last June, Carter publicly said that he plans to retire at the end of the 2019-20 season.

Vince Carter's place on the career games played list
Carter's longevity puts him at the top of the pack when it comes to playing the most games in NBA history. He recently reached a huge milestone, playing in his 1,500th career game. Shortly after that, he made it to 1,504 games, tied for fourth place all-time with John Stockton.

This accomplishment earned Carter massive amounts of praise from his peers. Even coaches who never had Carter on their roster chimed in. For instance, Miami Heat coach Erik Spoelstra went out of his way to praise not only Carter's 1,500th game but also his personal integrity, calling Carter a "first-class human being."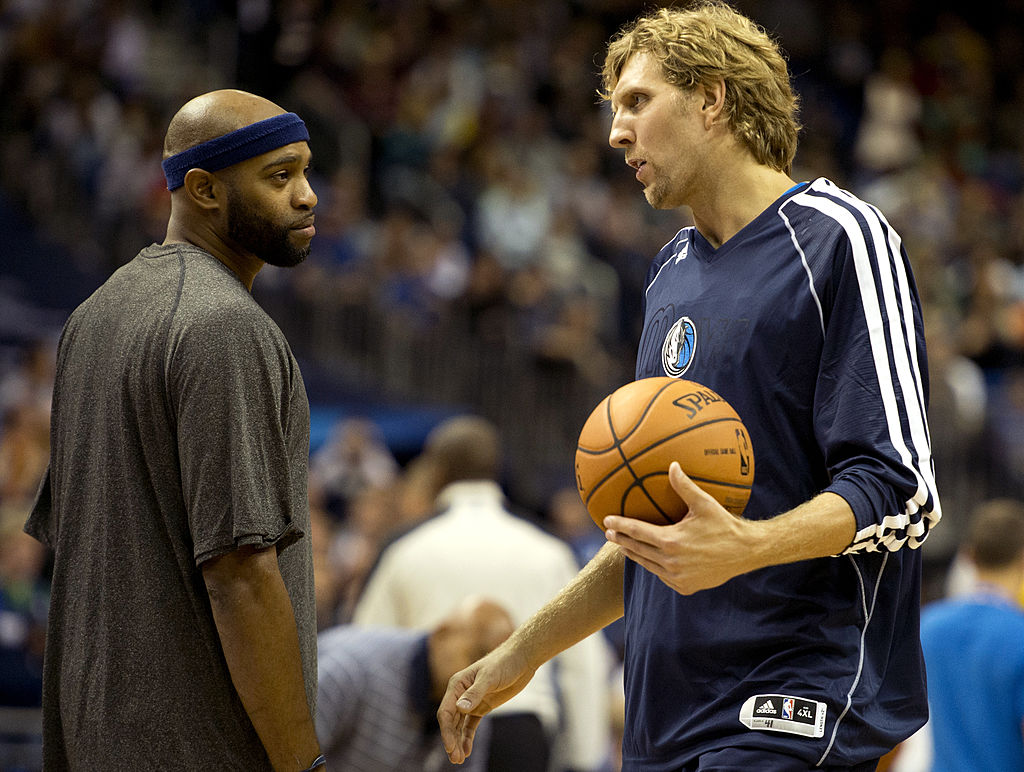 By now you're probably wondering who that leaves ahead of Carter on the list. Without further ado, here are the top three:
Dirk Nowitzki: 1,522 games
Kareem Abdul-Jabbar: 1,560 games
Robert Parish: 1,611
As you can see, not only is Robert Parish the all-time games played leader, he is also the only player to breach the 1,600 game mark. As long as Carter stays healthy, he should be able to surpass Dirk for the number three spot. But if he wants to chase Abdul-Jabbar or Parish, he will have to reconsider his decision to retire at the end of this season.