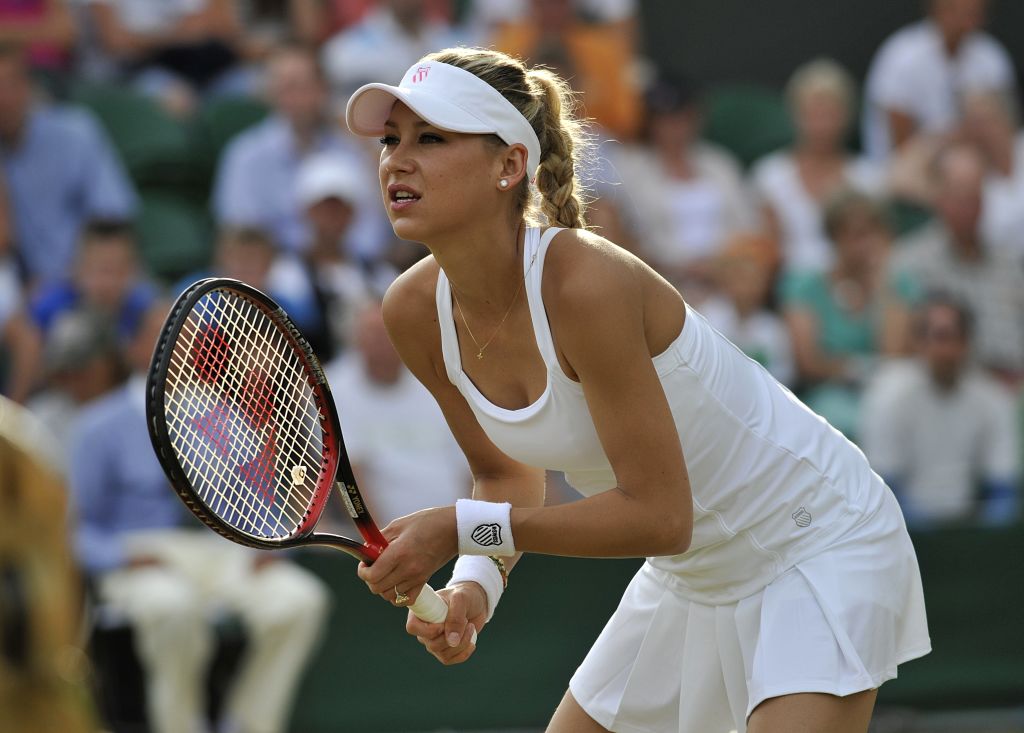 Where Is Anna Kournikova Today and What Is Her Net Worth?
Anna Kournikova is still one of the most recognizable female athletes years after retirement. Where is Anna Kournikova today and what is her net worth?
In all her years playing tennis and the fame that came with it, Anna Kournikova never won a singles tournament. Not one. Despite her lack of success as a singles player, she did have success playing doubles winning a couple of major championships before retiring at age 21. Where is Anna Kournikova today and what is her net worth?
Anna Kournikova explodes on to the scene
Anna Kournikova made her Grand Slam debut at age 15 in 1996 at the U.S. Open. The young teenager impressed reaching the fourth round, where she lost to then-top ranked player Steffi Graf, the eventual champion. After her impressive showing at the tournament, Kournikova skyrocketed up the rankings from No. 144 to No. 69. She was the WTA Newcomer of the Year in 1996.
Over the next few years, Kournikova improved her game in both singles and doubles. In 1999, with partner Martina Hingis, Kournikova won her first Grand Slam doubles title at the Australian Open. At the end of 1999, she was the No. 1-ranked doubles player in the world. 
The following year Anna Kournikova reached the highest singles ranking of her career at No. 8, despite not having won a singles tournament. In 2002, Kournikova and Hingis once again teamed up to win the Australian Open for a second time. 
For her career, she won 16 tournament doubles titles and finished her doubles record with a record of 200–71. Her singles career was a different story. She maintained a singles rank in the top 20 throughout much of her career, but only reached four finals out of 130 tournaments and never made a final in a Grand Slam event. Due to back injuries, she retired after the 2003 season. She had earned $3.5 million for her career. 
Kournikova finds greater success after tennis
Despite her inability to win large purses on the court, Anna Kournikova earned most of her money off of it through endorsements. In 2000, she got her first big endorsement becoming the face of a sports bra company. Later that year she made her first movie appearance in the Farrelly brothers Me, Myself, and Irene starring Jim Carrey.
Both during her career and after Kournikova has capitalized on her appearance. She has appeared in a variety of magazines, including the 2004 Sports Illustrated Swimsuit Issue as well as other publications like FHM and Maxim. In 1998, she was named one of People Magazine's 50 Most Beautiful People. By creating her own brand, she has generated millions of dollars. 
While she retired in 2003, Kournikova was the most searched athlete on the Internet through 2008. She was third most-searched as recently as 2010. In 2011, Kournikova made her first appearance on television in years when she joined The Biggest Loser as a regular celebrity trainer in season 12. 
Where is Anna Kournikova today and what is her net worth? 
In the late 1990s and early 2000s Kournikova was linked to a pair of fellow Russians in NHL players Pavel Bure and Sergei Fedorov. In 2001, Kournikova met pop star Enrique Iglesias during the filming of his video called "Escape," and the two have been inseparable since.
Anna Kournikova, who has an estimated net worth of $50 million, and Iglesias welcomed a pair of twins in December 2017. In January 2020, the couple welcomed their third child.
While Kournikova doesn't play professionally anymore, she sometimes makes appearances at charity tournaments. She has done additional charitable work serving as a global ambassador for Population Services International's "Five & Alive" program, which addresses health crises facing children under the age of five and their families.
In the future, Anna Kournikova will be a great study in sports marketing history. She'll always be remembered as the young teen Russian star who exploded on to the scene and became one of the most popular athletes on the planet, not necessarily for how well she performed on the court, but how good she looked off it.