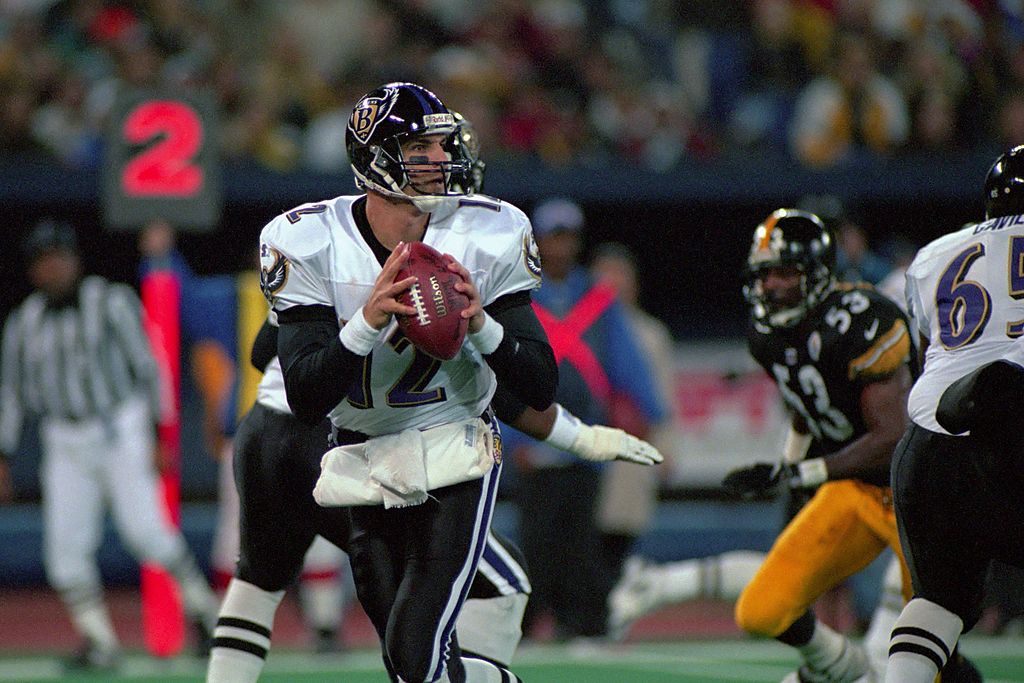 Where Is Former Heisman Trophy Winner Vinny Testaverde Now?
Former Heisman Trophy Vinny Testavarde had a lengthy and historic NFL career. Where is the former Miami Hurricanes star now?
For a time, there was no quarterback who better defined "journeyman quarterback" than Vinny Testaverde. When teams needed an older quarterback to serve as a backup or make the occassioanl spot start, they called Testaverde. Modern free agency and contract changes have left the likes of Brian Hoyer a rare breed and the last of traditional journeyman quarterbacks.
Nearly 35 years after Testaverde won the Heisman Trophy at Miami and began a lengthy NFL career, where is the former No. 1 overall pick now?
Vinny Testaverde is one of the greatest Hurricanes quarterbacks ever
A lifelong New York Jets fan, Vinny Testaverde traded Long Island winters for sunny Miami. After spending a year at Fork Union Military Academy for a post-graduate year, Testaverde signed with Howard Schnellenberger and the Miami Hurricanes. Testaverde played his first two years off the bench before he took the starting reins in 1985. Testaverde passed for 3,238 yards, 21 touchdowns and 15 interceptions for a Hurricanes team that went 10-2 and finished 9th in the AP Poll.
The 1986 season proved even better for Testaverde, who won the Heisman Trophy and earned consensus All-American honors after completing 63.4% of his passes for 2,557 yards, 26 touchdowns and nine interceptions. More importantly, third-year coach Jimmy Johnson led the Hurricanes to an 11-0 start and a national championship appearance against Penn State. Testaverde threw five interceptions in a 14-10 loss, however, and his college career ended with a whimper rather than a bang.
Testaverde's 21-year NFL career was unexpectedly historic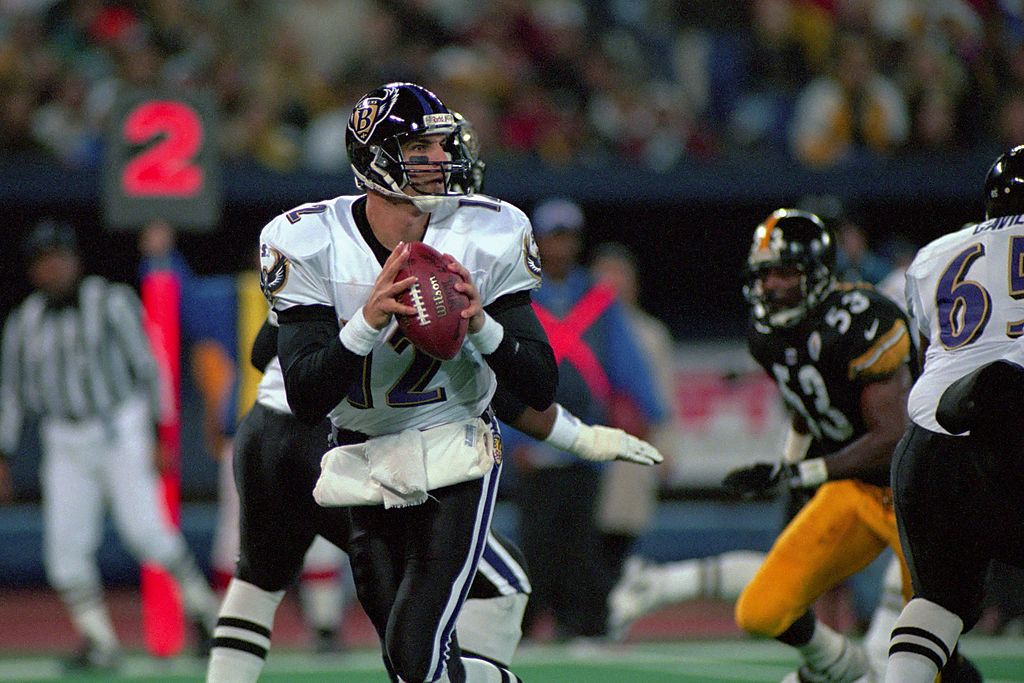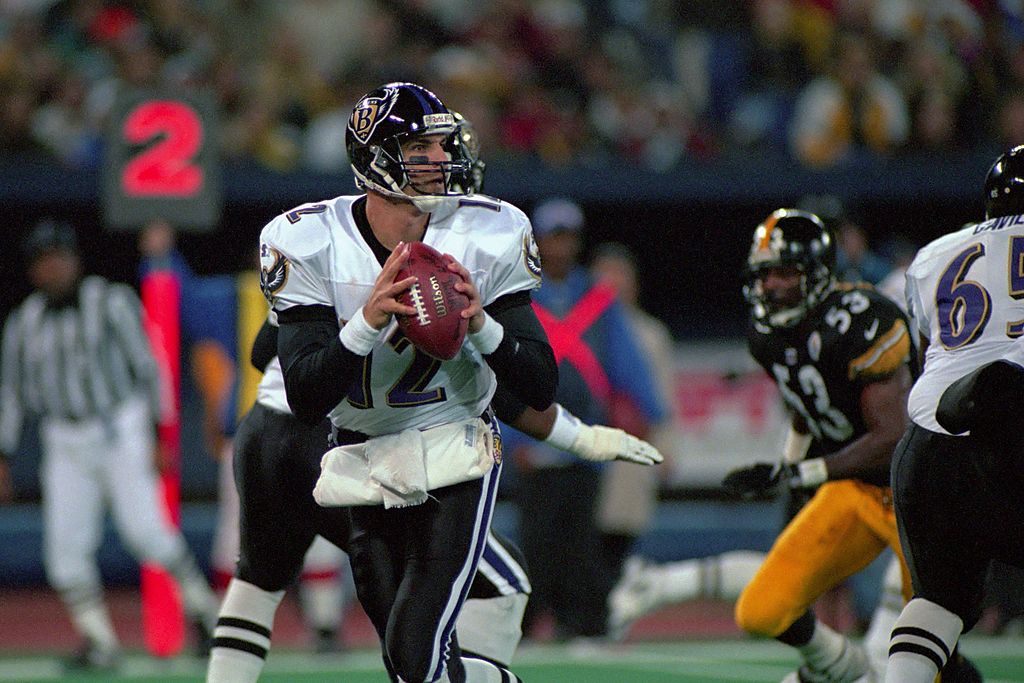 The Tampa Bay Buccaneers saw enough positives from Vinny Testaverde's college career and selected him with the No. 1 overall pick in the 1986 NFL draft. Testaverde lasted six seasons in Tampa Bay before playing for another six teams (five franchises) from 1993-2007.
It was reasonable to believe every NFL city would feature Vinny Testaverde at one point. Among Testaverde's highlings include replacing former teammate Bernie Kosar in Cleveland, scoring the first touchdown in Baltimore Ravens history, and even backing up Tom Brady at one point with the New England Patriots.
Vinny Testaverde ended his NFL career with 46,233 passing yards and 275 touchdowns. But playing 21 years allows Testaverde, whose NFL career as a whole was fine, to hold some interesting records. No quarterback has more losses than Testaverde and his 123 defeats. Testaverde's career winning percentage of 42.% is the lowest of any quarterbacks with at least 70 wins.
Testaverde's 126 career losses also narrowly remain the record. Former New York Giants quarterback Eli Manning ended his career after last season with 121 losses. New Orleans Saints star Drew Brees has 119 losses and can set a record if the Saints have a down year.
None of that is to say Vinny Testaverde didn't have his moments. Testaverde led the New York Jets to three playoff berths — consider that Chad Pennington and Mark Sanchez, the two most successful quarterbacks in recent Jets history, combined for four playoff appearances — and made two Pro Bowls. Testaverde also played for the Dallas Cowboys and Carolina Panthers.
Where is Vinny Testaverde now?
Surprisingly, Vinny Testaverde didn't come out of retirement to play as a 45-year-old in 2008 or anytime after that. Testaverde instead spent retirement investing in restaurants and coaching his son, Vinny Jr. Recently, Vinny Testaverde Sr. served as quarterbacks coach at Jesuit High School of Tampa, where Vinny Jr. played before signing with Texas Tech.
The younger Testaverde played for three college football programs, including the Hurricanes, and briefly played for the Tampa Bay Buccaneers last year. Testaverde Jr. recently spent time with the XFL's Tampa Bay Vipers and CFL's BC Lions.