Where Is Kyle Kuzma From and Where Did He Go to College?
Kyle Kuzma's young career has been one of the unsung success stories in recent NBA history. For a franchise once looking toward D'Angelo Russell, Julius Randle, Brandon Ingram, and Lonzo Ball as their future, only Kuzma remains. And he's doing so behind two of the best players in NBA history.
It wasn't an easy path to the NBA. But Kuzma's story shows just what it takes to make the most of a situation on the path to greatness. 
Kyle Kuzma's story 
Kuzma grew up in Flint, Michigan, home to the largest water crisis of the modern age — and life there wasn't easy before this. Poverty has afflicted Flint since General Motors, which once dominated the local economy, began cutting back in the 1980s. 
Kuzma grew up in this world of poverty and constant fear of bottoming out. It serves as a reminder of where he came from. Memories of undrinkable tap water and the constant threat of unemployment haunt him. They drive him to be the best player he can be. 
"I didn't want to go back there," Kuzma told Bleacher Report in 2017. "I wanted to explore the world and explore life. I wanted to have more to life than Flint." Kuzma found escape in basketball.
Bentley High School was not on any top scouts' radars. So he knew he had to work extra hard to get noticed by the NBA. Eventually, Kuzma caught the eye of Philadelphia's Rise Academy and moved away from his family to make his dreams a reality. The forward got offers from colleges around the nation but eventually decided on Utah.
Kuzma takes Utah 
Kuzma spent most of his freshman season at Utah coming off the bench. Despite only eight minutes per game, he worked hard to ensure he was a full-time starter for Utah by the following season. The role player put up nearly 11 points per game, six rebounds, and one assist in his breakout season. 
As a junior, he showed his NBA potential. Leading a cast of relative unknowns, Kuzma emerged as the Utes' leader. The team failed to make it to March Madness. However, his 16 points, nine rebounds, and two assists put him on NBA scouts' radars. Kuzma took full advantage of this.
Kyle Kuzma: NBA and Lakers star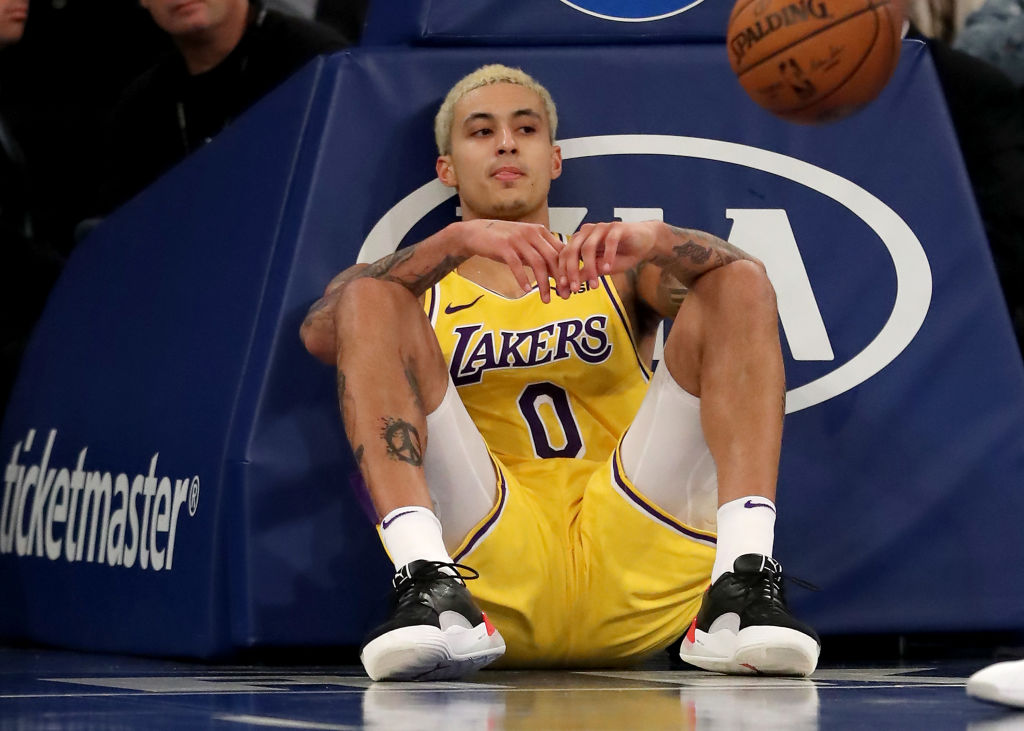 As a late first-round pick of the Lakers, Kuzma went to a team that was mid-rebuild with a handful of young players. Despite no promises entering his rookie season, Kuzma showed he was more than ready for the NBA. As a rookie, he averaged 16 points per game and six rebounds — a surprise to everyone but him. 
Once touted as a throw-in with the other young Lakers, he was an integral part of LA's future. Everything changed in 2018, however, when LeBron James joined the team. Despite the superstar teammate, Kuzma improved. He averaged nearly 19 points per game and five rebounds, although injuries cut into part of his season. 
Now a bench player with a team that has Anthony Davis, too, Kuzma shows some regression, but his value to the Lakers squad is undeniable. After James and Davis, the Lakers need guys like Kuzma who can go off and perform when James and Davis need help. Thanks to his upbringing and competitive drive, Kuzma is more than happy to fulfill this need. 
One doesn't get to the NBA by mere expectation. It takes hard work, ironclad will, and an inability to overcome the largest hurdles. This is how Kuzma got here, and this is how he will continue to grow as a player.
Follow more updates from Sportscasting on our Facebook page.