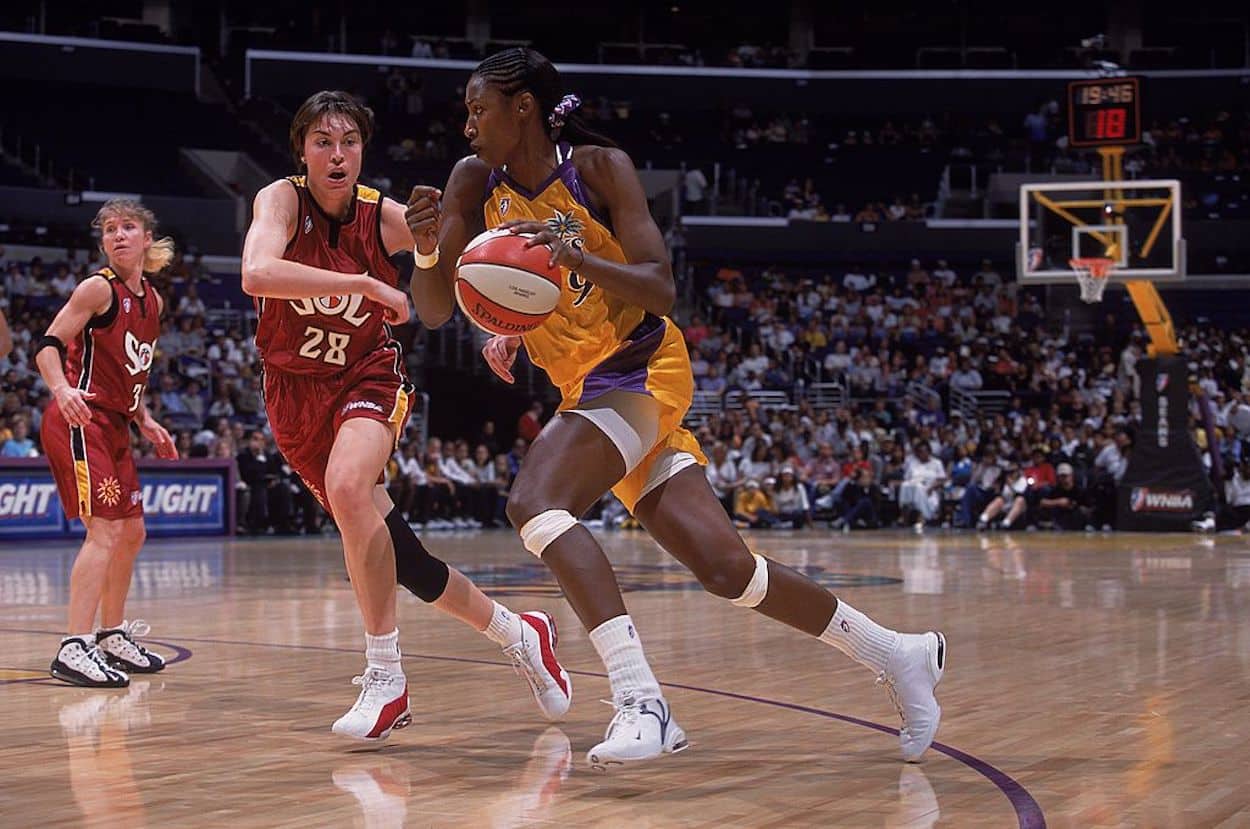 Where is Legendary Basketball Player Lisa Leslie Now?
While basketball fans are sure to remember Lisa Leslie, where is the former WNBA star today?
When you think of Los Angeles basketball, plenty of iconic athletes come to mind. From historical greats like Jerry West and Kareem Abdul-Jabbar to newer names like Kobe Bryant, plenty of stars have called Hollywood home. Lisa Leslie, who spent her entire WNBA career with the LA Sparks, deserves to be right there alongside them.
During her time on the hardwood, Leslie shone brightly; she made headlines by throwing down a dunk during an NBA game, but she was a legitimate talent beyond that ability. She has four gold medals to her name and, in 2015, earned a place in both the Basketball Hall of Fame and the Women's Basketball Hall of Fame.
And, even in retirement, she hasn't left basketball behind. With that in mind, let's look at where Leslie is today.
Lisa Leslie is still involved with basketball, alongside some other ventures
In a 2021 Sports Illustrated story, Lisa Leslie provided readers with a glimpse into her mind. "I've always approached life like I approached the game," she explained. "Somebody's got to be the best, so why not me?"
Through that lens, it's not surprising that the WNBA legend has stayed close to basketball while being more than willing to branch out.
Leslie, who hung up her sneakers in 2009, has checked off plenty of boxes over the years. Beyond her on-court accomplishments, which include two WNBA titles, three MVP awards, four gold medals, and places in two separate halls of fame, the center wrote an autobiography, worked as an executive coach providing leadership advice, became a part-owner of the Sparks, and appeared on TV as an analyst. She also created The Lisa Leslie Basketball & Leadership Academy, aiming to pass on both basketball and life skills.
More recently, the living legend has served as the coach of the Triplets in the Big3 basketball league. Her sporting success continued there, as she captured Coach of the Year honors during her first season on the bench by leading the expansion squad to a championship. On the professional side of things, Leslie's Twitter and LinkedIn list her as the founder of Aston Rose Sports & Entertainment, which is an athlete-focused real estate firm.
Like Sportscasting on Facebook. Follow us on Twitter @sportscasting19 and subscribe to our YouTube channel.
RELATED: WNBA Great Diana Taurasi Is the True GOAT if Winning Counts for Anything