Where Is Scorned Bengals Fullback Stanley Wilson Now?
Stanley Wilson is a tragic tale of lost potential. At his best, the running back was a football standout at Oklahoma who, despite going in the ninth round of the NFL draft, became a focal point of the Cincinnati Bengals' offense. However, his off-the-field life off became more infamous than anything else, and his troubled past bled down to the next generation. Now, he's viewed as a story of what could've been, not triumph over tragedy.
Stanley Wilson's brief NFL career
RELATED: Dwayne Jarrett's Short NFL Career Ended the Night of His Second DUI
After turning heads at Oklahoma, Wilson came to Cincinnati with little expectations but a lot of potential. He did enter the starting lineup right away, starting just two games in the 10 he played as a rookie. However, he rushed for 267 yards as a rookie and showed that the Bengals might have had a steal on their hands.
Wilson may not have been a superstar in the making. But his dynamic game combined with speed, good hands, and even some work on the offensive line made him a valuable asset. He quickly went from relative unknown outside of the Sooner faithful to one of the league's promising young talents on an up-and-coming Bengals squad.
Unfortunately, there was a darker side to Wilson's off-the-field life. A struggling cocaine addict, Wilson lost two of his six seasons to suspension. While fans couldn't deny his promise and value, his drug abuse made him more trouble than he was worth. His low point came in 1989 when the Bengals were getting ready for the Super Bowl.
There, they found Wilson high on cocaine after claiming he was getting his playbook, according to SB Nation. They left him off the roster. After forcibly retiring from the NFL, he had to cope with his demons without the football safety net.
Wilson in retirement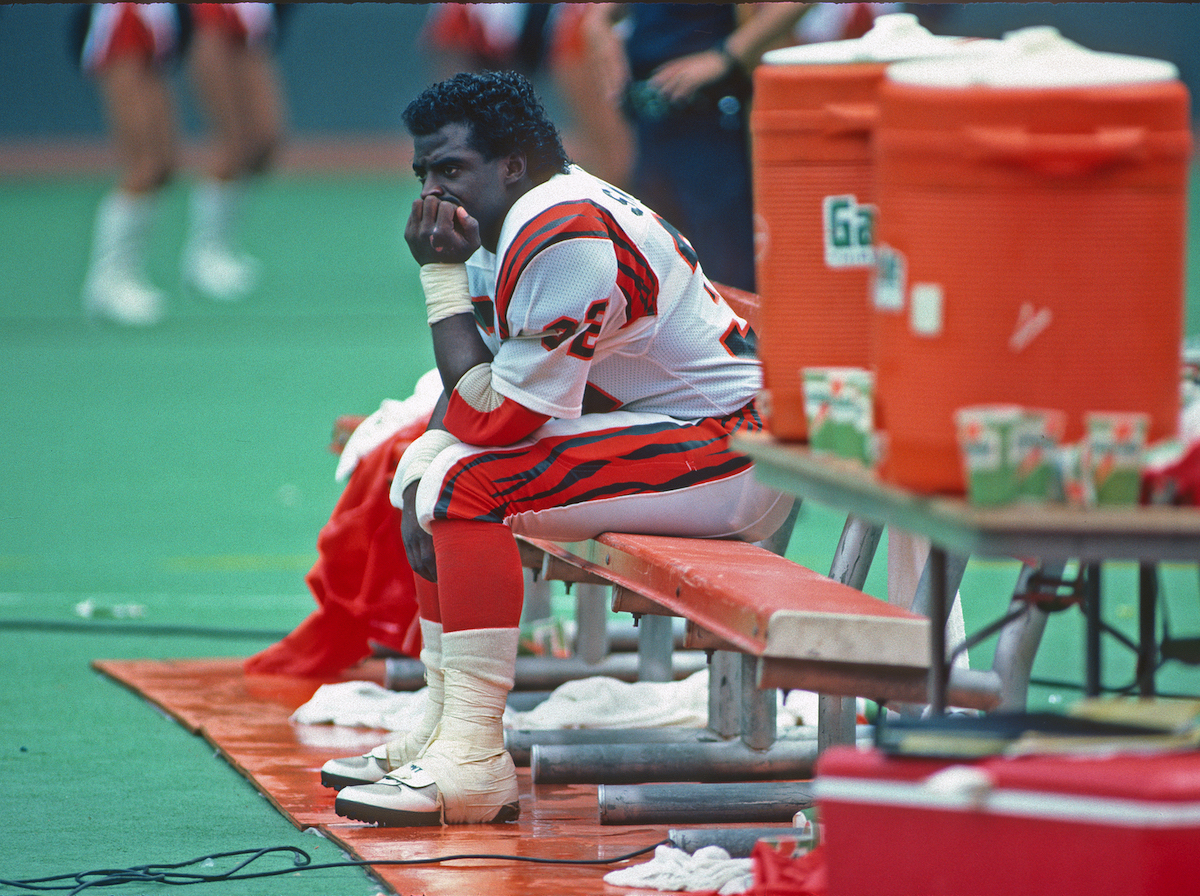 RELATED: Former Dallas Cowboy Sam Hurd Ran a Multimillion-Dollar Drug Ring While Playing in the NFL
Unfortunately, things got worse for Wilson after he was out of the NFL. His drug habit got the best of him, and he spent much of the '90s grappling with drug abuse despite having kids at home to feed. His low point came in 1999, when Wilson, high on drugs, stole $130,000 from a Beverly Hills home and got caught. He received a 22-year jail sentence.
Now in jail, Wilson had to support his son, Stanley Jr., from afar. He mostly got to listen to Stanley Jr. as he made it through Stanford and into the NFL. There, Wilson followed his son, thanks to radio broadcasts that helped him visualize what his son was doing.
"Being an ex-player, I could visualize what was happening," Wilson told the LA Times in 2005. "The TV doesn't give you as broad a picture of what's going on on the field. Based on my past, I knew what it was like when they were talking about down and distances, different coverages. I'd talk to my son after the game and he'd swear I was there."
Unfortunately, Stanley Jr. had his own set of problems that, like his father, cut his career short.
Running in the family
Stanley Jr. did not have an easy childhood, thanks mainly to his father's drug abuse. Although he initially spoke about how his father inspired him never to fall into the same habits, However, after Stanley Jr. was arrested three times for burglary, reportedly naked and high on methamphetamine, it was clear that the damage was already done, details KATU 2. His career with the Detroit Lions lasted just three years.
However, there could be light at the end of the tunnel. While Stanley Jr. and Stanley Sr. Both had their legal woes, Seth Wilson, Stanley Jr.'s youngest son, is currently making his name at North Dakota State University. According to his initial sentence, Stanley Sr., who should be released this year, can help guide his family back to shore. With Seth ready to make his leap, his family's troubling history could help inspire him to finally have something to cheer about again.